Given the somnolence of the Indian establishment towards enhancing the IAF combat strength, the PLAAF threat is alarming and carries the potential of delivering to India an ignominy reminiscent of 1962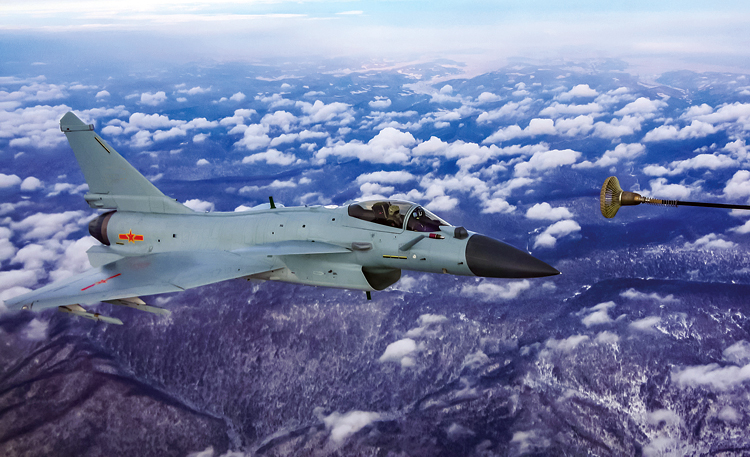 Immediate concern to India: J-10 (shown above) and J-11, both third-generation fighters, have been visiting Tibet more frequently and in larger numbers than before
The fracas near Pangong Tso Lake in September this year that de-escalated after reaching short of a major confrontation, conforms to a pattern that China has nourished at its borders with India. The Doklam stand-off was perhaps the most prominent episode in recent times. There is a 'No War, No Peace' situation that has been nurtured by China for decades and the Indian military is constantly aware of the Chinese threat that looms over India. Exercise 'Him Vijay', a joint Indian Army-Air Force exercise is being held in Arunachal Pradesh in October to test out the Army's Integrated Battle Group concept. The Indian Air Force (IAF) will airlift 17 Mountain Strike Corps troops and equipment using its latest transport aircraft including the C-17, C-130J Super Hercules and the AN-32 to airlift troops from Bagdogra for deployment close to the exercise area in Arunachal Pradesh. Needless to say, the threat from the PLAAF would be blended into the exercise planning and conduct. In recent years, PLAAF has grown in size, quality and modernisation and is a major cause for concern in the India-China equation.
China's National Defence In the New Era
On July 22, 2019, China issued a white paper on its national defence, the tenth in an irregular series in which the previous one was released in 2015. After reiterating in the 2019 paper that China is peace loving and that it has never started a war in 70 years, it states that its military strategic guideline for a new era "adheres to the principles of defence, self-defence and post-strike response and adopts active defence". In addition to the expected rhetoric, the paper conveys loudly that China is taking steps to strengthen military preparedness and comprehensively enhance combat capabilities for the new era. Doklam finds a mention in the paper as do statistics related to India's defence expenditure.
China continues to invest heavily in logistics and infrastructure development in Tibet which can be expected to support China's military by facilitating rapid deployment
The white paper China's Military Strategy 2015, under the section 'Missions and Strategic Tasks of China's Armed Forces' stated that, "In line with the strategic requirement of building air-space capabilities and conducting offensive and defensive operations, the PLAAF will endeavor to shift focus from territorial air defence to both defence and offence and build an air-space defence force that can meet the requirements of informationised operations" (note the change from defence to defence and offence). On the ground China's intent with respect to Arunachal Pradesh is iterated clearly and continually through Chinese presence, construction of infrastructure near the borders, cross-border transgressions and aggressiveness. Of special concern for India is the presence of PLAAF in Tibet.
Tibet Military Command
In 2016, China announced military reforms which included significant reorganisation of the erstwhile seven Military Regions (MRs) into five "Theatre Commands" (TCs) exercising joint command over ground, naval and air force elements as well as PLA Rocket Forces (PLARF), erstwhile Second Artillery Corps and PLA Strategic Support Force, a new force. The TCs report directly to the Central Military Commission (CMC). According to an assessment by Pentagon, "These reforms aim to strengthen the Chinese Communist Party's (CCP) control over the military, enhance the PLA's ability to conduct joint operations and improve its ability to fight short-duration, highintensity regional conflicts at greater distances from the Chinese mainland." Tibet and Xinjiang are under the Western TC with its HQ at Chengdu. Read in the context of "active defence" outlined in the 2019 White Paper, the Western TC is a threat for India.
Airports in Tibet
China continues to invest heavily in logistics and infrastructure development in Tibet which can be expected to support China's military by facilitating rapid deployment. According to one estimate, there are 14 major airbases in the Tibetan Plateau and 20 small airstrips from which the PLAAF could conduct air operations against India. These include bases at Hoping, Pangta, Shiquanhe, Bayixincun in Central Tibet opposite Arunachal Pradesh. Last year, the Civil Aviation Administration (CAA) of China announced that Tibet would soon have three new airports, all above 3,900 metres. The project is called '3+1' as the existing airport at Gongkar which serves Lhasa, the capital of Tibet Autonomous Region or TAR, will get a second runway. The all-weather airport located at an altitude of 16,000 feet, is 200 km from Arunachal Pradesh and is referred to by Chinese press as the 'airborne bridgehead' into Tibet. Of the other three airports, one will be located in Lhuntse in Lhoka area, North of the Upper Subansiri and Tawang districts of Arunachal Pradesh, the second will be between Tingri and Lhatse counties of Shigatse City, North of Zangmu, the border post with Nepal and the last in Purang, near the tri-junction Nepal-Tibet-India, North of Pittoragarh in Uttarakhand. Another airport coming up in Lhasa is Ngari Gunsa, a civil/military airport in Southwest TAR less than 50 km from the Sino-Indian border in Uttarakhand. The airports in Tibet have long runways due to the long takeoff distances necessitated by their high elevation. The Gongkar runway is 4,000 m long and the one at Shigatse is 5,000 m. These inordinate lengths also cater for runway damage due to enemy action. A significant fact about the airports in Tibet is that, by law, they are all required to be used for both civil and military purposes and are thus configured accordingly. China's 15th Airborne Corps has been exercising airborne induction into Tibet and the number of sorties into and over Tibet have increased steadily over the last five years.
The threat of co-ordinated action by China and Pakistan is a distinct possibility and, under such a scenario, the Indian Air Force would have to spread its assets on two fronts
It is not easy to execute air operations from within the TAR because of the unpredictable weather and the high elevation. There are severe limitations on fuel and weapon payload carried from these airfields, and aerial refuelling would become critical to launching reasonable payloads against target systems in India. Nonetheless, each of these airports can be used for launching offensive sorties against India, provided PLAAF fields the requisite aircraft.
PLAF Aircraft
72 aircraft. The aircraft deployment in Western TC (erstwhile Lanzhou and Chengdu MRs) can be expected to be deployable in the airfields usable against India. Reportedly, Chengdu MR has two fighter divisions (with J-7H, J-7II, J-10A, Su-27SK and J-11 fighters) and a transport division, whereas Lanzhou MR has two fighter divisions (J-7H, J-7II, J-8F, J-8H, JH-7A, J-11 and J-11B) and a bomber division (H-6). Thus there could be around 300 fighters and 72 bombers that could be tasked in the Western TC. The fighters with better performance (Su-27, J-10 and J-11/J-11B) can be expected to be effective from the high elevation airports in Tibet while the others may be severely constrained operationally.
The J-20 has been sighted at Daocheng Yading in Tibet giving rise to feverish hype in Indian media, but it may be three to four years before the J-20 fourth-generation fighter is deployable in Tibet while the first J-31 is expected to appear in Tibet much later. Last year, China disclosed its new generation H-6K strategic bomber (combat radius 3,500 km), equipped with the DH-20 land-attack cruise missile. Of deeper concern to India are reports of China's iterations about the need for it to have a long range strategic bomber which PLAAF defines as a strategic bomber capable of carrying more than 10 tonnes of load over 8,000 km without refuelling. Of more immediate concern to India are reports that J-10 and J-11, both third-generation fighters, have been visiting Tibet more frequently and in larger numbers than before especially at Gongkar and Hotan that are just over 100 km from Aksai Chin. Since 2010, PLAAF has been deploying Su-27SK/Su-27UBK/J-11A at the dual-use airports at Gongkar (facing Sikkim and Northern West Bengal) and Ngari (facing Ladakh in Jammu and Kashmir), twice every year for two-week deployment. The KJ-2000, an AWACS platform based on the IL-76, has also been in use with PLAAF since 2004. An improved version, KJ-3000, with an improved radar, is also likely to be available soon.
Through the last two decades, PLAAF has undergone qualitative modernisation as also increased numbers through indigenised aerospace industry. PLAAF bought 76 Su-27SK/UBK fighters and 100 Su-30MKK/MK2 fighters from Russia starting in the 1990s and then built another 105 Su-27SK under licence. From the technology thus acquired, it built J-11B, which included more advanced Chinese avionics and radars than even Russian Su-30s. The range of the J-11Bs is over 3,500 km (combat radius 1,500 km) and with a top speed of Mach 2.35, it is a challenge for India's Su-30MKI. With 24 Russian Su-35s entering service in PLAAF in the last three years, it has an edge over India. The Su-35 is much lighter than the twin-seat Su-30MKI, its Irbis-E PESA radar is also much more advanced than the N011M Bars PESA that is currently featured on the Su-30MKI. An upgrade is replacing the Bars with the sophisticated Zhuk-AE AESA radar. China is also refining its own fifth-generation fighter programmes (J-20 and J-31) while its four-and-a-half generation fighter, J-11D, is also getting closer to operational status. Thus, qualitatively, PLAAF is a serious threat which is rendered even more menacing by the fact that PLAAF has around three times more combat aircraft than IAF.
One disquieting fact is increasing efforts by both the PLAAF and the Pakistan Air Force to rehearse joint air campaigns since 2011 under the 'Shaheen' series of joint exercises. The seventh in the series was held in December last year in Pakistan while the previous version was held in TAR.
Conclusion
The PLAAF, which has always had an edge over IAF numerically, is now beginning to edge past in qualitative terms as well. Its third and fourth generation combat aircraft are incrementally adding to its might as are AWACS and flight refuelling aircraft. A protracted war with China is a remote possibility, but "short border wars" are a part of the Chinese strategic narrative and TCs are tasked with 'deterring wars' as also 'winning battles'. In a typical scenario, PLAAF strike aircraft deployed in Tibet, could be employed to launch widespread pre-emptive strategic strikes targeting Indian airfields and other target systems contributing to the air campaign. Towards countering the IAF, China is also building a number of new radar monitoring stations along the LAC in Arunachal and Sikkim sectors. It is also upgrading military infrastructure on a large scale in the TAR which includes nuclear missile deployments. The PLAAF in coordination with the Chinese Airborne Corps have also been undertaking regular exercises in the proximity of the LAC. Strategically, Tibet is crucial for China's security and hence the focus on this region for aggressive military deployments. The threat of co-ordinated action by China and Pakistan is a distinct possibility and, under such a scenario, the IAF would have to spread its assets on two fronts; that would render the PLAAF deployment in Tibet even more of a threat. Given the somnolence of the Indian establishment towards enhancing the IAF combat strength, the PLAAF threat is alarming and carries the potential of delivering to India an ignominy reminiscent of 1962.