Indian space programme that began with small steps taken on bicycle and bullock cart five decades ago, is among the finest space administration in the world today with the 'Bahubali' launch vehicle and much more to its credit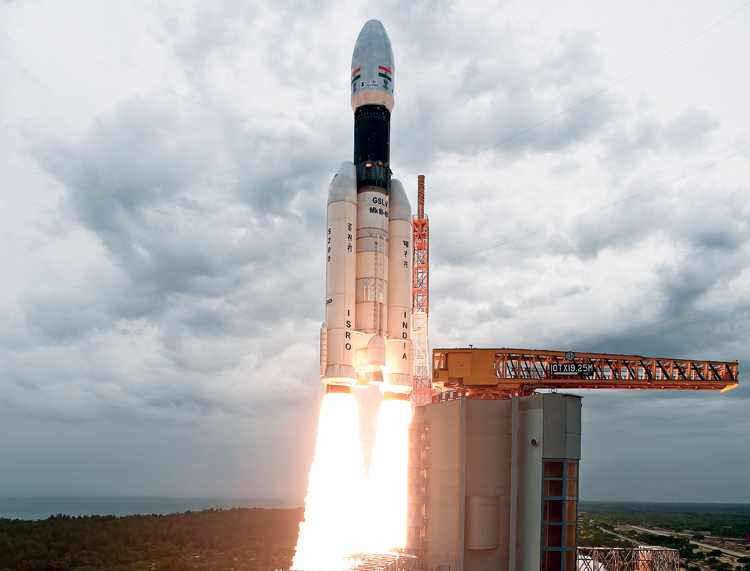 Born with the vision to harness space technology for national development, while pursuing space science research and planetary exploration, India's thriving space organisation is a story of determination, dedicated attempts and a true passion for the subject. It is probably these pillars of strength that have allowed this Government of India's space agency to stand tall on a global scale as well as among the most successful government institution of the nation. Established in 1969, the Indian Space Research Organisation (ISRO) has contributed to science, space, technology, innovation and the nation alike in its 50 years of journey.
With its various research centres and autonomous institutions for remote sensing, astronomy, and astrophysics, atmospheric sciences and space sciences in general function under the aegis of Department of Space, ISRO has significantly strengthened the capability of the nation in technical and scientific fields. ISRO's own Lunar and interplanetary missions along with other scientific projects provide valuable data to the scientific community as much as it encourages and promotes science education through the several missions it undertakes.
The advent of space research activities in India dates back to the early 1960s. The founding father of the Indian space programme, Dr. Vikram Sarabhai had very early on recognised the benefits of space technologies for India be it the communication satellites to exploring the earth's lower orbits. Even before ISRO came into being, space research through instruments above Earth's atmosphere and into space was being carried out by the Physical Research Laboratory (PRL), with Dr. Sarabhai as its director. The very first rocket was launched on November 23, 1963, from Thumba Equatorial Rocket Launching Station (TERLS), Trivandrum which was then created as a rocket launching facility for upper atmospheric research. The rocket was a Nike-Apache Rocket provided by US under NASAINCOSPAR collaboration. It was through INCOSPAR (Indian National Committee On Space Research), set up in 1962, that the rockets were then obtained under US Aid. ISRO came about in 1969 as INCOSPAR's supplementary.
Since its inception, the space programme in India has had three explicit elements:
Satellites for communication and remote sensing
The space transportation system
Application programmes
FATHER OF INDIA'S SPACE PROGRAMME
Padma Bhushan Dr. Vikram Ambalal Sarabhai was the Indian scientist, physicist, and astronomer who envisioned India's space programme and laid the stone for space exploration in the country. Dr Sarabhai was convinced that the resources in space have the ability to address the real problems of man and society. As Director of PRL, Dr Sarabhai brought together able scientists, anthropologists, communicators and social scientists from all over the country to initiate the Indian space programme.
Having identified the role and importance of space technology in a nation's development, Dr Sarabhai gave ISRO the direction it needed to function as an agent of that development to provide space-based services to the nation.
From the modest inception the Indian space agency had fifty years ago, it has come a long way to put the country on the global map in the space sector
ISRO's golden jubilee year also marks the centenary of Dr. Sarabhai which was marked and celebrated by ISRO over a year through various events.
The present ISRO chief, K. Sivan also stated, "Sarabhai's initial vision that space science and technology must be used for the benefit of the common man has been the guiding force for ISRO. And, all our programmes were centred around this vision, which led to several applications. While all these years were phase one of ISRO, now we are in phase two. That said, we still have the common man as our main focus, just like Sarabhai. Now, the problems of the common man have changed and they will change further. The problems of the future will be water and energy scarcity, and so on, and with our current explorations, we hope to find solutions for such problems."
FROM BULLOCK CART TO BAHUBALI ROCKET
Where ISRO has reached today is the result of gradual evolution. Five decades down the line, we do see huge launch centre in Sriharikota and rocket launchers like GSLV Mk-III, which has been referred to as the Fat Boy by some ISRO scientists (also called Bahubali), which was recently used to launch Chandrayaan-2 but infrastructural convenience was not always available when it started. The rocket science history in India began with baby steps taken on a bicycle and a bullock cart.
What we see today as the wellknown Vikram Sarabhai Space Centre was originally a Catholic Church. Located on Earth's magnetic equator, St. Mary Magdalene Church in the fishing village of Thumba in Thiruvananthapuram, Kerala aroused Dr Sarabhai's interest. Earth's magnetic equator is an imaginary line defined as the line around the earth where the magnetic field is horizontal or parallel to the earth's surface. In the early stages of India's space programme, the church also served as the main office for scientists. It has been preserved and houses an impressive space museum. As ISRO states this church is certainly the Mecca of Rocket science in India.
While the location was decided to ignite the nation's space programme, the adequate infrastructure necessary for it was still not available but that did not stop the perseverance of these space entrepreneurs. Prior to its full-grown installation, any space programme takes the petite footsteps of launching the sounding rockets or the first rockets as they are also referred to. Back then, to take these initial steps also, India's space programme lacked the basic transportation that was required to transport the rocket parts and payloads to the launch station. These parts were then carried on a bicycle to the launch pad and in such diffident setup, India executed its first launch with a Nike-Apache rocket which was supplied by NASA on November 21, 1963, five years before ISRO was established.
ISRO today has 105 spacecraft missions, 75 launch missions, 2 re-entry missions, 9 student satellites, and 269 foreign satellites from 32 countries to its credit
Even after ISRO came into existence, situations did not build overnight. Up until 1981, when the Indian space scientists were getting ready to launch the first communication satellite APPLE (Ariane Passenger PayLoad Experiment) from Kourou, French Guiana on June 19 and APPLE was placed on a bullock cart to provide a non-magnetic environment and carry out the antenna test in an open field. Nevertheless, this marked a significant milestone in India's space programme as APPLE laid the foundation for indigenous development of operational communication satellites which grew into a very large constellation of satellites in INSAT (Indian National Satellite) and GSAT (Geosynchronous Satellite) series.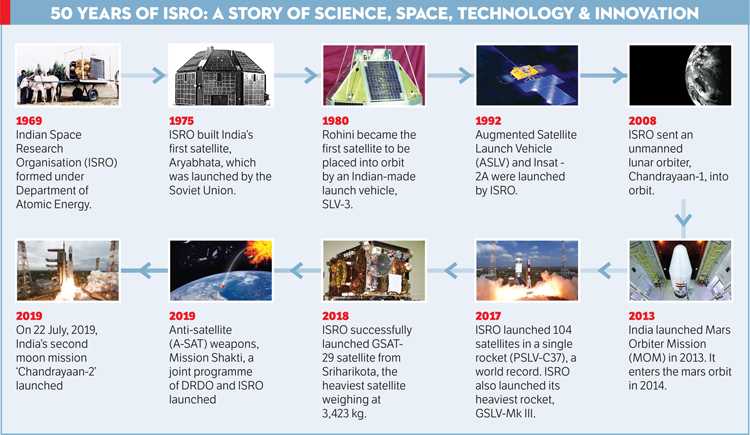 CHRONOLOGY OF SOME INITIAL STRIDES
Before diving into a full-fledged satellite system, a TV programme on agricultural information to farmers was done to prove the efficacy of television medium for national development.
After a good response to that, the next logical step was taken with the Satellite Instructional Television Experiment (SITE), which was acclaimed as 'the largest sociological experiment in the world' during 1975-76.
In 1975, the first Indian spacecraft 'Aryabhata' was developed and launched using a Soviet Launcher.
Focusing on telecommunications, the Satellite Telecommunication Experiments Project (STEP), a joint project of ISRO-and Post and Telegraphs Department (P&T) using the Franco-German Symphonie satellite during 1977-79, followed SITE.
A landmark development came about with the first launch vehicle SLV-3 with a capability to place 40 kg in Low Earth Orbit (LEO) had its first successful flight in 1980.
SITE was also followed by the 'Kheda Communications Project (KCP)', a field laboratory for need-based and locale specific programme transmission. KCP was awarded the UNESCO-IPDC (International Programme for the Development of Communication) award for rural communication efficiency in 1984.
The 1980s were an experimental phase. Bhaskara-I and II missions, launched in 1979 and 1981 respectively were trailblazers in the remote sensing area while APPLE in 1981 became the forerunner for future communication satellite system.
Development of the complex Augmented Satellite Launch Vehicle (ASLV) that took its first flight in 1987, also showcased advanced technologies surfacing the way for learning many nuances of the launch vehicle design for complex missions, leading the way for launch vehicles such as PSLV (Polar Satellite Launch Vehicle) and GSLV (Geosynchronous Satellite Launch Vehicle) in the 90s that stands tall even in present-day missions.
Then came the operational phase in the 1990s. Under two broad classes, crucial space infrastructure was conceived: one for the communication, broadcasting, and meteorology through a multi-purpose Indian National Satellite System (INSAT), and the other for Indian Remote Sensing Satellite (IRS) system.
50 YEARS DOWN THE LINE
From the modest inception that the Indian space agency had fifty years ago, it has come a long way to put the country's name on the global map in the space sector and be among the six largest space agencies in the world. From launching communications and navigation satellites to taking up inter-planetary missions, ISRO has had an evolutionary journey. From beginning as an agency majorly dependent on foreign aid to build and even launch satellites to becoming the one that not only is self-sustainable but is also collaborating with many other countries certainly demonstrates the growth graph of ISRO despite certain hindrances and lack of facilities or funds.
ISRO today has 105 spacecraft missions, 75 launch missions, two re-entry missions, nine student satellites, and 269 foreign satellites from 32 countries to its credit. Headquartered in Bengaluru, Karnataka, today ISRO has its centres all across the nation.
ISRO maintains one of the largest fleet of communication satellites (INSAT) and remote sensing (IRS) satellites.
ISRO is also instrumental in developing and delivering application-specific satellite products and tools for the nation: broadcasts, communications, weather forecasts, disaster management tools, Geographic Information Systems, cartography, navigation, telemedicine, dedicated distance education satellites being some of them.
Having launched such a vast number of satellites serving various purposes and missions like Mars Orbiter Mission (MOM), Chandrayaan and many more interesting upcoming missions, ISRO is only moving forward and upward.
ISRO's odyssey over these five decades has not been a smooth one, it has had its fair share of misfires and rough patches as well but directed by its mission and the passion, it has always continued its efforts and attempts to every time come back better, taking even failures in its stride.