Boasting of the most prominent business aviation players, the upcoming members, and the latest industry innovations and aircraft with emerging technologies, NBAA-BACE 2019 was every business aviation buff's one-shop stop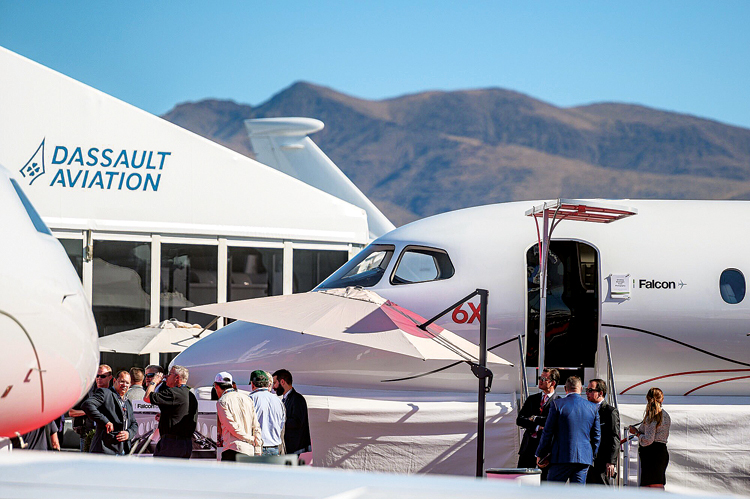 Full size cabin mockup of ultra widebody Falcon 6X by Dassault, a leader in luxurious business jets, on display
Whether you are someone who flies the plane, helps run the flight operations or just holds a passion or interest for aviation, the annual National Business Aviation Association (NBAA)'s Business Aviation Convention & Exhibition (NBAABACE) was one event that had something in store for everyone. Held this year at the Las Vegas Convention Center and Henderson Executive Airport from October 22 to October 24, 2019, NBAA-BACE is regarded among the biggest business aviation convention in the world, the sheer size and magnitude of which in itself are sufficient to dazzle a visitor.
The 2019 NBAA-BACE was a perfect place to fire the imagination of the attendees, and let them have a look at the cutting-edge products, issues, and trends that will shape the future of business aviation. As Chris Strong, NBAA's senior vice president for conventions and membership remarked that everyone attending the show would have found something they've never seen before.
As the civic and business leaders bid adieu to the world's largest business aviation trade show in Las Vegas, here we pen down some reasons why NBAA-BACE 2019 was a must-attend event:
CHANCE TO CONNECT
With around 2300 industry leaders and peers, you were assured to be in one of the most ideal business aviation environment that served as the ideal premier networking venue to help you construct some lifetime connections with people as passionate as yourself about aviation. NBAA-BACE 2019 also offered the ability to connect socially through Facebook, Twitter or LinkedIn for all those who registered.
SNEAK PEAK INTO THE FUTURE
With several industry innovations and emerging technologies redefining the future of air transport, NBAA-BACE again presented dozens of compelling topics and education sessions in addition to featuring the latest innovative products and services, allowing the visitors to witness tomorrow's aviation picture today. A new component at the exhibition was the Urban Air Mobility (UAM) and Unmanned Aircraft Systems (UAS) Innovation Display Area that fixates on dynamic, forward-looking technology. Through UAM, New Product Showcase, Future Workforce, Sustainability, Artificial Intelligence, Electric Aircraft / eVTOL, and sonic aircraft, NBAA had everything that could possibly be seen in the upcoming future of aviation. Products like Bell's NEXUS, Airbus' Vahana and many others presented the exciting picture of upcoming air mobility.
IGNITE YOUR INNER INNOVATION
NBAA-BACE hosted an Innovation Zone which made all the buzz through the multiple sessions aimed at future technologies like how remote-piloted unmanned aircraft will co-exist with the current business aviation fleet, among others. This exhibition presented some of the most creative ideas that have entered, are ready to enter or are in the process of thinking and/or execution.
PRODUCT SPOTLIGHT
NBAA-BACE 2019 was an opportunity where you could closely examine the most renowned as well as the latest products and services from over 1,000 exhibitors. This edition of NBAA-BACE also brought a first of its kind New Product Showcase, a comprehensive presentation of business aviation's newest and most distinct products as well as the many announcements about the same. The all-new Honeywell IntuVue RDR-7000 Weather Radar System and Lee Aerospace CoolView Aircraft Windows were among the products under the limelight.
KNOW THE TRADE
A largescale gathering of such major as well as the prospective business industry names undoubtedly calls for many major deals and announcements including changes in the organisational structures, agreements between companies, tie-ups, purchases, new reveals, debuts, acquisitions, expansions and much more. The attendees of NBAA-BACE surely returned with an upper hand of information in the business aviation trade area. Gulfstream unveiling the G700 and announcing its launching customers; Bombardier's Global 6500 making its debut, Embraer and Flexjet agreement were among some of the proceedings that stood out.
AIRCRAFT DISPLAY
From business jets to rotorcraft, over 100 aircraft were on display at the 2019 NBAA-BACE. Bringing together the world's most cutting edge business aircraft in one venue, the exhibition allowed the business aircraft buyers and enthusiasts to assess and survey a wide range of aircraft options up close. Some of the aircraft that were seen at NBAA-BACE 2019 included the Airbus' ACH130, ACJ319; Boeing Business Jets; Bombardier Global 7500, Global 6500, Challenger 350 and Challenger 650; Dassault Falcon 900LX, Falcon 2000S, Falcon 8X; Embraer Executive Jets Phenom 100, Phenom 300, Praetor 500, Praetor 600; Gulfstream G650ER, G600, G500, G550, G280; Cessna Caravan, King Air 350i, Citation M2, Citation CJ4, and many others. The wide-ranging display of pistons, helicopters, turbo-props, jets and future UAM/UAS aircraft was a perfect amalgamation of successful, luxurious, comfortable and technologically advanced designs.
FIRST-HAND EXPERIENCE
At this year's NBAA-BACE, the attendee didn't just get to see some of the most iconic and the most advanced aviation aircraft at static display but also experienced being inside some of them through mock-up cabin showcases. While Bombardier planned a full-size interior mock-up of its latest addition, the Learjet 75 Liberty, Airbus presented a cabin mock-up of its helicopter too and Dassault exhibited a full cabin mock-up experience of its all-new Falcon 6X, deemed to be the tallest and widest aircraft in business aviation.
DISCUSSIONS TO DIRECT THE WAY
Prior to the show as well as during the NBAA-BACE 2019, there were about 60 educational opportunities available for everyone who held an interest in aviation and was looking to enhance the horizon of his/her information. From NBAA-certified educational tracks and recurrent training to industry hot topics and insights from business aviation leaders, there was something to cater to everyone's interest.
INSIGHT FROM SOME PROMINENT SPEAKERS
Attendees at the NBAA-BACE 2019 heard from a group of trailblazers in aviation, including the first female Air Force fighter pilot of the United States Air Force Major General Jeannie Leavitt; Uber Elevate CEO Eric Allison; NBAA president and CEO Ed Bolen; Yves Rossy, the first man to fly with a jet-propelled wearable wing; sports legend Magic Johnson, who kickstarted NBAA-BACE 2019 in celebratory, championship-style; internet visionary Sky Dayton; Pilot and Business Leader Ross Perot Junior and many others who left a lasting impact on the attendees through their stories, valuable input, and messages.
HISTORIC FEATURE OF SUSTAINABILITY
The convention strongly and clearly highlighted the commitment of the business aviation industry to ensure a sustainable future. As part of the convention's aircraft display, the first-time availability of sustainable aviation fuel (SAF) was welcomed at Henderson Executive Airport (HND) and a historic fly-in of aircraft using SAF was witnessed. Arranged by the NBAA and the General Aviation Manufacturers Association (GAMA), the demonstration was a highlight of the show. From deliberations centered on the SAFs to exhibiting the role and usage of the fuel as well as high-profile education sessions about green technology, the show highlighted the industry's efforts to ensure a cleaner future. Original Equipment Manufacturers (OEMs) like Embraer, Textron Aviation, and Dassault, along with some other private operators flew to the convention with the SAF, making a strong statement.
MAKING WAY FOR THE YOUNG PROFESSIONALS
At the annual Careers in Business Aviation Day at the NBAA-BACE 2019, a perfect opportunity was laid for hundreds of high school students to first hand hear from aviation leaders and learn about the industry to transform their aviation inclination into a future career option. NBAA's Business Aviation Top 40 Under 40 were recognised as well as a handful of the successful graduates were granted scholarships as way to attract young talent to the business aviation workforce.
SMALL OPERATOR SYMPOSIUM
Issues facing small flight departments, typically defined as flight departments with one or two aircraft were highlighted during the second annual NBAA Small Operator Symposium held the day before NBAA-BACE. The interactive half-day event honed in on practical tips to increase efficiency while dealing with limited resources.
MAINTENANCE AND OPERATIONS
There were sessions at NBAA-BACE 2019 around a variety of maintenance and operations subjects as well, featuring the latest updates on the technical front from manufacturers including Bombardier, Dassault Falcon, Gulfstream, Honeywell, Pratt & Whitney, Daher and many more. These sessions were a huge benefit for maintenance professionals looking for some technical education with live demonstrations harnessed towards specific aircraft products and services.