In modern warfare, the emphasis is not on physical strength, but on brain power operating sophisticated weapons systems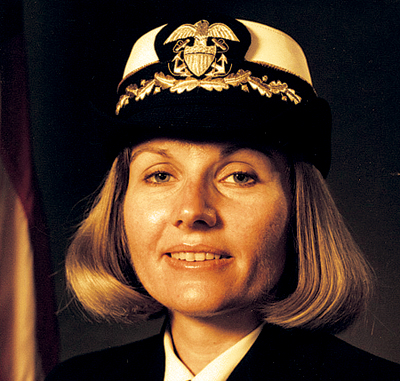 Women piloting combat jets is nothing remarkable nowadays. But things were different in 1974 when Rosemary Mariner became one of the first women to earn wings as United States Naval Aviators. She went on to become the first US female aviator in history to fly a fighter jet. And braving obstacles at every stage, she also became the first woman to command an operational squadron. Throughout her life, she was a passionate advocate of equal rights for women and for their integration in combat aviation. However, she knew that women would be fully accepted only if they took the same risks as men. Hence her advocacy was not restricted to words. By her competence, she demonstrated the absurdity of excluding half the population from any field where talent and skill are essential.
Rosemary Bryant was born into a military family on April 2, 1953, in Harlingen, Texas. Her mother was a nurse in the US Navy and her father served in the US Army Air Corps during World War II. He also served as a combat pilot in the US Air Force during the Korean War. Rosemary barely got to know her father since he died in a plane crash on March 20, 1956, when she was three. Undeterred, she developed a keen interest in flying, especially military aviation. She did not consider any job – including washing aircraft – as too humble to earn money for flying lessons. At the age of 17, she was awarded her private pilot's licence. She also earned the flight engineer rating before joining the Navy. Women were not allowed to fly US military aircraft, but she became the first woman to graduate from the newly-created aeronautical programme at Purdue University in 1972.
A year later, as feminism swept across the US and one male bastion after another began to crumble, the US Navy finally opened up flight training to women. Thereafter, Rosemary's progress was rapid. In 1973 she was selected as one of the first eight women to undergo pilot training in the US Navy. Finally six women were awarded their wings and Rosemary was among them. In 1974, she became one of the first female aviators to fly a tactical strike aircraft – a single seat A-4E/L Skyhawk. And in 1976 she converted to the A-7E Corsair II, becoming the first woman to fly a front-line strike jet.
It is perhaps the dream of every naval officer to serve aboard an aircraft carrier and in 1982, Rosemary Mariner became a surface warfare officer aboard the USS Lexington – the first female aviator assigned to an aircraft carrier. In 1990, she became the first woman to command a US Navy aviation squadron – the Tactical Electronic Warfare Squadron Thirty Four (VAQ-34), flying the EA-6B Prowler. In 1991, she participated in Operation Desert Storm in command of the same squadron.
She was President of the Women Military Aviators from 1991 to 1993 and used the post to good effect to organise other female pilots. As she later explained, "We would get together and if we thought something was unfair – they wouldn't let a women land on a ship, for example – we would write a letter up the chain of command and put it on the record that we wanted that changed". However, she was not promoted to Captain because of restrictions on women flying combat missions. In April 1993, when these restrictions were finally removed, Mariner was one of the first female aviators selected for promotion to Captain in the US Navy. As she always maintained, "In modern warfare, the emphasis is not on physical strength, but on brain power operating sophisticated weapons systems. A machine gun is a great equaliser." She thus showed the way for many other women to follow.
Her last military assignment was Chairman of the Joint Chiefs of Staff's Professor of Military Studies at the National War College. By the time she retired in 1997, having completed 24 years of military service, she was a veteran of naval aviation. She had seen 17 carrier deployments and logged over 3,500 flight hours in fifteen different aircraft of the US Navy.
But Captain Rosemary Mariner's final battle was yet to come. In 2014 she was diagnosed with ovarian cancer and given a few months to live. However, she fought the disease with all the willpower at her command. She finally succumbed on January 24, 2019, with her husband of 39 years, retired Commander Tommy Mariner at her bedside. At her funeral, the US Navy paid her a special tribute by conducting an allfemale flypast for the first time. The four F/A-18 Hornet jets performed the "Missing Man" formation over the cemetery, a recognition otherwise reserved for four-star Admirals.