Falcon 6X, one of the newest wide-body aircraft in the French manufacturer's fleet, completed cold weather testing recently, moving closer to its service entry planned in 2022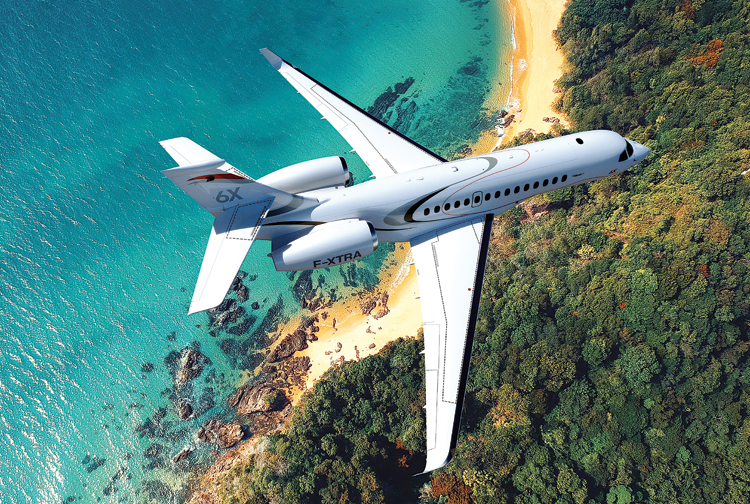 Falcon 6X in flight, one of the newest wide-body aircraft from Dassault's family
Last month, Dassault Aviation marked the first flight anniversary of its upcoming aircraft, Falcon 6X. "It's the one-year, Falcon 6X first flight anniversary. Next stop delivery," remarked the manufacturer. The aircraft is one of the two new members of the Falcon family that's making 2022 "especially exciting at Dassault Aviation". The Falcon 6X enters service in 2022 and the highly-anticipated Falcon 10X is soon to follow in its footsteps.
Falcon 6X has been making continuous stride towards achieving its target. Recently, the aircraft completed cold weather testing, passing another major milestone towards certification, expected later this year. The manufacturer underlined that these tests, which were completed at the end February, followed an initial series of cold weather tests in December, when temperatures dipped as low as -25°C (-13°F). The 6X endured a total of 50 hours of Arctic cold tests and has now accumulated some 650 flight hours, and completed over 220 flights.
"The Falcon 6X continues to impress us with its performance and reliability as we move through the certification process. The aircraft operated flawlessly at the extreme temperatures an aircraft can be subjected to in the severest climate conditions. That includes engines, systems and low-temperature maintainability requirements," said Carlos Brana, Dassault Aviation's Executive Vice President of Civil Aircraft.
Explaining further about the test campaign the company detailed the steps and added that during the arctic ground test campaign, the aircraft was cold soaked for three successive nights and subjected to different start sequences each morning. Teams then powered up the aircraft and conducted engine ground runs and high-speed taxi tests. Ground tests were followed by a test flight during which anti-icing systems and handling qualities were checked and the stability of fuel and hydraulic fluid temperatures verified while the aircraft remained in a holding pattern flown at 10,000 feet.
"Pratt & Whitney Canada's PW812D engine is a major step forward in fuel efficiency, maintain ability and performance, and will help make the 6X a truly outstanding aircraft," said Dassault Aviation Chairman and CEO Eric Trappier
The aircraft test campaign has accumulated over 500 flight test hours and 150 flights to date as it continues to make steady progress toward planned type certification in late 2022. Pratt & Whitney Canada's PW800 family of high efficiency engines powers Dassault's extra widebody Falcon 6X. All three of the Falcon 6X, currently in-flight testing, are powered by the same P&W engine.
"Pratt & Whitney Canada's PW812D engine is a major step forward in fuel efficiency, maintainability and performance, and will help make the 6X a truly outstanding aircraft," said Dassault Aviation Chairman and CEO Eric Trappier. The 13,500 lb-thrust PW812D promises to provide the Falcon 6X with a range of up to 5,500 nm (10,200 km) and a top speed of Mach 0.90. The Pratt & Whitney Canada PW812D engine has received Transport Canada certification, EASA and FAA certifications expected to follow shortly. This engine certification that took place in December 2021, moved Dassault Falcon 6X one step closer to entry into service.
Prior to the engine certification, in November 2021, a Falcon 6X flight test aircraft landed at Paris-Le Bourget Airport, where it became one of the first aircraft to refuel in the field using a sustainable aviation fuel (SAF) blend, provided by TotalEnergies. Dassault Aviation plans to continue using SAF in the test programme as part of the company's ongoing effort to minimise its CO2 footprint.
Dassault pilots have been constantly testing the limits and capabilities of the Falcon 6X as it speeds toward its certification this year. In February this year, the aircraft was pushed to Mach .95 to assess its behavior beyond the maximum operating speed of Mach .90. The crew also plans to evaluate the 6X up to Mach .97 in a series of new speed tests. In January, Dassault Aviation had also welcomed the first production of the Falcon 6X extra widebody twin to the Falcon completion center in Little Rock, Arkansas.
"The arrival of the first Falcon 6X at Little Rock marks a very positive milestone in this programme. Our teams have been working tirelessly behind the scenes to prepare for 6X completion and we are benefiting from very good momentum as we move towards certification," Trappier added.
A dedicated 6X technical response team has already performed robustness and cycle testing on equipment and components in preparation of manufacturing. Engineers have also designed processes that will allow "one shot installation" on interiors, further reducing completion time. Dassault added that advanced digital technologies are at the forefront of efforts to streamline completion activities. "These include a dedicated 'virtual plateau' capable of displaying any system or component on the aircraft using Dassault Systems 3D CATIA design and product lifecycle management software that helps teams visualise and plan for the most efficient approach to each aircraft completion."
Currently, three Falcon 6X aircraft are involved in Dassault's flight test programme, including one that is undergoing extreme weather and endurance testing. Further, an initial production aircraft with a fully outfitted cabin is expected to join the development programme. This aircraft will also conduct a global tour to evaluate aircraft and system performance in the real world of business aviation, including operation in remote locations and other challenging environments.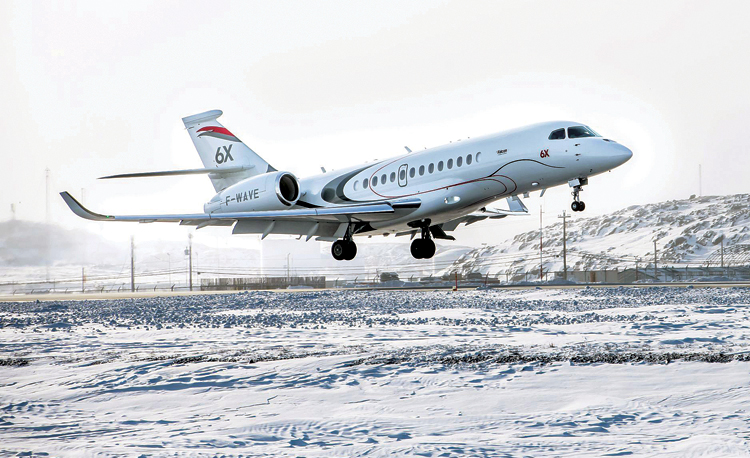 Another Major Milestone: Dassault Falcon 6X recently endured 50 hours of Arctic cold tests to complete cold weather testing
The 6X cabin has already been winning design awards based on first mockups. The cabin's "elegant and imaginative styling" has won two industry awards for innovative design including the Red Dot prize for premium cabin design. Two aircraft have achieved fully functional interiors. "Completed fourth aircraft will soon undertake a global tour for further evaluation and show the world why it's winning awards," stated Dassault.
Keeping in mind the significance of best air-quality inside aircraft cabins especially after the pandemic, a HEPA (High- Efficiency Particulate Air) Filters option is equipped in the Falcon 6X. HEPA filtration promises to remove dust, allergens, bacteria and viruses.
While the first flight-test flight happened on March 10, 2021, Dassault had flown a second Falcon 6X flight test aircraft on April 30, 2021, adding another important milestone in the development programme for the new widebody, long-range twinjet. This was followed by the third Falcon 6X joining the flight test campaign on June 24, 2021.
Apart from the flight-test campaign, the 6X cabin mock-up has also been put up at exhibitions in Russia, as well as Europe. The 6X cabin mockup offered the users an opportunity to experience "the widest and tallest cabin in a currently flying business jet. At 6 feet, 6 inches (1,98 m) high and 8-feet, 6 inches (2,58 m) wide, the 6X is designed for comfort, a healthful travel experience and productivity on routes over 10-hours and up to 5,500 nautical miles (10,186 km)." Apart from these features, the aircraft also ensures to ultra-low noise levels. In addition to that, the 6X will feature a cabin altitude as low as 3,900 feet at a cruise level of 41,000 feet.
First announced in 2018, the Falcon 6X comes with a vision to create a new benchmark in the long-range, large aircraft segment. The aircraft's "largest cabin cross section in business aviation" is surpassed only by the manufacturer's own ultralong-range Falcon 10X, which will have the largest cabin of any purpose-built business jet.
Dassault further highlighted that the 6X has end-of-mission approach speeds as low as 109 knots and can routinely fly out of small airports with runways of 4,000 feet or less. The aircraft also comes with an advanced digital flight control system, with digital control not only of primary flight controls such as ailerons, elevators and rudder but also, for the first time, secondary flight controls like flaps, flaperons, and nose wheel steering.