Multinational exercises are aimed at promoting interoperability, checking readiness of forces, familiarisation with new technologies and enabling on-the-job training of participating crew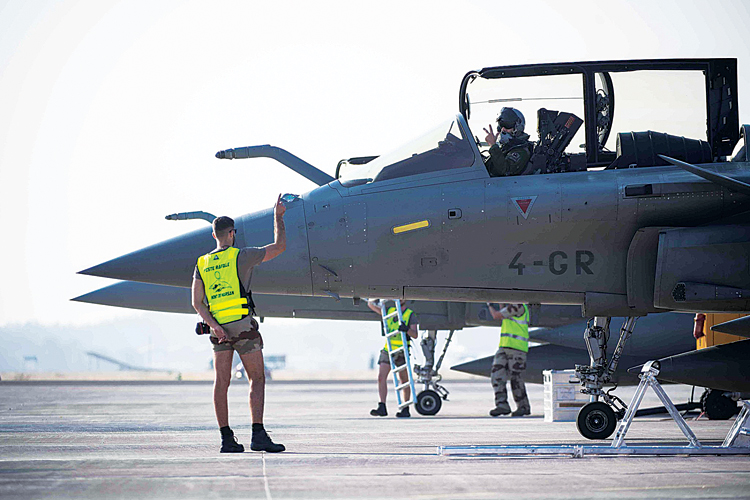 The seventh edition of bilateral Air Exercise Garuda VII between the Indian Air Force (IAF) and French Air and Space Force (FASF) concluded on November 12 at Air Force Station Jodhpur. The 18 day air exercise began on October 26.
In this exercise, FASF participated with four Rafale fighter aircraft, one A330 Multi Role Tanker Transport (MRTT) aircraft and a contingent of 220 personnel. The IAF participated with Su-30 MKI, Rafale, LCA Tejas and Jaguar fighter aircraft, as well as the Light Combat Helicopter (LCH) and Mi-17 helicopters. The IAF contingent also included Combat Enabling Assets like Flight Refuelling Aircraft, AWACS and AEW&C. This was the first occasion for the LCA Tejas and the recently inducted LCH Prachanda to participate in any international exercise.
According due importance to exercises of such stature, November 8 witnessed combined flying by IAF Chief of the Air Staff (CAS), Air Chief Marshal V.R. Chaudhari, and Chief of the Air Staff of FASF, General Stéphane Mille, participated in the exercise as part of a combined training mission. The IAF CAS flew a sortie in an IAF Rafale fighter and the FASF Chief flew in an IAF Su-30MKI fighter.
The IAF CAS said, "We have learned how to carry forward our interoperability. French Air Force also flies Rafale, we also fly Rafale, but we fly many other aircraft along with Rafale. It's important to learn how to interoperate with friendly nations."
So far, three editions of Exercise Garuda have been conducted in India in 2003, 2006 and 2014 at Air Force Stations Gwalior, Kalaikunda and Jodhpur, respectively. Intervening three editions were conducted in France in 2005, 2010 and 2019.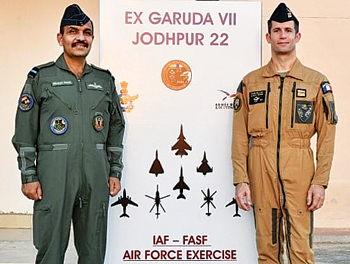 In any future conflict anywhere in the globe, air power will play a vital and critical role in deciding the outcomes of the conflict. Such exercises provide great opportunity in enhancing inter-operability, developing trust, demonstration of capabilities, camaraderie and familiarity between the operating Air Forces. Multinational exercises are aimed at promoting inter operability, checking readiness of forces and strengthening understanding among participating forces. It facilitates better coordination between the militaries, observation of enemy's tactics, familiarisation with new technologies, enabling on-the-job training of participating crew.
Besides these military exercises are a good tool of strategic signaling and projection of intent. Deployment of air power in a multinational exercise sends even a stronger signal. IAF has assumed a leadership role in this regard and has been carrying out exercises with various countries.
These exercises also have a great potential towards enhancing military diplomacy. IAF has been cognizant of important role the air exercises play in furthering military diplomacy and has been taking part in various air exercises with nations like the US, Russia, the UK, France, Israel, UAE, Japan, Singapore, South Korea, Malaysia and Australia. Most of these exercises are regular and scheduled.
At the same time there is also a need for IAF to engage in air exercises with our neighbouring countries - Bangladesh, Nepal, Sri Lanka and Afghanistan, with whom there are more likelihood, especially of the IAF getting involved as lead agency for human assistance in disaster relief (HADR) operations. IAF annually conducts a joint HADR exercise with ASEAN countries, this year it is planned in Air Force Station Agra from 28–30 November, 2022.
For IAF, collaboration in the Indo-Pacific region is the key driving theme of the exercise. Exercise Garuda VII assumes even more significance in view of the prevailing geopolitical situation, especially in the Indo-Pacific region. IAF needs to continue to train vigorously to enhance its operational capability and technical competence through such exercises.