To cater to the rising air traffic in India, the Government and Airports Authority of India has been working towards increasing the number of airports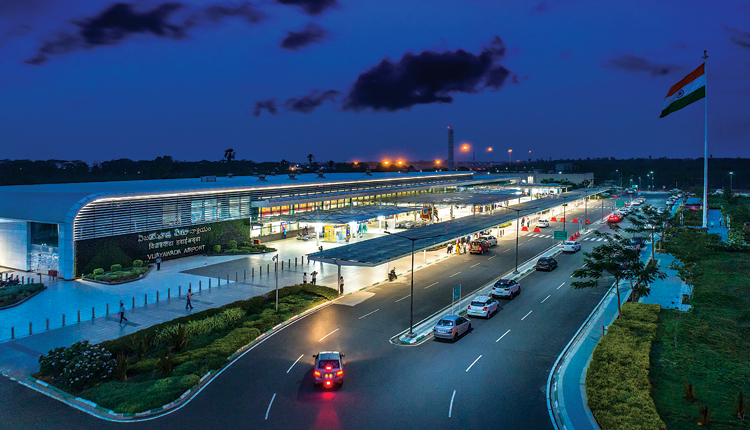 With the extended runway becoming operational, VIjayawada International Airport is the largest airport in the State with a runway capable of handling Code-E type aircraft
The resumption of regular international flights from March 27 is being greeted with cheer by all the stakeholders. Aviation industry is one of the major contributors to the nation's economy. As per an International Civil Aviation Organisation (ICAO) study, the output multiplier and employment multiplier are 3.25 and 6.10 respectively.
Prior to the pandemic, the International Air Transport Association (IATA) forecast that India is expected to become the world's third largest aviation market by 2024. However, COVID-19 has been a big dampener on the Indian and global aviation industry. Domestic and international passenger traffic has reduced considerably over the last two years.
To cater to the rising air traffic, the Government has been working towards increasing the number of airports. Indian Brand Equity Foundation (IBEF) in its December 2021 report has estimated increase in the number of airports to 190-200 by 2040. IBEF estimates that the requirement of passenger aircraft is likely to increase from present 680 to 1,100 by 2027 and further to 2,380 by 2038.
The ongoing Russian-Ukraine crisis that has dampened the industry sentiment across the world, is likely to be transient. The true impact would be clear only once things settle down. The Indian civil aviation industry holds big promise.
NATIONAL CIVIL AVIATION POLICY
In order to provide the necessary impetus to the sector, the government needs to focus on an ecosystem for the harmonised growth of various aviation sub-sectors. The policy document guiding the civil aviation industry is a comprehensive National Civil Aviation Policy (NCAP 16) promulgated in 2016, encompassing 28 aspects related to the industry.
NCAP 16 acknowledges that airports are the pivot of economic activity and the quality of airport infrastructure is a vital component of the overall transportation network and contributes directly to country's revenue flow, international prestige, competitiveness and foreign investment in the long run. With the aim of creating, upgrading, maintaining and managing civil aviation infrastructure in India, a statutory body, Airports Authority of India (AAI) was constituted by an Act of Parliament on April 1, 1995 under the Ministry of Civil Aviation (MoCA). AAI manages 137 airports, including 24 international, 103 domestic and 10 Customs Airports.
NATIONAL MONETISATION PIPELINE (NMP)
AAI has been incessantly on the job, but progress is slow because of large capital expenditure and long gestation period in airport infrastructure projects. So, the government decided to include airport infrastructure to be part of NMP, launched in August 2021. NMP is designed to unlock the value of investments in Brownfield public sector assets. It envisages an aggregate monetisation potential of six lakh crore through the leasing of assets of the Central government in sectors such as roads, railways, power, oil and gas pipelines, telecom and civil aviation over a four year period up to 2025.
In order to provide the necessary impetus to the sector, the government needs to focus on an ecosystem for the harmonised growth of various aviation sub-sectors
AAI plans to invest 25,000 crore in next five years to enhance airport infrastructure. Minister of State in the MoCA V.K. Singh in a written reply to a question in Lok Sabha on December 9, 2021 stated that under the NMP, 25 airports have been earmarked for asset monetisation.
Currently, there are 13 airports operated by private companies under the Public Private Partnership mode. Of these, eight belong to AAI -- Delhi, Mumbai, Lucknow, Ahmedabad, Mangaluru, Jaipur, Guwahati and Thiruvananthapuram and five other airports at Hyderabad, Bengaluru, Cochin, Kannur and Durgapur belong to the respective state governments.
On January 19, 2021, AAI has signed a concession agreement with Adani Group for Jaipur, Guwahati and Thiruvananthapuram airports.
GREENFIELD AIRPORTS
V.K. Singh further stated that 'in-principle' approval has been accorded for setting up 21 Greenfield airports at an approximate cost of 36,000 crore in various states. Of these, airports at Sindhudurg, Khushinagar, Oravackal, Durgapur and Kannur have already become operational in last one year. Also, six heliports are planned to be developed in Himachal Pradesh and Uttarakhand under the regional air connectivity scheme UDAN.
NORTH EAST
A special emphasis has been laid to develop airport infrastructure in the North East. A modern new terminal has recently been inaugurated at Tripura airport. A new airport is under construction at Hollongi (Itanagar), 15 km from state capital. This will be the first in the hilly state with 2,300 meters long runway, capable of operations of Airbus A320, with a future scope of extension of runway by another 500m for Airbus A321. It is getting ready ahead of schedule and planned to be inaugurated by August 15, this year. Besides this, on May 8, 2021, AAI commenced commercial operations at Rupsi airport, the 15th airport in North East and 7th in Assam. Three more airports in Arunachal Pradesh, at Dirang in West Kameng, Anini in Dibang Valley and in Upper Subansiri district are likely to come up.
WATER AERODROMES
After the successful launch of seaplane service by Prime Minister Modi, between the Statue of Unity near Kevadiya and Sabarmati Riverfront in Ahmedabad in October 2020, the government is planning to start 12 more water aerodromes, including two in Assam, four in Andaman and Nicobar Islands and one at Ujjani Dam in Maharashtra.
GROWING CARGO TRAFFIC
While cargo carried by air in India weighs less than one per cent of the total cargo exported, it accounts for 35 per cent of the total value of exports. McKinsey report has brought out that last year, due to rise in e-commerce and the transportation of medical goods, the civil aviation industry has witnessed an increased air shipment of cargo, leading to tripling of revenue to 36 per cent of sector's total revenue. The major airlines cargo revenue accounted for 49 per cent of total revenue. Keeping in mind the importance of air cargo and its impact on the overall economy, AAI on August 11, 2016, demerged and corporatised its cargo department into functionally and administratively independent organisation termed as AAI Cargo Logistics and Allied Services Company Limited (AAICLAS). It is functioning as multi modal interface linking air, surface & water transport. Till 2014, there were 11 Domestic Air Cargo Terminals and 19 International Air Cargo Terminals in India. Now, additional 27 domestic air cargo terminals have been created covering various regions. On March 2021, country's first dedicated express cargo terminal was inaugurated at Bengaluru, increasing its cargo handling capacity from 5,70,000 MT per year to 7,20,000 MT.
AIRPORTS INFRASTRUCTURE– SCOPE FOR FUTURE
The Indian aviation industry contributes five per cent of GDP, equivalent to $72 billion. It offers four million jobs and another seven million through aviation, tourism and related activities. So more efforts are needed to create infrastructure for further growth. Over the next five years, the government has plans of spending 91,000 crore on Greenfield airports; Brownfield airports under the NMP and the PPP model.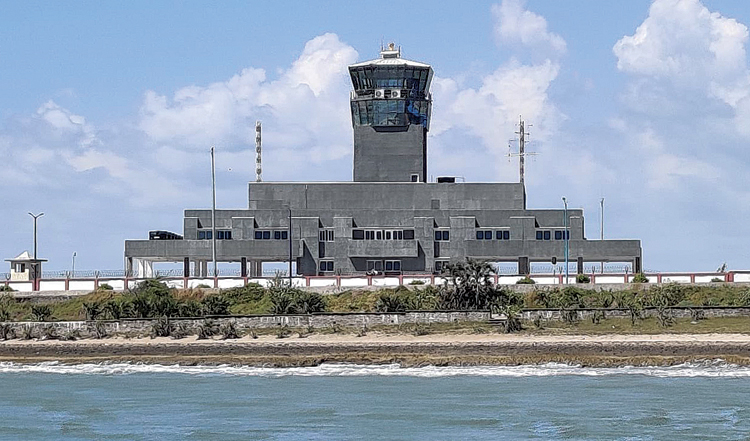 The runway has been extended and construction of the ATC Tower-cum-Technical Block-cum-Fire Station has been completed at diu airport to ease flight operations
AIRPORT INFRASTRUCTURE- NEEDS CAREFUL PLANNING
The government instituted several measures to revive civil aviation in India. AAI has taken up a well-drafted airport infrastructure development programme for capacity expansion of airports. As airports are connectivity nodes for respective cities, planners have to factor in the urbanisation trends as well the overall master plan. Key to airport efficiency is the master plan of an airport. It ensures that all airside, landside and airport support facilities can improve and/or expand their operations in a consolidated manner that benefits all the stakeholders. There is a requirement for continued coordination amongst multiple ministries and agencies.
PROJECT EXECUTION
Rapid execution with technical superiority of the projects is the need of the hour. Monitoring the execution of airport projects involving multiple agencies, poses a significant challenge. Sometimes, focus on tracking the quality of work gets diluted. Defining the right metrics to review and monitor progress and deploying the latest technology are considered essential to monitoring execution. Finance Minister Nirmala Sitharaman mentioned in her budget speech on February 1, 2022 that airports would be monitored under the PM Gati Shakti programme. With this, the infrastructure planning, implementation and monitoring will get a new direction. This will also bring down the time and cost overrun of the projects.
As airports are connectivity nodes for respective cities, planners have to factor in the urbanisation trends as well the overall master plan
Requirement for statutory approvals from multiple agencies is also a major bottleneck for any airport infrastructure project. For instance, the Supreme Court suspended the environmental clearance for the Mopa Airport (Goa), resulting in construction getting suspended for nearly a year. Hopefully the Gati Shakti programme will address such issues as well.
Metro airports (Delhi, Mumbai, Bengaluru, Hyderabad, Kolkata and Chennai) handle 61 per cent of the domestic traffic and about 73 per cent of international traffic. In future, these cities are expected to need at least two to three airports. Developing new Greenfield airports at Navi Mumbai and Jewar is a step in the right direction. Bengaluru has also gone for an additional runway. There is however a case for early finalisation of the plan and quick execution of the project.
Good news is that the PPP model seems to have found traction with stakeholders. The recent tendering of the management contract for six AAI airports, as also for Jewar airport, confirms aggressive competition and demonstrates both, the interest from bidders and opportunity for private investors.
The terminal plan should be in consonance with the United Nations Sustainable Development Goal 9 (SDG 9) that envisions promoting sustainable industrialisation and building resilient infrastructure. Needless to say that it is important to develop innovative solutions at the planning stage itself. There is also a requirement to consider an energy efficient infrastructure provisioned with rain water harvesting system, noise absorbing green belt, besides facilities like aircraft rescue and firefighting and a sustainable landscape. Measures and procedures found effective during the pandemic also needs to be included in the project.
While the Indian airport infrastructure creation and expansion programme is in the correct direction, execution of projects needs to be diligently monitored.