IAI has teamed with HAL to compete for a future tender expected to supply aerial tankers to the Indian Air Force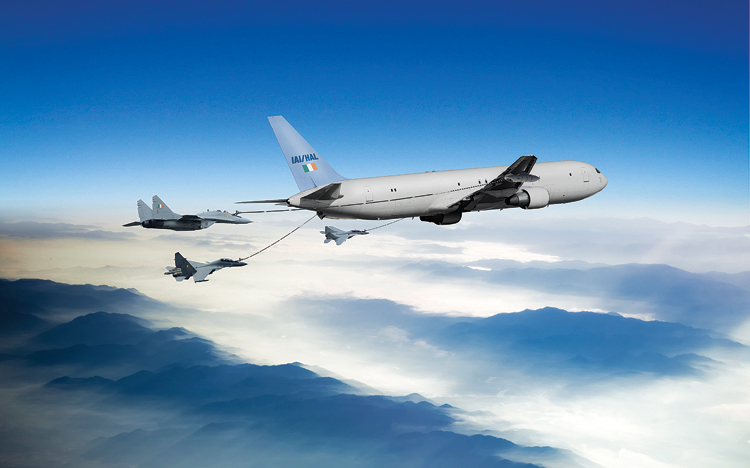 IAI has developed a unique specialty for transforming commercial aircraft into military aerial refueling platforms
IAI's aviation group provides the epicenter of the company's aircraft design, manufacturing, maintenance, and support for military and commercial aviation activities, maintaining the know-how, experience, and momentum IAI has acquired over +75 years of activity.
For the past 30 years, India has been a growing market for the group, developing and manufacturing airborne early warning and aerial refueling aircraft, avionics and systems for the modernisation of fighter jets and helicopters and developing a growing network of suppliers to support those programs. IAI is expanding its footprint in the country via joint ventures seeking new opportunities under Atmanirbhar Bharat - Indian Self Reliance and Make to the World policy.
AIRCRAFT AND AVIONIC UPGRADING
As part of its broad activity in India, IAI provides avionics for fighter jets, upgrading legacy aircraft into Gen 4 and Gen 4.5 standards. IAI has provided such systems for fighter jets, trainers, helicopters, and transport aircraft. IAI has extensive operations in India, primarily cooperating with Hindustan Aeronautics Ltd. (HAL). Under this cooperation, IAI has designed, developed, and integrated a complete avionic suite for HAL's Rudra Armed Light Helicopter (ALH). The company also supplies a whole mission system for the Ka-28 maritime helicopter. This package includes a radar and other sensors for naval and anti-submarine warfare, tailored to the requirements of the Indian Navy. Besides the avionics hardware and software, IAI also provides missionspecific systems, such as airborne networks or pilot training.
AERIAL REFUELING
Aircraft conversions represent another field of activity for IAI, transforming commercial aircraft into military aerial refueling platforms. IAI has developed a unique specialty in this field, converting different aircraft types, including B707, B767, to military tankers and Multi Mission transports. Conversions of B767 represent the most comprehensive solution in this field, turning preowned passenger planes into multi-mission tanker-transport aircraft. The process leverages IAI's extensive know-how of the B767 platform, which has already converted hundreds of such aircraft.
IAI has teamed with HAL to compete for a future tender expected to supply aerial tankers to the Indian Air Force. HAL and IAI plan to offer the B767 converted into aerial tanker transport. Compared with new platforms from Boeing or Airbus, the aerial tankers converted from ex-passenger planes have demonstrated to provide the most cost-effective platform and best value for the investment in aerial refueling platform.
Under its cooperation with HAL, IAI will be able to create a self-reliant eco-system to manufacture the components and assemble the converted aircraft in India, train technical and engineering teams to support the aerial refueling conversion at HAL. More than that, HAL-IAI eco-system will also provide the life cycle support for these platforms.
SIGNIFICANT UPSIDE FOR ALL SIDES
This program could provide the first step towards more comprehensive cooperation between the two companies related to aircraft conversion and MRO, based on the formulae IAI has implemented in some of its strategic markets in Europe, Latin America, Africa, and the Far East.
Further to this specific program, HAL and IAI will be able to expand their cooperation into future programs, commercial and military.