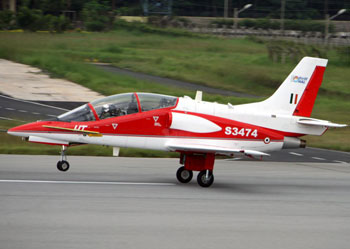 HAL's intermediate jet trainer, the HJT-36, has slipped again and will not meet its December 2013 target for initial operational clearance (IOC), sources involved with the programme have informed SP's.
Troubled by a chronic set of technical issues since for over two years related to spin and stall manoeuvres crucial for pilot training and safety, the IJT is likely to meet criteria for IOC only around June-July 2014. The platform has also encountered significant engine issues, first flagged by the IAF Chief in February this year. Significantly, the fresh prospective delays will be beyond not just the internal deadline set down by HAL of December 2013, but also the officially agreed deadline of March 2014 agreed by the IAF. The IAF has placed an indent for 85 IJTs to stage-2 training of pilots between the Pilatus PC-7 Mk-II aircraft in Hyderabad and the Hawks at Bidar.
The IJTs are to replace the IAF's ageing HJT-16 Kirans. The fifth limited series production airframe made its first flight in Bangalore in September this year. Sources say that the LSP-5 also faced problems encountered on the other airframes, including control and stability issues arising from assymetry. Sources at HAL informed SP's that every effort was being made to compress timelines to meet the IAF's deadline, though cold weather trials and complex flight trials across the platform's flight envelope, to be held at a base under the South-Western Air Command, could mean significant delays.