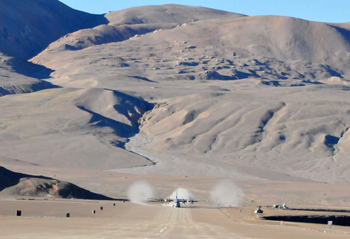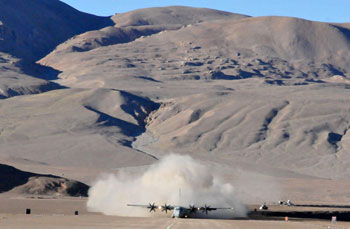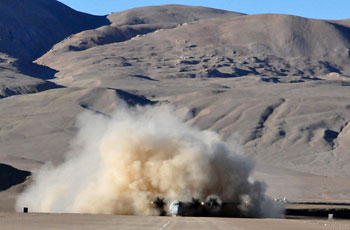 August 21, 2013:
In a significant capability demonstration move by the Indian Air Force (IAF), a Lockheed Martin C-130J-30 Super Hercules aircraft was landed at Daulat Beg Oldie (DBO), the highest airstrip in the world at 0654 hours on August 20. The Commanding Officer, Group Captain Tejbir Singh and the crew of the "Veiled Vipers" along with senior officer from Air Headquarters touched down on the DBO airstrip located at 16614 feet (5065 meters) in the Aksai Chin area after taking off from their home base at Hindon.
DBO is an important Army forward area post which links the ancient silk route to China. The base was built during the Indo-China conflict in 1962 and came into prominence when Packet aircraft of the IAF operated from DBO between 1962 and 1965. The strategic base in the Northern Himalayas had gained importance yet again when it was resurrected and reactivated by the IAF along with the Indian Army and made operational when a twin-engine AN-32 aircraft from Chandigarh landed there after a gap of 43 years.
According to the IAF, considering the very limited load carrying capability of AN-32 and helicopters, a decision was taken by it to land the C130J-30 aircraft which is capable of lifting upto 20 tonnes of load. "With this enhanced airlift capability, the IAF will now be in a better position to meet the requirements of our land forces who are heavily dependent on the air bridge for sustainence in these higher and inhospitable areas."
"The tactical airlift aircraft of the special operations squadron, the Veiled Vipers, which is capable of undertaking quick deployment of forces in all weather conditions, including airdrops and landings on unprepared or semi prepared surfaces created history by landing at this altitude and hostile terrain conditions. This achievement qualifies for the world record for the highest landing by an aircraft of this class. Incidentally, this was the same aircraft and crew that operated at Dharasu during "Operation Rahat" for the Uttarakhand flood relief.
"Today's achievement will enable the forces to exploit the inherent advanced capabilities of the aircraft by increased capability to induct troops, improve communication network and also serve as a great morale booster for maintenance of troops positioned there. It is also a projection of the fact that the IAF is capable of operating in such inhospitable terrain in support of the Indian Army," said the IAF communiqué.
SP's Special Correspondent comments: "With an IAF C-130J Super Hercules from 77 Squadron 'Veiled Vipers' touching down at Daulat Beg Oldie advance landing ground, the scene is set for the next phase of modernisation of the vintage airfield, being used only at a fraction of what it can offer. Top sources now say the next step could be to land the IAF's new 'big boy', the C-17 Globemaster III at DBO. For that to happen, the airfield will need to be extended moderately. While the IAF has given up on plans to activate the Fukche landing ground in Ladakh, it intends to spruce both DBO and Nyoma for full-scale operations, including fighters and heavy transports. Since 2008, the DBO airfield has been a logistics node, receiving mostly helicopters from Leh on air maintenance duty for troops deployed on the line of actual control with China. Beijing had taken strong exception to the landing of an IAF An-32 at DBO in 2008, and is likely to show some consternation at the C-130J landing there as well. That being said, the IAF has not received the mandate to activate its landing grounds and develop them into full-fledged air force stations. The successful landing of a C-130J at DBO also bring in a measure of confidence and reassurance for troops deployed in the most hostile terrains on earth. The fact that C-130J is kitted out as a Special Forces vehicle, is also likely to raise eyebrows across the border."