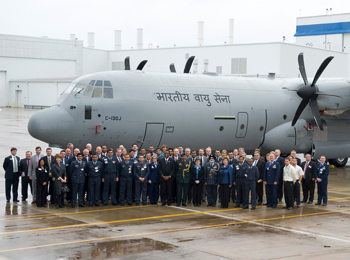 September 16, 2013: The Defence Acquisition Council (DAC) headed by Defence Minister A.K. Antony has finally approved the purchase of six additional C-130J Super Hercules special mission transport aircraft for the Indian Air Force (IAF). The deal will need to go through the Cabinet Committee on Security (CCS) before the contract is signed between the two governments.
The additional C-130Js will join 77 Squadron 'Veiled Vipers', which have seen much action this year, including humanitarian relief operations in Uttarakhand as well as the record-breaking landing last month in Ladakh's Daulat Beg Oldie (DBO) sector. The first lot of C-130Js in service were delivered before time, making the IAF extremely optimistic about the platform, which has gone on to prove itself well from the Hindon Air Force Station.
The IAF had also revealed in 2011 that cost savings from speedy deliveries would be transmitted to the second deal as a discount, which could work out to as much as 300 crore. IAF Chief Air Chief Marshal N.A.K. Browne has been a strong proponent of the deal, given the efficiency of execution and early deliveries of a platform desperately needed by the IAF for the entire gamut of operations. The next batch of C-130Js will have minor technical modifications as required by the IAF.