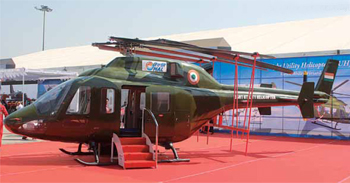 Light Utility Helicopter (LUH)
HAL's Light Combat Helicopter
While the lead time in Prime Minister Narendra Modi's 'Make in India' campaign is likely to be substantial, the year 2015 is turning out to be potentially golden for what's already 'made in India'. A walk around Aero India this year is heartening at several levels. A slew of projects that have been in developmental gestation are ready for their big days off the ground.
You couldn't possibly have missed the mock-up of HAL's Light Utility Helicopter (LUH), that's critically needed for high altitude operations and a potential order of nearly 200 helicopters for the Indian Army and IAF. The good news for HAL and for 'Made in India' is that the first flight of the LUH is slated for August this year, and fabrication of two more prototypes to follow. In a sign that that the LUH is a crucial piece of equipment being built inhouse, chat with any of the several Indian Army aviators who've been buzzing around the mock-up and receiving briefings on the helicopter. They are uniformly impressed, but insist that timelines need to be met for the goodwill factor to prevail. HAL knows that all too well.
HAL chairman T. Suvarna Raju said, "We are setting up Green Field facilities for manufacture of Light Utility Helicopter (LUH) and Naval Multi-role Helicopter (NMRH). The Government of Karnataka has allotted 610 acres land in Tumkuru District for this purpose. Actions have been initiated for obtaining required approvals/clearances. The development of LUH would be very crucial to our plans as defence market capitalisation is based on timelines of this programme. We need to strive and achieve the operational clearance in line with the operational requirements of our defence services." In the nearer future, the Aeronautical Development Establishment (ADE) Rustom-2 medium altitude long endurance (MALE) unmanned air system is set to take off in mid-April. Honeywell is on the programme to help refine the aerodynamics as well as advise the ADE on flight testing. An effort is also on to give the Rustom-2 new diesel engines. The Rustom-2 is also getting tested out for its datalink, comm/navigation systems and sensors. Once flight test begins, things could speed towards operational clearance. Maritime and armed versions of the Rustom-2 could quickly take shape around the baseline platform that's all set to fly. Ground tests have been fruitful too.
A top ADE official at Aero India says, "The lead time taken to realise some of the technologies on the Rustom-2, including the sensors, communication and navigation system have been worth the effort. They are expected to perform very well in flight operations. The team is ready for final ground tests before clearing decks for first flight in the early-mid April period. We will then take the Rustom-2 platform to other locations, including Visakhapatnam and high altitude for other trials."
The third, of course is the indigenous EMB-145i airborne early warning and control aircraft platform. In the air for a few years now, the aircraft enters service this year with the Indian Air Force, and has elicited major interest in the region already. The platform includes the critical item – AESA (Active Electronic Scanning Antenna) Radar Antenna developed by DRDO and certified from ANAC, International FAR Certification Agency. "The induction will be a major milestone towards realizing the dream of an indigenous Airborne Early Warning and Control System, which will put India in a select club of countries," a senior DRDO official concerned with the project said. The Indian Air Force is expected to receive two aircraft this year and a third later.
Another big milestone this year is initial operational clearance for the Light Combat Helicopter. Speeding towards completing its test points, the LCH could see squadron service even as a limited series production avatar. HAL's chairman says, "Light Combat Helicopter (LCH) Technology Demonstrator TD-3 made its maiden flight on 12-Nov-2014. This helicopter has shown its capabilities to you during the air display and we are using our internal funds for building more prototypes in order to accelerate the certification process towards obtaining IOC." While the project initially envisaged two technology demonstrators, the HAL board had decided to also roll out two additional technology demonstrators at a cost of 150 crore as a risk mitigation exercise in the interests of better planning, execution and monitoring of the project and enhancement in the overall number of flights required to achieve cold weather trials, hot weather trails and weapon firing trials. HAL hopes to achieve initial operational clearance (IOC) on the LCH by September 2015. The final technology demonstrator is in an advanced state of fabrication at HAL's Helicopter Division in Bengaluru.
IAF pilots who were invited to check out the LCH have been impressed and wish to see more progress in the coming months in the run up to IOC in September.
Yesterday, when Prime Minister Modi visited the HAL stall, he is said to have had a word for the HAL team: 'continue the good work, and make India proud.' He is said to have evinced keen interest in HAL products especially the LCH, which he dwelled on for a few moments. HAL chairman Raju explained to the Prime Minister the efforts made by HAL on the "make in India front".