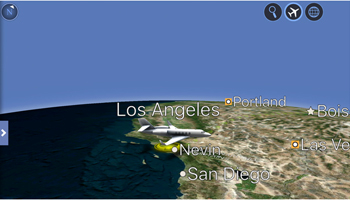 Rockwell Collins Airshow® provides passengers with real-time flight information on stunning, high-resolution maps throughout their journeys
Rockwell Collins and Gogo® have entered into an agreement to expand the availability of Rockwell Collins' industry-leading Airshow® Moving Map into the business aviation market segment. Rockwell Collins will license its Airshow Mobile application to Gogo for business aviation cabin solutions.
"Airshow continues to spread its wings across the aviation industry as the No. 1-used moving map application, and since making it a mobile application that personalizes the passenger experience, its popularity is exponentially increasing," said Greg Irmen, vice president and general manager, Flight Controls and Information Systems for Rockwell Collins. "Working with Gogo gives us another great channel to market for Airshow, and an opportunity for us to help Gogo provide its customers with more options to deliver the information they want."
"Gogo is focused on meeting the needs of our customers and continues to expand the breadth of third-party applications it offers on business aviation aircraft to provide a suite of services for business travelers," said Sergio Aguirre, general manager of Gogo Business Aviation. "Airshow is one of the most popular apps in the market and is a nice addition to our lineup of applications."
Rockwell Collins' Airshow Mobile solution has been optimized for iOS® and Android devices to deliver real-time flight information to passengers, including these features:
Interactive roaming, zooming and navigation of the globe
High-resolution Landsat satellite imagery map set
Unique, interactive panoramic and pilot heads-up display views
Airshow Mobile will be offered by Gogo in the second quarter of 2017.