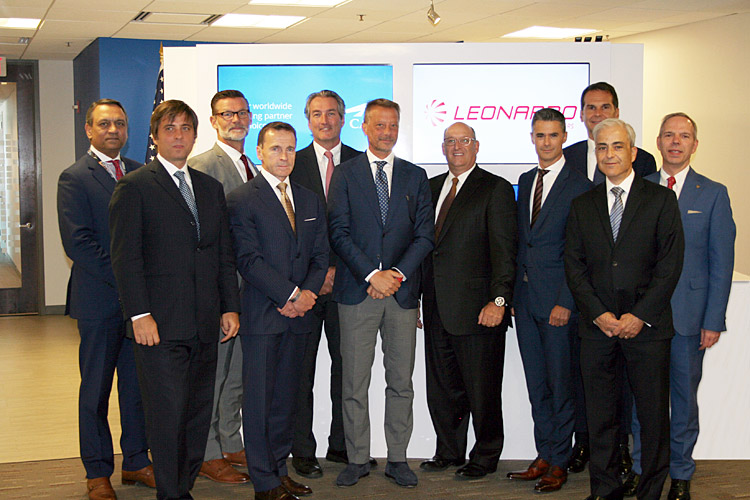 CAE and Leonardo executives celebrate the signing of a Memorandum of Agreement to collaborate in the U.S. market on helicopter training solutions.
Leonardo and CAE USA have joined forces to collaborate in the United States to offer integrated solutions for helicopter training requirements for the government market. A Memorandum of Agreement (MoA) was signed recently between the companies that expands on the long-established relationship between Leonardo and CAE in helicopter training. The MoA is focused on delivering tailored helicopter-and-training packages to US government operators and Foreign Military Sales (FMS) customers.
The companies will provide low risk and best value by offering a comprehensive and integrated training solution that includes aircraft, simulators and courseware. Working together to create a cohesive flight training package, Leonardo and CAE will be at the forefront of integrated, live, and virtual training developed for specific aircraft missions.
The integrated offerings from Leonardo and CAE could include advanced helicopters, simulators and training devices, courseware, training services, and training centers. Each arrangement will be specific to the customer and determined on a case-by-case basis.
William Hunt, CEO AgustaWestland Philadelphia Corporation, said: "Leonardo has a long history of collaborating with CAE for helicopter training. By creating integrated training systems for the US government together, we are able to offer forward-looking, cost effective solutions that ensure mission success."
"We look forward to collaborating with Leonardo on training opportunities in the US military market related to Leonardo's range of helicopter platforms," said Ray Duquette, President and General Manager, CAE USA. "Our extensive experience in helicopter simulation and training and specifically on Leonardo helicopters means we will be able to offer timely, cost-effective and integrated training solutions to our US customers."