First-of-its kind solution for airlines in Asia
Single communications solution provides secure wireless connectivity to transfer data on and off the aircraft
Increases safety and efficiency of airlines by providing faster and easier data monitoring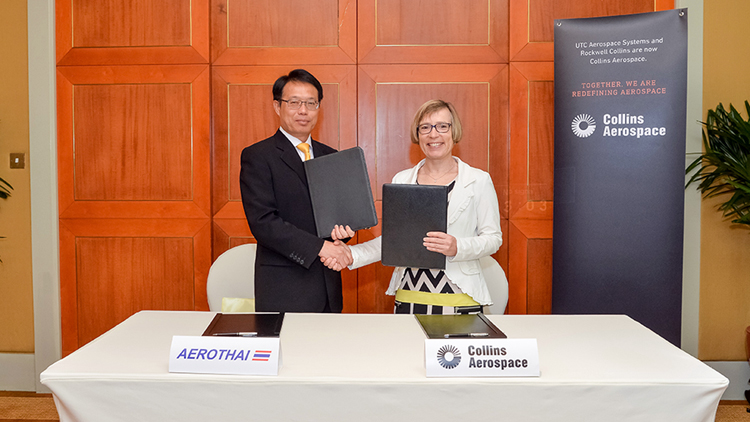 Clotilde Enel-Réhel, general manager for Commercial Aviation & Network Services for Collins Aerospace and Mr. Somnuk Rongthong, AEROTHAI's President, at the signing ceremony for the launch of GlobalConnect managed digital services in Asia.
Collins Aerospace Systems, a unit of United Technologies Corp., continues to expand connectivity beyond the aircraft by offering its GlobalConnectSM managed digital services in Asia through an expanded agreement with Aeronautical Radio of Thailand Limited (AEROTHAI), a leader in providing air navigation services across the continent. This industry-leading offering gives Asian airlines access to GlobalConnect's wireless movement of both Flight Operations Quality Assurance (FOQA) data and Maintenance Operations Quality Assurance (MOQA) data. It also supports ACARS over Internet Protocol (IP) and an enabled Electronic Flight Bag to reduce pilot workload.
Available first to airlines with Airbus A320 and A330s, GlobalConnect is the only offering that can handle multiple datalinks including legacy SATCOM, as well as new Internet Protocol links such as broadband satellite, Wi-Fi and cellular. This saves airlines the time and money required to manually download FOQA and MOQA data while an aircraft is on the ground and increases the safety of the aircraft with faster and easier maintenance and performance data monitoring.
"As overall air traffic growth in Asia continues to accelerate, GlobalConnect will play a key role in helping airlines in the region move towards more digital operations to accommodate increased demand," said Clotilde Enel-Réhel, general manager for Commercial Aviation & Network Services for Collins Aerospace. "This solution goes beyond just creating a connected aircraft - it creates a connected ecosystem by seamlessly uniting the data flow between the aircraft, the airline and ground applications."
AEROTHAI's President, Mr. Somnuk Rongthong said, "We are very excited to be working with Collins Aerospace to welcome and support the new digital evolution for airlines. We believe that our expanded partnership to deploy GlobalConnect here in Asia will realize all benefits for the connected aircraft and enhance safety and efficiency for airlines going forward."
In addition, GlobalConnect supports data feeds to the growing number of mobile applications that are used by flight crews. These include efficiency applications for weather, flight planning, logbooks, maintenance and performance calculators that bring new levels of productivity and value to airline operations.