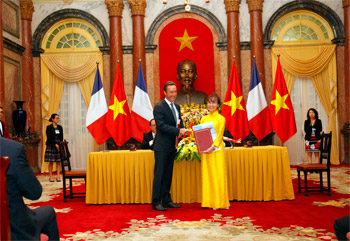 Vietjet President and CEO and Airbus President and CEO finalizes the order deal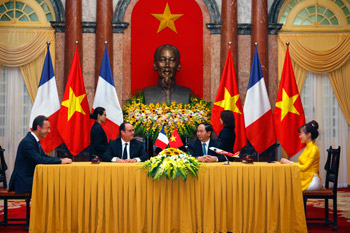 The signing ceremony witnessed by Vietnam President Trân Ðai Quang and France President Francois Hollande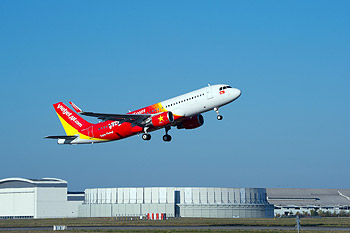 Vietjet aircraft on delivery
Vietjet and Airbus today finalized an order for 20 more A321s. His Excellency Mr. Trân Ðai Quang President of the Socialist Republic of Vietnam, and His Excellency French President François Hollande witnessed the historic agreement, valued at approximately $2.39 billion at current list prices.
The signing ceremony, conducted by Vietjet President and CEO Nguyên Thi Phuong Thâo and Airbus President and CEO Fabrice Brégier, took place at the Presidential Palace in Hanoi, at approximately 9a.m. local time.
"We are pleased to sign our latest purchase agreement with Vietjet," said Fabrice Brégier, Airbus President & CEO. "Vietjet is benefitting from the very significant economies that come from operating a single aircraft family. For busier routes the A321 combines higher capacity with the lowest operating costs in its class, offering unbeatable efficiency. We look forward to developing further our partnership with Vietjet, including working with the airline to develop its new training facility."
At the signing ceremony, Vietjet President & CEO Nguyên Thi Phuong Thâo shared: "Vietjet is developing robustly and sustainably with an aim at better serving our passengers and promoting tourism and economic development in Vietnam and other regional countries."
"The friendly relationship in politics and culture between Vietnam and France has been nurtured over generations. Both countries are heading towards a more efficient economic cooperation of which today's agreement of Vietjet and Airbus is a vivid example. We take great pride in this cooperation and appreciate Airbus for their efforts and support since we first launched operations. Thanks to our modern fleet with advanced designs, fuel efficiency as well as effective support in operations, training and system development, Vietjet will continue to realize passengers' dreams of flying, to create a future in the air with an aim of making Vietjet become more and more popular globally," she added.
The airplanes in this purchase will be delivered to Vietjet from 2017 until 2020.