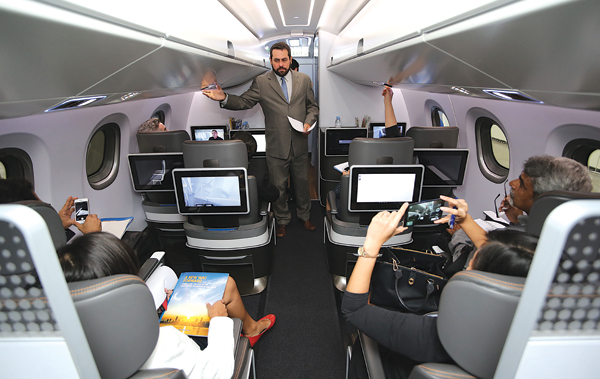 Mock-up of Embraer E-Jets E2 Business Class
It the Farnborough AirShow 2014, I missed out on the debut cabin mockup of Embraer's new E-Jets E2, but was lucky to catch up with Embraer's peek into the future at Singapore. The cabin mock-up is on a worldwide tour of Farnborough, Zhuhai Airshow, Singapore, Sydney before it arrives for the Paris Air Show in June 2015. It has been getting 'wows' wherever it has gone so far. A walkthrough the cabin mock-up is an ethereal experience. With dim and efficient lighting, the welcome into the aircraft is awesome. The first stop is the 'welcome galley' where a fairly large welcome screen digitally displays flight information and has a cabin management system which is not only pleasing to the eye, but also goes on to make life easier for the cabin crew. This is an optional feature for operators, but the guess is its attractiveness and efficiency will come up trumps. Besides, it has enormous potential of becoming additional revenue source as companies can display advertising or reinforce their brand.
Busines Clas, a Clas Apart
The second stop is the Business Class. The seating configuration is different giving passengers a certain amount of exclusivity. In Business Class, Embraer is showcasing a staggered-seat solution that provides exceptional leg room and introduces a new standard of comfort on a single-aisle jet that is traditionally offered only on much larger aircraft. For in-flight entertainment, Embraer has 14-inch monitor option which it plans to integrate into the seat. The E2 cabin will have options for Wi-Fi Internet connectivity and individual screens for inflight entertainment, among other amenities.
Andre Stein, Director, Industry Analysis & Product Strategy, Embraer, explained the aircraft interior features which have new individual control panels for lights and air-conditioning (the Passenger Service Unit—PSU) designed to enhance the concept of 'personal space', with more ergonomic and intuitive controls that were inspired by the automotive industry.
The third stop is the Economy Class. The 18.3-inch width seats are among the widest offered in the industry and will be of the slim type, providing greater leg room for passengers. The overhead bins will be about 40 per cent larger than those of current generation E-Jets, allowing every passenger to take one typical airline carry-on bag onboard. In addition, the bins will accommodate bags with IATA maximum recommended size (56 cm x 45 cm x 25 cm). The best part is that it goes in a wheels first position. One other aspect that Embraer has given attention to is access to loading the baggage in the cabins. There is a kind of foothold wherein a passenger not tall enough can get on to it and load the baggage himself or herself without waiting for any help.
Embraer developed the aircraft cabin design jointly with the UK design studio PriestmanGoode. In Economy Class, the E2s will maintain Embraer's trademark two plus two seating which eliminates the unpopular middle seat.
Minimum to uch points
The fourth stop was the galley and the toilet where touch points make use of lavatory efficiently without wastage of water. The toilets are disabled-friendly. In the galleys, Embraer has used wood-like flooring to give it a distinctive look, but will have to wait for approvals on safety with this optional feature.
To be attractive to leasing companies, Embraer has developed a modular construction approach for the new interior. The modularity concept is built around standard parts and structures, such as common overhead luggage bin parts for all classes. Modularity means airlines and leasing companies benefit from faster reconfiguration, fewer parts and simplified maintenance.
Design-driven
Paul Priestman, designer and co-founding director of PriestmanGoode, recalled his association with Embraer, designing the Embraer 190 and Lineage 1000. "The E2 is the latest we are working on. Design is not just about aesthetics. We design to make things better." The entire concept is functionality with a high-quality feel. PriestmanGoode has worked on the interior of nine different airlines - Thai Airways, Malaysia Airways, Korean Air, United Airlines, TAM, South African Airways, Air France, Lufthansa and Swiss Air.