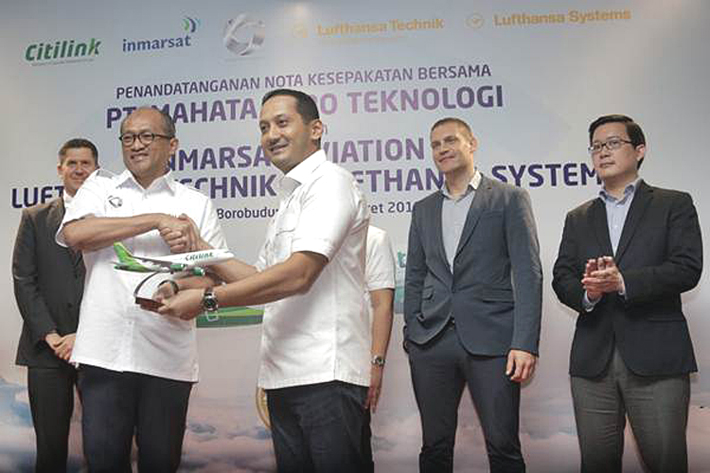 [L-R] CEO of Citilink Juliandra Nurtjahjo and President Director of Mahata Aero Teknologi Muhamad Fitriansyah
PT Mahata Aero Teknologi (MAT), Indonesia's first technology provider of wireless IFEC solutions to airlines, has signed a Memorandum of Understanding (MoU) with Inmarsat, Lufthansa Technik and Lufthansa Systems to provide low-cost carrier Citilink with inflight passenger Wi-Fi services.
The MoU signing took place on Thursday, March 8, 2018 between MAT (the Contract Owner / E-Commerce Solution Provider), Inmarsat (satellite communications provider), Lufthansa Technik (hardware, engineering, installation design and certification), and Lufthansa Systems (software platform and integration). The collaboration between these four leading technology companies will enable Citilink to provide a unique passenger experience and build passenger loyalty through an onboard passenger connectivity offering.
President Director of PT Mahata Aero Teknologi (MAT), M Fitriansyah, said that the option to deliver inflight passenger Wi-Fi services for Citilink is particularly interesting due to the airline's strong technology focus.
"We believe Citilink is unlike traditional low-cost carriers that only pursue profit - it's an airline with a technological vision. Citilink wants to provide its customers with special experiences as often as possible, giving them the freedom to choose how their time is spent in the air. The demographic of Citilink's passengers also matches the business model of MAT."
Acting as a private investor and E-Commerce Platform initiator, MAT will design and provide an exclusive B2C (Business to Customer) commercial platform between e-commerce businesses and Citilink passengers. "Through this, MAT provides the end-to-end networking solutions that enable commercial relationships," said M Fitriansyah.
The hardware technology used for Citilink inflight passenger connectivity will be based on Lufthansa Systems' BoardConnect onboard platform, integrated with Inmarsat's global Ka-band GX Aviation solution. The service will be based on a BYOD (Bring Your Own Device) approach. The software technology used is Multi Enterprise Platform (Hybrid Cloud connection) and Mobile App Front end.
"The technology we offer is the best to support the high-speed connections required in the air, especially for short-haul flights, which need satellite networks with high throughput," said M Fitriansyah.