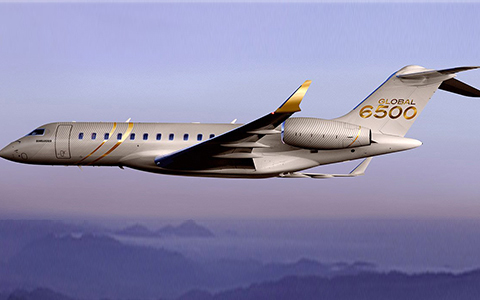 Rolls-Royce today joined Bombardier Aerospace to celebrate the official entry into service of the Global 6500, which is powered by Pearl® 15 engines.
David Coleal, President of Bombardier Aviation, and Dr. Dirk Geisinger, Director – Business Aviation, Rolls-Royce, attended a formal ceremony at Bombardier's static display at the NBAA Business Aviation Convention & Exhibition (NBAA-BACE) in Las Vegas, USA.
The Pearl 15 has been purpose-built and will be the sole engine for Bombardier's latest business jets, the Global 5500 and the Global 6500. The engine combines innovative technologies derived from Rolls-Royce's Advance2 technology demonstrator programmes with proven features from the Rolls-Royce BR700, today's leading engine family in business aviation. The engine's pioneering technology, combined with outstanding performance, will support Bombardier's successful Global family of aircraft in reaching new standards in the ultra-long-range corporate jet market.
Chris Cholerton, President – Civil Aerospace, Rolls-Royce, said: "The entry into service of the Bombardier Global 6500, powered by our pioneering Pearl 15 engines, makes us very proud and I want to congratulate the whole Bombardier team on this important milestone. Our successful relationship started over 20 years ago and I look forward to the outstanding capability of our new engine further building our partnership far into the future."
Dirk Geisinger, Director Business Aviation, Rolls-Royce, added: "The Pearl 15 is a perfect example of our IntelligentEngine vision of a future where product and service become indistinguishable, thanks to advancements in digital capability. Our service teams on the ground will ensure that the aircraft has a smooth entry into service."
Designed for outstanding reliability, the Pearl family is supported by the industry-leading Rolls-Royce CorporateCare® Enhanced, the most comprehensive service programme in business aviation. CorporateCare Enhanced offers substantial financial and operational benefits to customers, increasing asset value and liquidity, mitigating maintenance cost risk and protecting against the unforeseen costs of unscheduled events anywhere in the world. Increased aircraft availability, reduced management burden, full risk transfer, direct priority access to the Rolls-Royce services infrastructure and remote site assistance are further customer benefits.
As well as a new-generation Engine Health Monitoring System that introduces advanced vibration detection, the family features an advanced remote engine diagnostics. It is also enabled for bi-directional communications, allowing for easy remote reconfiguration of engine-monitoring features from the ground. Cloud-based analytics, smart algorithms and Artificial Intelligence continue to play an increasing role in delivering exceptional levels of availability and greater peace of mind for our customers.