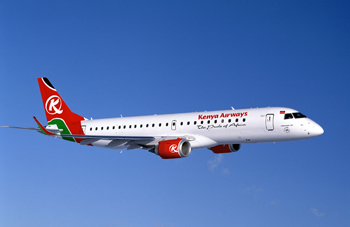 MTU Maintenance, one of the world's leading providers of services for commercial aero engines, and their new customer Kenya Airways have concluded negotiations on the contract for the maintenance of the CF34-10E engines used on the airline's Embraer 190 aircraft. MTU Maintenance has been chosen by Kenya Airways as one of its two contractors for the maintenance, repair and overhaul of the CF34-10E6 engines for a period of five years.
Kenya Airways is the Republic of Kenya's national flag carrier and was founded in 1977. The airline is the third largest in sub-Saharan Africa. Kenya Airways operates a fleet of 15 Embraer190s – the largest CF34 fleet in Africa. It uses these aircraft to serve national and cross-border routes.
MTU Maintenancehas been maintaining engines from the CF34 family since 2003. In total, MTU Maintenance has carried out nearly 900 shop visits for this family (CF34-1/-3, -8C/E, -10E). Services are performed at MTU Maintenance Berlin-Brandenburg. In 2015, MTU Maintenance had a 15% market share, making it the largest independent provider of CF34 services worldwide. It also is the number one provider for the African CF34 market, serving the top four airlines operating these engines in the region.