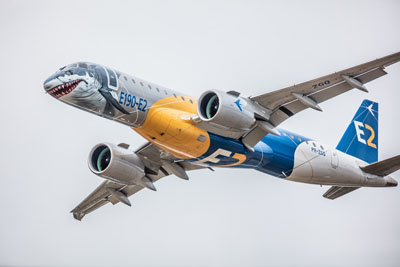 Pratt & Whitney's GTF™ engines are on display at the 2018 Airshow China in Zhuhai as the impressive Embraer E190-E2 "Shark" aircraft makes its debut China demonstration tour. The engines will also be highlighted on airBaltic's A220-300 static display, set to begin its demonstration tour after displaying at the show. The GTF currently powers more than 50 aircraft in China, across 8 operators with over 175,000 engine flight hours. Pratt & Whitney is a division of United Technologies Corp.
Pratt & Whitney announced at this year's Farnborough Airshow that in the past 12 months it has received more than 2,000 new GTF engine orders and commitments, including options and spares. Now, there are more than 280 GTF-powered aircraft delivered to 30 operators around the world. Total engine revenue hours are over 1.3 million for the combined GTF powered fleet of A320neo family, A220 and E190-E2 aircraft. Total fuel savings is estimated at 65 million gallons.
"The GTF is making an impact in the region, allowing our customers to save approximately 100 gallons of fuel and one metric ton of CO2 per flight hour. When you add up those numbers across the China fleet, the economic and environmental benefits are astounding," said Rick Deurloo, senior vice president of sales, marketing and customer support at Pratt & Whitney. "Seeing the GTF engine at Airshow China on display with the E190-E2, which entered into service earlier this year, and also with airBaltic's A220-300 display, is a testament to how far the GTF program has come and how important it is in powering our customers' growth in this region." It is estimated that China will require more than 7,000 new aircraft over the next 20 years.
Since entering into service in early 2016, the GTF engine family has delivered on its promised ability to reduce fuel burn by 16 to 20 percent, and to significantly reduce regulated emissions and noise footprint.
Pratt & Whitney has invested more than $2.5 billion in its global manufacturing and aftermarket network since 2013, with 21st century technology, to transform and modernize its U.S. and global footprint to support the ramp up of the GTF and other engine programs. Pratt & Whitney is on track to meet its commitments for GTF engine deliveries in 2018.