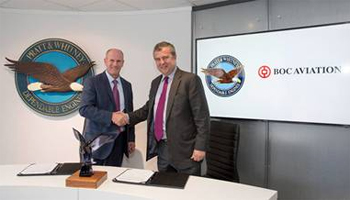 BOC Aviation has selected the V2500 engine to power 18 firm Airbus A320ceo family aircraft. The V2500 engine is offered through IAE International Aero Engines AG, a multinational aero engine consortium whose shareholders comprise Pratt & Whitney, a division of United Technologies Corporation; Pratt & Whitney Aero Engines International GmbH; Japanese Aero Engines Corporation; and MTU Aero Engines GmbH.
"This repeat order reflects our continued confidence in the V2500 engine as a fuel-efficient solution for a significant portion of our A320 family fleet on order," said Robert Martin, managing director & chief executive officer, BOC Aviation. "We value our longstanding relationship with IAE, which enables us to provide an attractive airframe and engine combination for our global A320 family customer base. With this, we now have installed more than 170 aircraft with V2500 engines during our history."
"We look forward to providing BOC Aviation and their customers with an engine that cannot be matched in terms of fuel efficiency on the A320ceo," said Rick Deurloo, senior vice president, Commercial Engines, Sales, Marketing, and Customer Service, Pratt & Whitney. "The engine is a solid investment in value, as our continuous improvements maintain its superior performance."