Also on display: Military engines, innovative components and technologies
Participation in Future Lab and ILA CareerCenter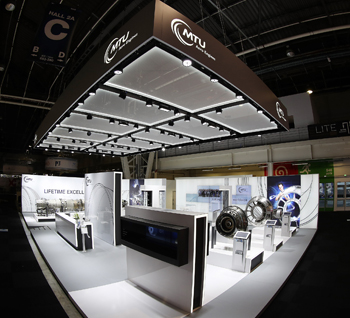 MTU Aero Engines has the answers to tomorrow's challenges: At ILA Berlin 2018 Germany's leading engine manufacturer will present one of the world's most eco-efficient engines, the PurePower® PW1100G-JM geared turbofan engine powering the A320neo. From April 25 to 29, MTU will showcase technological highlights from all of its business sectors - commercial and military engine technologies and new maintenance procedures - at the key aviation industry trade show in the heart of Europe. MTU's exhibits are on display at its booth No. 301 in Hall 2, as well as at MTU's chalet (No. 18/19) next to the runway. The company's motto for the 2018 air show is: "Answering tomorrow's challenges."
In addition to the geared turbofan engine, which is built jointly by MTU and U.S. partner Pratt & Whitney, three military engines will be on display at MTU's 250-square-meter booth: the TP400-D6 for the A400M military transport aircraft, the EJ200 for the Eurofighter Typhoon and the MTR390 for the Tiger helicopter. MTU intends to play a key role also in the development of a new military engine for a future European fighter aircraft. The company presents its concept ideas for a "Next European Fighter Engine (NEFE)" in an interactive exhibit.
In the military sector, Germany's leading engine manufacturer will also have a presence at the German Armed Force's Military Support Center and showcase a cutaway model of the EJ200 engine. Soldiers and MTU staff will be demonstrating how their cooperation to jointly maintain the aircraft of the German military in serviceable condition works. In the exhibition tent of U.S. aircraft manufacturer Lockheed Martin a T408 can be seen. MTU has a workshare in this GE Aviation engine, which will power Sikorsky's new CH-53K heavy transport helicopter. Production of the engine has been underway since the beginning of the year.
Digitalization @ MTU: simulation and additive manufacturing
Digitalization is playing an increasingly important role, also for MTU. As an example of the company's activities in this area, simulation methods are presented which will transform development and production in the future. MTU uses a simulation screen to demonstrate where virtual development can help make processes faster, more efficient and more cost-effective. The aim is to achieve an improved design by mouse clicks instead of the conventional trial & error approach.
Digitalization also includes additive manufacturing processes that enable fast 3D production of complex components. MTU has achieved a breakthrough in this area: As one of the very first companies in the aviation industry, it has been producing a component for the geared turbofan powering the A320neo for five years, using the selective laser melting process. The borescope boss thus produced is displayed in the new technology display case which also contains components manufactured by additive processes and intended for future applications, as well as prototypes made of new materials, such as ceramic matrix composites (CMC).
MTU is also contributing to the ILA Future Lab, an initiative of the German Federal Ministry for Economic Affairs and Energy and the German Aerospace Industries Association (BDLI). New materials and manufacturing processes are presented virtually. MTU experts will also take part in the Future Lab lecture series, with contributions on the topics of "LuFo success stories" and the "Future of turbofans".
Innovative maintenance
MTU's commercial maintenance sector will be presenting solutions on offer to MRO customers. A case in point is the V2500 drum repair. This procedure prevents fretting damage in the high-pressure compressor by incorporating damper wires with improved ends that MTU has developed. Another innovative repair procedure is MTUPlus ER-coateco for application of a high-temperature-resistant erosion protection coating onto high-pressure compressor blades and vanes. Both repair solutions are being demonstrated on a V2500 high-pressure compressor.
Top employer: Future for engine constructors
MTU has been one of Germany's top employers for many years and this year has several hundred positions to fill at its three German locations. During the entire trade event, employees from the human resources department will be at MTU's booth to provide information on the extensive range of jobs, opportunities and perspectives available. MTU will also have a booth at the ILA CareerCenter, which will be held from April 27 to 29: On display here will be a cutaway model of the V2500 engine. Contact persons will be employees from MTU's human resources department as well as apprentices. MTU is also represented in the discussion rounds at the CareerCenter, where MTU experts comment on current aviation topics.