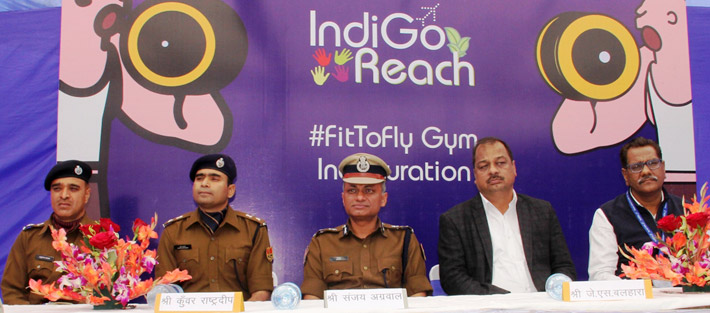 In a bid to promote fitness, IndiGo, India's largest and fastest growing carrier, launched its first #FitToFly gym under a one-of-its-kind initiative #FitToFly programme at Sanganer police station near Jaipur International Airport on February 08, 2017. Rolled out in December 2016, #FitToFly is aimed at providing means and inspiring people to pursue their fitness goals. Especially designed for police personnel, #FitToFly gyms are fitted with state-of-the-art equipment and machinery.
Mr. Sanjay Aggarwal, Commissioner of Police, Jaipur inaugurated the first #FitToFly gym in the presence of Mr. Kumar Rastradeep, Deputy Commissioner of Police; Ms. Summi Sharma, Vice President, ifly IndiGo; and Mr. Ajay Jasra, Director, Corporate Communications, IndiGo. Also present at the event were Mr. J S Balhara, Airport Director Jaipur; CISF Commandant Mr. R. K. Singh, and members of IndiGo team.
In a phase-wise expansion, IndiGo is targeting to set-up #FitToFly gyms at police station in and around airport in other cities on its 6E network. A year-long programme, #FitToFly was launched in partnership with a renowned nutritionist and personal trainer Tarun Gill in his fitness series TG connect. The airline plans to roll out a series of initiatives aimed at inspiring individuals to break barriers that come in the way of their fitness regime. Bollywood celebrities such as John Abraham has also pledged his support to #FitToFly in order to promote fitness.
Commenting on the occasion, Ms. Summi Sharma, Vice President, ifly IndiGo said, "It is our pleasure to announce the launch of our first #FitToFly gym in Jaipur. Fitness has been at the core of IndiGo and our operations. Setting up gyms at airports across network is our way to thank the police force for their persistent efforts to maintain safety and security of our staff and passengers. Helping the police department in pursuing their fitness goal gives us a sense of great pride and we are grateful to the civic and police authorities at Jaipur for their support."
Present at the inauguration, Mr. Sanjay Aggarwal - Commissioner of Police, Jaipur expressed a note of thanks to IndiGo team and said, "We welcome the initiative by IndiGo at Jaipur. Fitness is crucial to us and having a facility available in the proximity of the airport will enable the police to utilize the facility. I am sure this will help the police force (in and around the airport) achieve their fitness objectives."