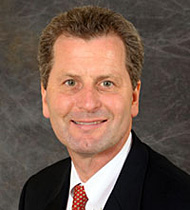 Raytheon (William Blair, President, Raytheon Asia), in conversation with SP's Aviation stated that the company had success across the board during the air show

SP's Aviation (SP's): How was the show for you this year?
Raytheon: Raytheon had an excellent show this year. We always find the big international shows highly productive for us as a company. The opportunity to meet a wide range of important international customers ensures that there is great value in taking the time to attend from the CEO on down. We understand the value and importance of being present internationally especially as we do business in more than 80 countries with 26 per cent of the company's business generated in the global marketplace. This is a higher percentage than any other US defence firm and we continue to grow that number.
Key areas of focus for us at the show included critical upgrade capabilities our customers need, missile defence, airborne sensors and weapons, maritime and border security while showcasing some new and innovative technology capabilities that have applicability to our domestic and international customer base.
SP's: What all success stories you have concluded at the show and if you could share with us?
Raytheon: I think as a company we had success across the board. With international markets being such a key part of our business, we had a number of news announcements that got a lot of attention at the show and in our key markets. One to highlight in particular is the good news of the recent Indian and the US Army Yudh Abhyas joint exercise where the Raytheon and Lockheed Martin Javelin system demonstrated flawless performance.
In recent years, Indian and the US gunners have fired a total of 16 Javelin missiles with 16 direct hits in multiple Yudh Abhyas joint exercises. Javelin is the world's only shoulder-launched, fire-and-forget missile system that is combat proven and capable of defeating any armoured vehicle and we are proud to be able to provide this system internationally. We also showcased our portfolio of missile defence solutions including Patriot and Standard Missile-3. Raytheon is a world leader in missile defence solutions.
Additionally, besides the news announced at the show, Raytheon continues to be a world leader in air warfare systems and we have proposed several weapon systems to the IAF for consideration on multiple platforms. Our munitions control unit (MCU) on the Jaguar allows for integration of different weapon systems, which we have proposed to the IAF. On the ISR front, the recently inducted Boeing P-8I long-range maritime patrol aircraft utilises Raytheon's AN/APY-10 multi-mission surface search radar with a range of 200-400 km and also the MK-54 torpedo for anti-submarine warfare missions.
SP's: Did the tricky weather disrupt or affect your business interactions during the show?
Raytheon: Fortunately, the weather did not disrupt our ability to meet and engage with customers and partners. While the weather proved a little challenging for the flying display, our schedule was fully booked during the week with a busy slate of customer and media engagements.
SP's: Can you indicate on which specific innovations were introduced by your company at the show?
Raytheon: We had a number of technological innovations that we were showcasing this year including one that has relevance to domestic and international customers. The initial capability unveiled at Farnborough last year was called "Aviation Warrior" and provides pilots with full situational awareness when separated from the cockpit. At Paris this year, we took the capability to the next level by introducing the joint tactical air controller (JTAC). The evolution of the technology now provides a disembarked pilot with enhanced situational awareness and remote targeting in any environment. This is a wearable situational awareness system in a fully immersive environment allowing users to call in an F-16 airstrike just as a forward-deployed dismounted soldier would.
SP's: Which part of the world looks most promising market at this point of time and why?
Raytheon: Raytheon is engaged across a wide range of business opportunities globally. We believe both the Asia-Pacific and Middle East markets are growing rapidly with customers seeking capabilities that map directly into core Raytheon technology strengths.
Our Indian and broader Asia-Pacific customers face a myriad of challenges in this region, largely driven by the reality of managing lengthy ocean borders and the need to more effectively secure these borders as well as the critical maritime trade routes. Over 60,000 vessels transit the Straits of Malacca every year with much of the cargo aimed at meeting critical energy needs of the Asia-Pacific countries. Our customers here are very focused on these specific challenges. Traditional land border disputes have now moved to the maritime environment and each country is now much more focused on their respective economic exclusion zones and gaining full maritime domain awareness, which is a Raytheon "sweet spot". All countries in India and South East Asia are looking to grow and expand their maritime surveillance capabilities as well protecting their critical infrastructure.
Additionally, air traffic management is a key area for both India, Asia-Pacific and globally. With air traffic forecast to double by 2030 and air cargo to triple, we're seeing an increased focus on the need to modernise the world's airspace to safely accommodate the growth. Two-thirds of the world's 30 busiest airports (by aircraft movements) have or are scheduled to use Raytheon systems. This includes our AutoTrac III systems in India (Mumbai, Delhi and Chennai), the AutoTrac systems used by Tata Power for the Indian Air Force modernisation programme MAFI, as well as the AutoTrac III systems in Dubai and Hong Kong.
The Indian GPS-aided geosynchronous augmented navigation (GAGAN) system, which will provide satellite-based navigation for civil aviation over Indian airspace and adjoining areas in South and East Asia, is progressing on schedule. This is a true partnership between Raytheon and the Government of India. Raytheon is building the ground stations for the GAGAN system, and the Indian Space Research Organisation and the Airports Authority of India are providing the space segment, additional ground equipment, as well as participating in the integration and operation of the system.