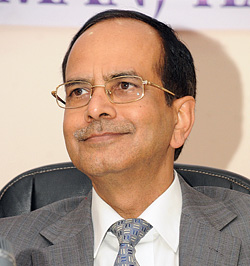 Dr R.K. Tyagi, Chairman and Managing Director of HAL, in an interview with SP's Aviation gave out details of the state-owned enterprise's achievements.

SP's Aviation (SP's): What progress has Hindustan Aeronautics Ltd (HAL) made on indigenisation and self-reliance?
Dr R.K. Tyagi (CMD): HAL has always been very proud to be in the forefront contributing to India's defence preparedness and has contributed significantly towards indigenisation and selfreliance. HAL has been growing steadily over the years and it is the company's endeavour to achieve self-reliance in design and development and promote indigenisation in all related fields of aerospace. We have developed a robust supply chain and aerospace ecosystem across the country by providing requisite handholding to more than 2,400 suppliers across the country.
During the last decades, HAL has indigenously developed 15 types of aircraft and helicopters. Around 1,250 of these indigenous aircraft have been produced. The major aircraft/helicopters manufactured with indigenous design include Marut, Ajeet, Kiran MkI, Kiran MkII, HT-2, HPT-32, light combat aircraft (LCA), intermediate jet trainer (IJT) and the advanced light helicopter (ALH). The ALH is a 5.5-tonne class multi-role helicopter with modern design features. Helicopter production commenced in 2002 and more than 140 helicopters have been manufactured for various customers so far. A new variant of ALH suitable for high altitude operations by IAF and Army have been developed with a higher powered Shakti engine and several mission systems. The armed variant with air-to-air missiles, rockets and turret gun was delivered to Indian Army during Aero India 2013.
In addition to indigenously designed aircraft, HAL has produced 14 types of aircraft under licence. Aircraft in the current range of production are Su-30MKI, Hawk, Dornier Do-228 and Cheetah/Chetak. HAL's contribution to the armed forces by way of aircraft/helicopters and their maintenance is evident with the presence of HAL-built aircraft (both from indigenous design and licence manufacturing) in their existing fleet: fighter aircraft (80 per cent), trainers (93 per cent) and helicopters (65 per cent). The company is also involved in aircraft mid-life upgrades of Jaguar, MiG-27M, Dornier, Avro and Cheetah helicopter indigenously.
SP's: What has been achieved by HAL in the field of research & development (R&D)?
CMD: HAL believes that the key differentiator in today's warfare is home-grown platforms. In line with this belief, we continue to give thrust on R&D through increased funds allocation to the extent of around 10 per cent of our turnover. During the last one year, HAL has filed 149 patents and all across the technology spectrum, the figure has now gone up to 175.
SP's: What is the situation with regards to your efforts on modernisation?
CMD: HAL has embarked on modernisation and expansion plan for its ongoing and new projects. New production units are planned with enhanced rate of production, reduced production cycle-times by incorporating several advanced defence aerospace technologies. We have drawn up very ambitious plans to revamp our capabilities and capacity. Key technologies like stealth, advanced sensors, highly integrated avionics suite, enhanced situational awareness, internal carriage of weapons, operational data link application, etc will be developed with the new co-development/co-production projects. The plan also includes bringing in critical and modern technologies in the areas of design, manufacture, maintenance and training by collaborating with leading technology suppliers across the globe through joint ventures. In the next five years, HAL has planned to invest more than Rs. 10,000 crore in modernisation and capacity augmentation.
SP's: What are your plans for the future?
CMD: HAL aims to achieve business excellence while pursuing its mandate of nation building. It has plans to add capacity to handle the future programmes like medium multi-role combat aircraft (MMRCA), fifth-generation fighter aircraft (FGFA), multi-role transport aircraft (MTA), light combat helicopter (LCH) and light utility helicopter (LUH), civil aviation aircraft and naval multi-role helicopter (NMRH). The LUH has gone past the design phase with successful realisation of the ground test vehicle. MTA has entered the conceptual design phase and the FGFA will be entering the detail design stage. These are encouraging signs for the future of aerospace in India.
SP's: What is the status of the Dhruv ALH project that understandably has been highly successful?
CMD: HAL designed, developed and produced Dhruv helicopters have been delivered to the Indian Army, Air Force, Navy and the Coast Guard as well as exported. The civil version of Dhruv has been certified by the Directorate General of Civil Aviation (DGCA) and delivered to the Oil and Natural Gas Corporation (ONGC), Jharkhand state government and the Border Security Force (BSF). The advanced technology features incorporated in the design of Dhruv include hinge-less main rotor and bearing-less tail rotor, integrated dynamic system encompassing main gear box and upper controls in a single housing, higher-powered Shakti engines, integrated architecture display system (glass cockpit), duplex automatic flight control system, redundancy with twin-engine, dual hydraulics and controls, 30 minute dry-run capability of gear boxes, crashworthy bottom structure, landing gear, crew seat and fuel tanks with self-sealing capability, extensive use of composite material on fuselage and rotor system, integration of role and optional equipment such as rescue hoist, stretchers and cargo-hook.