Embraer has re-entered the Indian market with the launch of Air Costa's E-Jet fleet, linking secondary cities. Mark Dunnachie, Vice President, Asia Pacific, Commercial Aviation, Embraer, in conversation with SP's Aviation spoke on the market potential in India and Asia-Pacific and other countries the company is focusing on.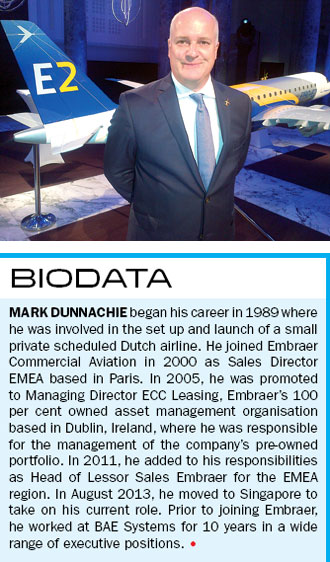 SP's Aviation (SP's): Celebrating 1000 E-Jets must be a major milestone, what next for E-Jets in terms of milestone?
Mark Dunnachie (Dunnachie): On and upwards is the best summary response. When we launched the clean sheet E-Jet design just over 10 years ago it was to create an all new market segment. The significant milestone of the 1000th delivery is testimony to how the right sizing argument makes sense. The new E-Jets E2, the second generation of the E-Jets, will take us to the next page in this compelling story, offering unrivalled economics with an already global and highly successful platform. This ensures a true winning combination for both airlines and passengers.
SP's: As head of Asia-Pacific markets, what potential do you see over here and which are the key countries you are focusing on?
Dunnachie: We see very strong potential across the whole region. While we have enjoyed success in some of the more established markets, such as Japan and Australia, there are still gaps in others where the current E-Jets and the E-Jet E2s make enormous sense.
We have just re-entered the Indian market with the launch of Air Costa's E-Jet fleet, linking secondary cities. In addition, where turboprops have opened new markets we see many of these routes upgrading to jets as passengers become more empowered and traffic grows.
SP's: Embraer's market outlook for 2012-31 mentions the centre of gravity moving eastward, notably to Asia, what are the forces driving the 'eastward trend'?
Dunnachie: Economic growth is the primary driver. This reflects in an increasing buying power for consumers and with the anticipated majority of the world's middle class expected to be in Asia Pacific, as highlighted in all the respected surveys, this reaffirms to us that the 70-130 seat jet segment will play an increasingly key part in this development as people travel more. We believe this will drive the Asian passenger to demand better products while seeking value for money.
Today, many are simply content that they can take a flight rather than endure long road or sea transport, but the next rapid phase will see passengers demanding more comfort, faster speed and a better travel experience. The transition from turboprop to jet, as evidenced already in more mature markets, will also emerge in Asia Pacific.
SP's: There is so much talk about China and India among the Asian countries making headway in commercial jets, is that now or is it five-ten years down the line?
Dunnachie: We know at Embraer, from over 40 years' experience, that a great deal of blood, tears and sweat goes into creating a strong aerospace business. We firmly believe that others will enter the market and this drives us to protect our hard earned position as we also transition our products to newer and better variants.
The circle will continue to evolve and Embraer will play a key part in this global story. Without doubt others will enter, but we have every intention of protecting and enhancing our privileged reference position as the world's leading supplier of jets up to 130 seats.
SP's: The business of E-Jets is directly linked to the growth of airport infrastructure in non-metro cities. Do you think sufficient is happening in the Asian region with regard to airport infrastructure?
Dunnachie: It is easy to point the finger at the governments, as many are doing; citing that they have not done enough but we feel this is somewhat misguided. The speed of the growth has been so rapid many are understandably trying to catch up. The investment flows being made by many governments in the region in new infrastructure, such as Indonesia, are enormous and show a clear recognition by them of the importance that aviation plays as a clear driver in the stimulus of jobs, business and travel. The very favourable performance characteristics of our E-Jets often allows us to operate within the limited infrastructure that exists but given that passengers are looking for a seamless service with an efficient combination of airport and aircraft, it is essential that the investment continues in line or are faster than the growth.
SP's: Embraer has been talking about 'right-sizing' aircraft for airlines, could you give us how 'right-sizing' fits for the Asian markets?
Dunnachie: The region has many examples of right sizing requirements. This could be in downsizing from larger narrow-bodies by opening frequency, or it could be in mixing the right capacity at the right time. Regrettably, we see too many examples of the wrong capacity being flown, resulting in the commonly recognised concept of asset abuse. In other words, if I call for a taxi, don't send me a bus.
Some will argue that as a travelling public we will simply keep flying bigger and bigger aircraft, but this shows a biased naivety on the reality of the market. While pricing can theoretically fill any aircraft, this does not mean that it is an optimal use of the asset. How smart is it to dilute yield to such a point where the capacity offered requires such fare dilution that the airline loses money? The passenger may be happy but the airline's business model will be short lived.
It is far more optimal to offer the capacity that will allow the airline to generate profit while providing the passenger with value for money and a travel experience that they would wish to repeat. Win-win situations are sustainable, win-loss will end in collapse. Right sizing equally applies when smaller capacity needs to grow. We see, for example, many of the pioneering turboprop routes requiring more capacity as they become established and prove the route. The core of the right sizing philosophy is in capturing the sweet spot. In the current Asia Pacific market there are many such opportunities.
SP's: Embraer believes in 'changing the way people fly', could you substantiate what that means?
Dunnachie: Several years ago, we were the first and only original equipment manufacturer (OEM) to pioneer that while cost and revenue is correctly the first core focus of any business, there is another facet to the equation which the entire world's leading global brands have embraced. Whether it be Apple or Starbucks, the empowered consumer is here to stay. We simply defined that air transport is no different and the concept of the PAX factor was born. All the surveys in the world confirm that barely one per cent of passengers will opt for the middle seat, so simply put, we took it out and offered per passenger comfort superior to that found on larger narrow bodies.
The Asia Pacific market as it evolves is no different. At present, passengers often have no choice—the products being pitched are both the same. We will continue to argue that people inherently prefer the speed, comfort and convenience of jets over turboprops. We will continue to argue that passengers also want frequency. We believe that passengers will pay a slight premium for these advantages. The pioneers who genuinely offer the passenger a choice will be the ones to capture the market. The reality is that people vote with their feet and given a choice will select. The first to offer good value and better choice will capture the majority of the traffic. Selecting air transport is no different from any other consumer decision.
E-Jets, by their very capacity, are able to go more profitably where larger aircraft cannot. This, in turn, simply opens new opportunities for route development. The result is greater network connectivity. Getting from A to B is easier because with smaller airplanes flying more frequently, passengers have more choice of where they want to go, and when they want to go. This has never been more evident than in Africa where Kenya Airways operates 20 E-Jets. The airline is on track to link Nairobi with every African capital city with nonstop flights next year. The rise of disposable income for the average citizen is reflected in the increased demand for air travel.
In Brazil, Azul Airlines flies its fleet of E-Jets to secondary cities with low fares and high frequencies. An entire segment of consumers that used to take the bus, or who would never travel, are now flying around the country on Azul's fast-growing network. We see the same potential for India. As incomes rise, travel is a natural consequence. I'm delighted that for many first time flyers, their first flight is on an Embraer E-Jet. That's how our aircraft are changing the air transport landscape in many parts of the world.
SP's: Your company has forecast world demand for 6,795 new jets in the 30-120 seat segment over the next 20 years, how does Embraer position itself in this scenario and what part of the demand is Embraer likely to meet?
Dunnachie: Our 20-year forecast (2013-2032) indicates a total market of around 6,400 new airplanes being delivered in the E-Jets E2 segment, from 70- to 130-seats. Current E-Jets have a 40-45 per cent market share by orders in its segment. For the E-Jets E2, we expect to maintain similar levels.
SP's: Could you tell us how airlines will benefit with E-Jets, considering that they are looking at cost-effectiveness, particularly when fuel bills account for nearly 40 per cent of the operating costs in India, at least?
Dunnachie: Depending on who you talk to, high fuel costs are here to stay. Some advocate that they will rise and others say that they will drop. The fact remains that all aircraft consume fuel and it is one of the largest cost drivers for any operator. We have always focused on optimising the balance between providing airlines and passengers the aircraft they want and need with the lowest possible cost. This reflects across a wide spectrum as we have sought to reduce costs through not just fuel burn, but also more efficient maintenance through our clean sheet design.
One element that many seasoned engineers comment on when they see their first E-Jet is how clean and accessible the design is. The ability to easily maintain an aircraft is an equally important cost factor. People also forget that the existing larger narrow bodies, while on their third or fourth generation, are still carrying the design criteria of 30-40 years back.
In the E2s, which will come to market barely 15 years after the original E-Jets entered into service, we show a significant cost benefit over a wide spectrum of improvements, not least on fuel burn, noise and emissions with our selection of the geared turbofan (GTF) from Pratt & Whitney.
SP's: Besides India and China, which are the other focus markets for Embraer... we hear about Australia, Indonesia, Malaysia, etc?
Dunnachie: We see potential across the whole region. Our focus will be where we see the obvious need for right sizing, hub feed and point-to-point traffic; where we see asset abuse, namely the wrong capacity being offered; and also where we see passengers being offered no choice but older technology equipment. All of these will be in our focus.
SP's: Will Embraer be expanding its distribution, sales and support network in Asia-Pacific? Could you give us the current status and the expansion plans with regard to sales and support network?
Dunnachie: We already have a considerable presence with a large warehouse for parts in Singapore with a pool stock and a dedicated, focused local customer support team of 18. In addition to this, we have local Account Managers in many regional bases including India, Japan, Taiwan and Australia. We have a range of regional maintenance, repair and overhaul (MRO) solutions and are currently looking to see how we can expand this to even better serve our existing and potential customers as our market grows.
SP's: What are the challenges in the Asian market that Embraer has come across, mainly to do with aircraft acquisitions?
Dunnachie: Often financing can be a hurdle but this is in no way exclusive to Asia Pacific. The last few years of global downturn have shown how major a factor this became. The advantage we offer is that E-Jets have been widely embraced by lessors and banks and have attained the much-coveted status as a true investment grade asset alongside other firm aircraft such as the B777, B767 and A330. We are used to finding innovative solutions for our customers.
SP's: With regard to India, does Embraer think that the market needs to liberalise a lot more to encourage the aviation industry?
Dunnachie: Liberalisation needs to be managed very carefully. To simply open the market without thought may produce a short-term gain for the passenger but the consequent failure of the business model for the operator and the possible collapse of their business serve no one. The loss of jobs, the damage to the market and the subsequent drop in efficient service from a collapsed airline really requires the liberalisation tap to be turned on and off as required. As much as we manage our production sensibly, we have seen the impact on residual values where OEMs have flooded the market with too much aircraft capacity. The same discipline needs to be applied in the capacity offered by operators.
SP's: There is a trend towards low cost carriers (LCCs), at least in India. Do you think that Embraer fits the bill?
Dunnachie: The LCC model in India and the whole of the Asia Pacific region is showing tremendous growth and this is largely being fuelled by the pioneers as they open new routes and meet demand. The word of caution is the competition is ferocious and we are struggling to see how the current intense competition can be maintained without some of the players collapsing. The recent drop in currency values impacts the USD-based financing of leases or purchases. The rising cost of fuel is stretching the elastic even further. The level of fares being offered is simply not sustainable and yet the vast majority of the players are staring at each other and no one is ready to blink. This reminds me of a classic Western movie with high noon fast approaching. We firmly believe the LCC model has a critical role to play in Asia Pacific, as it does in the rest of the world, but a solid dose of "right-sizing" medicine would do no harm. We have been successful in other parts of the world in showing the merits of mixed fleets where E-Jets are playing an integral part in the LCC models of Jet Blue Airways, Azul and others, while comfortably sitting alongside the larger narrow-bodies. E-Jets also have a formidable advantage in allowing LCCs to use a lower trip cost tool to open the smaller or direct markets that remain equally critical to the success of the model. We are engaging far deeper with this key community. Yes, E-Jets, we believe, could make the key difference between profit and loss on some of the thinner routes, and in certain cases, even survival of the operation.
SP's: What will be Embraer's unique selling proposition (USP) in Asia-Pacific market?
Dunnachie: Without any hesitation, our USP will be the pedigree success of the E-Jet family with over 1,300 orders from nearly 90 airlines and 26 leasing companies that have added the airplanes to their fleets since the programme was launched in 1999. E-Jets continue to offer the optimum solution for both airlines and passengers in the 70- to 130-seat jet category. The future E2s will both enhance and build on this global success by offering even more compelling economics for the airlines while ensuring our aircraft remains the product of choice for the empowered passenger.