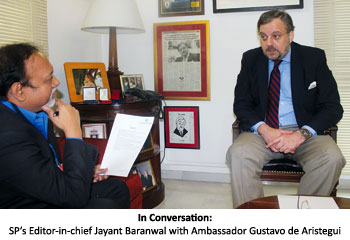 SP's Aviation (SP's): What all Spain can offer to have a strong base of partnership in India for the global market?
Gustavo de Aristegui (Ambassador): It is very complimentary. I see great opportunity in the emerging markets. When I see India it is not just great opportunity but great opportunity for meaningful and solid partnership. Why? Because India is known for intellectual property and like Spain it is devoted to high technology, engineering, avant garde solutions, research and development, infrastructure, tourism and defence.
SP's: What is the proportion of research and development (R&D) investment in Spain?
Ambassador: It is not that much. However, the R&D budget has doubled from 600 million euros in 2012 and is expected to touch nearly 1.4 billion euros in 2014. Some of the most cuttingedge technology is made by the private sector. Telefonica is a full-fledged technological giant in the world and has huge R&D investment. We are only 49 million people and we take pride in our global companies such as Indra, Telefonica, Navantia, Airbus Military consortium of which we are a proud part.
As for Airbus Military, none of the other participants in the consortium had any kind of experience in building military transport aircraft and it was CASA, the Spanish branch of EADS. This is how the A400M project was born which was an evolution of the capacities, the technologies and the design of many decades of brilliant work of Spanish aerospace engineers. That has given birth to an aircraft of the quality of C295 which is doubtlessly the best mid-sized military airplane in the world. This is used by the American Coast Guard. It has won dozens of tenders around the world. This is the plane we intend to replace Avro transport plane. It is used as a platform for anti-submarine war, rescue, surveillance, border control, transport troops, and also as a mid-size gunship...all of that technology is behind the world's most advanced military transport plane A400M. It is bigger than the Hercules. It is the only turboprop that can fly at a cruising speed of a commercial jetliner which is 0.74 Mach whereas others are flying 30-40 per cent slower than that. It cuts down transport time for deployment of troops and in military terms, it gives huge tactical advantage.
SP's: The A400M is a transcontinental project. What is the share of Spain in that?
Ambassador: The share of Spain in the consortium is relatively low at five per cent. Project-wise it differs and in the A330 MRTT the share is over 47 per cent. The aerial refuelling boom system (ARBS) on it is the most advanced refuelling system in the world. The boom is totally computerised and it is a Spanish design. The MRTT has substantial component from Spain, the tail, the belly and parts of the cabin. This boom is unbeatable. It consistently defeats Russian and American technology. Even in the US, when there is unbiased assessment of technology it has defeated Boeing.
SP's: What roles can this aircraft play other than as a fuelling tanker?
Ambassador: Technologically it is so advanced...we don't take any space from the passenger area. It still has a sizeable amount of cargo capacity. It can be used for troop transportation and can be transformed into a super VIP military plane. I think there is great need for such planes in India as it is a safe plane for a Head of State to fly as it can effectively thwart a missile attack. It is a multi-purpose aircraft and not just a refuelling jet. It can transport 300 troops and also high ranking officials in a business class environment. It is very versatile and the configuration of the plane can be changed rapidly for different purposes...including a medical version.
SP's: Coming to the defence trade in India, does European Union (EU) play an effective role?
Ambassador: It is getting there. I see it happen. There is an excellent EU Ambassador here. The EU is a project in the making. You cannot count the things it has not yet achieved as flaws, but it will be achieved. India has very cordial bilateral relations with individual countries of the EU...but they don't see yet the usefulness of the EU. However, it is the responsibility of the EU with regard to foreign trade, regulation, etc. Negotiations are going along a safe path and mutually beneficial result is due. I heard the Union Finance Minister P. Chidambaram stating that there was window of opportunity from now to February if the negotiators made a breakthrough and signed the FTA, if not the negotiations will continue with new EU Commission and with the new Indian Government next year.
SP's: In India there is lot of debate of having own aerospace complex in terms of self-reliance. Does Spain support the idea?
Ambassador: We want to be a partner with Indian companies and we are keen on participating. We are not going to withhold any kind of technology. We are going to be transparent. Offsets are going to be real and we are going to give you the latest and not first-generation technology. There is lot of potential for both private and public companies to go to world markets after developing synergies. Navantia is partnering with Larsen and Toubro (L&T) and they are going to participate in tenders of Indian Navy. Airbus Military is looking for an Indian partner for replacement of the Avro aircraft. Everybody has legitimate aspiration to indigenise their military; however there will be joint ventures. For instance the weapon systems of our submarines are with US collaboration. We have taken hardware and systems from others and we built a totally Spanish product. Our LHD is a floating electronic war machine.
SP's: What is your perception about foreign direct investment (FDI) in defence in India and what it should be?
Ambassador: It is a very delicate matter of sovereignty. It has to have some kind of special regulation. We cannot be fuzzy about our defence sector for investment and similarly we need to respect other country's reasoning. FDI should be open in other sectors, in defence you have to be careful. It needs regulation from government. There are delicate matters pertaining to security and stability and geopolitical interests have to be taken into account. We have to take necessary caution.