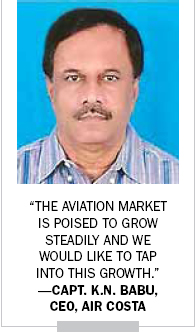 At a time when commercial airlines in India are struggling, we see a couple of new ones getting into the airline business with different revenue models. Will it work? Only time will tell. However, from an unknown quarter in aviation, Vijayawada, we see the birth of yet another low cost carrier – Air Costa. The Chief Executive Officer of Air Costa, Captain K.N. Babu in an interview with R. Chandrakanth, spells out the plans of the airline, without divulging details of the investments made by the promoters, LEPL Projects (formerly Lingamaneni Estates (P) Ltd.).

SP's Aviation (SPs): Presently, the airline business in India is one of the sectors where investor confidence is low. Despite that, you have ventured to start Air Costa, what gives you hope?
Captain K.N. Babu (Babu): The following are the market drivers that we considered along with our strength (LEPLs) to enter into aviation:
Air travel is expected to grow steadily; air traffic set to cross 70 million by 2014
Rapid urbanisation in Tier II and III cities
Favourable government policy for investment by foreign carriers up to 49 per cent
Development of Tier-II and -III cities airport infrastructure
Government initiative to reduce fuel costs
Government approval for ancillary revenue – potential for a sizeable revenue in the next two years
Exemption of sales tax on direct import of aviation turbine fuel (ATF)
Landing waivers for aircraft such as E170 that have fewer than 80-seat capacity
SP's: One of the major hindrances for growth of regional aviation in India is lack of airport infrastructure and high costs at certain airports. How do you see yourself in such a scenario?
Babu: The Government has recently taken many steps to develop aviation infrastructure in the country. There is a big move to privatise many major of the airports being operated by the Airports Authority of India (AAI). The Government has also announced plans to develop many Tier II and III airports and since we plan to operate in this sector, we hope to benefit by this move.
SP's: Air Costa is betting big on Embraer's E-Jets, is it all about 'right-sizing' of seat configuration? Will the seat-configuration economics work for a low cost airline? If yes, how?
Babu: We plan to operate on the regional routes that are not suitable for the bigger jets. These routes are presently being catered to by smaller turboprop aircraft which are not comfortable and take longer to travel. Our jets will be a huge game changer on these thin routes.
SP's: Air Costa has announced connections to and from Vijayawada, Jaipur, Bangalore, Hyderabad, Chennai and Ahmedabad? Are all connections operational and what has been the response?
Babu: Yes, we are operational and we are seeing good loads on all these routes. We are planning to expand through additional frequency and also adding newer routes.
SP's: You have announced that you will go for a pan-India licence. Will this be biting off more than you can chew?
Babu: Our strategy to operate pan India would give us better flexibility in route planning and also profits through route rationalisation. The aviation market is poised to grow steadily and we would like to tap into this growth.
SP's: Can you outline the aircraft delivery schedule? Also can you indicate what kind of fuel efficiency these E-Jets have promised?
Babu: Our aircraft are fuel efficient for the sectors that we plan to operate. We plan to expand to 25 aircraft in the next five to six years' time.
SP's: What is your target for market share and where do you expect it to come from?
Babu: We plan to target the growing Tier II and III cities.