With significant growth in deliveries over the past decade, India continues to show huge potential for future growth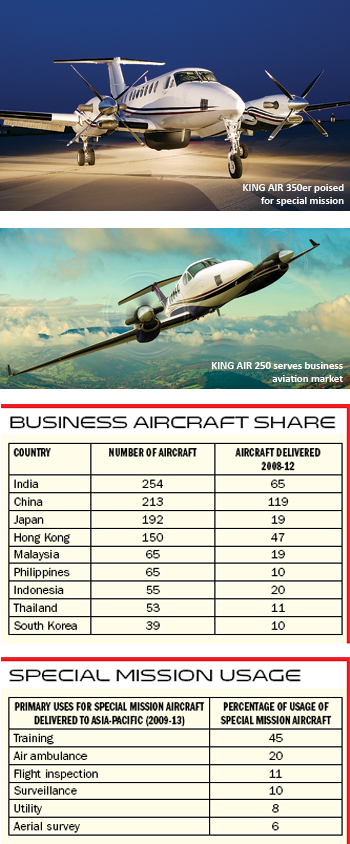 Beechcraft Corporation, a world-leading manufacturer of business, special mission, light attack and trainer aircraft, has identified India as one of the most attractive markets in the world for business aviation and it is making major investments in the country to support this fast growing sector. As part of the investment strategy, it opened a new office in New Delhi recently. The company said that 65 business aircraft from all OEMs were delivered to India between 2008 and 2012, representing an increase of 38 per cent, compared to the 47 business aircraft delivered during the previous five-year period (2003-07). It said according to its analysis, there are currently over 254 business aircraft in India, the largest business aviation base in the region.
High Networth Individuals
Beechcraft anticipates that the fleet could continue to grow in parallel with India's increasing international trade, particularly as the country's leading entrepreneurs develop foreign trading partners. This sector is expected to grow dramatically, with the number of wealthy entrepreneurs forecast to double between 2012 and 2022 (individuals with net assets of more than $10 million increasing from 8,481 to 17,032).
In addition to the new sales office, Beechcraft has also appointed Arrow Aircraft Sales and Charters Private Limited as the company's exclusive sales representative for India. Founded in 2009, Arrow has developed into a significant provider of business aviation services, including sales, charter and operation management, supporting customers from its headquarters in New Delhi, as well as offices in Mumbai, Kolkata and Sharjah in the UAE.
"Having served customers in India for more than 50 years, the country continues to be an exciting market for us," said Richard Emery, Beechcraft President, APAC and EMEA. "With significant growth in deliveries over the past decade, the country continues to show huge potential for future growth. This is why we have decided to make a significant investment in increasing our presence in India. Our market share in the business turboprop category currently stands at 79 percent, and these investments will help ensure that we remain at the forefront of Indian business aviation."
Beechcraft Special Mission Aircraft
Beechcraft Corporation registered a 132 per cent increase in deliveries of its special mission aircraft to the Asia Pacific region for 2009-13 period, compared to 2004-08. The number of deliveries during these periods increased from 34 to 79. Asia-Pacific is one of Beechcraft's largest markets for special mission aircraft sales, accounting for 13 per cent of the company's worldwide special mission sales from 2009-13. Of the sales, 45 per cent were for pilot training purposes, followed by ambulance configurations at 20 per cent.
"We anticipate demand for special mission aircraft configurations will continue to increase for a number of reasons, including advances in technology, which allows smaller aircraft to be used in various applications," said Dan Keady, Beechcraft Senior Vice President, Special Missions. "Other factors fuelling growth include companies increasingly looking for business aircraft that can be used in multiple roles; growth in air travel, which is fuelling demand for air calibration/flight inspection aircraft; and increased demand for special mission aircraft that can be used for ISR purposes to secure country borders."
Beechcraft estimates that around one-fifth of the 6,000+ King Airs in operation today are currently in use for special mission operations.
Bullish Beechcraft
Beechcraft Corporation delivered 205 commercial products in 2013 compared to 125 in 2012, registering a growth of 65 per cent. Deliveries of King Air series aircraft rose from 89 in 2012, to 135 in 2013 – a 52 per cent increase year over year. In the piston aircraft segment, which includes the G58 Baron and G36 Bonanza, deliveries went up from 36 in 2012 to 70 in 2013 - a 94 per cent increase year over year. In addition to these commercial aircraft, Beechcraft delivered 34 T-6 military trainers throughout the year.
"The Beechcraft team worked collectively to put this company in a strong position in 2013, which began with a solid first quarter and momentum that continued throughout the year," said Bill Boisture, CEO. "In addition to the impressive full-year delivery numbers, we saw our highest booking rates in years and had solid revenue from servicing Hawker and Beechcraft aircraft in both the commercial and military segments. It's safe to call our first year as a stand-alone company a success."
The 2013 highlight for the new Beechcraft Corporation was the largest general aviation propeller aircraft order in history, valued at up to $1.4 billion to deliver up to 105 King Air 350i aircraft to Wheels Up. The other milestones in 2013 were 60 million flight hours exceeded on the worldwide fleet of King Air turboprops, by far leading all business aircraft fleets; delivery of the 4,000th Model 36 Bonanza, the longest continuously produced aircraft in history; delivery of the 800th T-6 trainer aircraft; delivery of the first Baron G58 with intelligence, surveillance and reconnaissance capabilities; and the inaugural flight of the first production AT-6 light attack aircraft. The company concluded the year with the announcement that Textron Inc has agreed to acquire Beechcraft. The transaction is expected to close during the first half of 2014, subject to customary closing conditions including regulatory approvals.