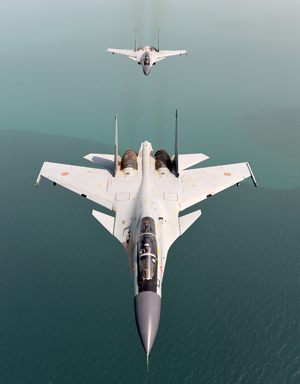 NEWS
In an extremely serious incident, a Sukhoi-30MKI fighter aircraft of the Indian Air Force (IAF) allegedly breached the minimum permissible vertical distance between two aircraft and flew just 700 feet over a Royal Thai Airways passenger jet, after "unauthorisedly" climbing to a height of 30,000 feet altitude south of Amritsar on February 20, air traffic control (ATC) sources have confirmed. The close shave brings back memories of the horrific mid-air collision between two airliners in the skies over Charkhi-Dadri near Delhi 17 years ago. In another incident at Delhi airport the same day, an IAF An-32 aircraft was approaching to land on a runway that was closed, but an alert ATC averted a disaster.
VIEWS
On the face of it, the episode of February 2014 wherein there was supposedly a near miss between an Su-30MKI air dominance fighter of the IAF and a Royal Thai Airways airliner on a scheduled flight would undoubtedly appear serious in fact somewhat catastrophic indeed! But reports in the media on such incidents of conflict between military and civilian air traffic which seems to have become routine, generally carry only the version put out by the civilian air traffic control (ATC) with no clarification or counter from the IAF authorities. It is therefore not really possible to get a comprehensive and a balanced view of such episodes as the story put out by the media is largely one-sided and the picture painted is meant as if to put the IAF pilot in the dock. To be also fair to the media, one cannot hold them entirely responsible for a seemingly biased report and painting such a one-sided picture. It needs to be understood that the IAF, for compulsions of confidentiality, usually does not divulge information beyond the superficial on incidents that involve operational matters. And so it is in the case under discussion especially as the conflict took place in the vicinity of the Indo-Pak border which is always live and sensitive.
An air defence fighter when ordered to take-off for a mission to intercept an enemy or an unknown aircraft intruding into Indian air space or even to investigate a suspicious flying object that the air defence apparatus of the IAF has not been able to identify, during every moment of its mission, remains under the close control of the Air Defence Direction Centre (ADDC) or with an assigned Ground Control Interception Station (GCI), both of the IAF. The exercise is akin to an emergency response as it could well be a Pakistan Air Force aircraft making a foray into Indian air space. The ADDC is directly responsible for air defence operations in a large volume of designated air space placed under its charge and is equipped to monitor the tactical air situation. Media reports in this case indicate that the Su-30MKI scrambled on an air defence mission on February 20, 2014, was assigned an altitude of 22,000 feet by the civilian ATC. Instead the aircraft climbed to an altitude of 35,600 feet and in the process, failed to maintain the minimum separation from the Royal Thai Airways airliner required under the procedures laid down for civil aviation.
Even without the benefit of a report from the IAF on the episode, one can surmise that the report from the civilian ATC may not be totally endowed with logic. First of all, a combat aircraft of the IAF on an air defence mission is under positive radar and radio control of the ADDC/GCI and not the civilian ATC. As such, it is not clear how the civilian ATC assigned an altitude of 22,000 feet to the Su-30MKI to climb to. An air defence fighter on a mission to investigate an unidentified intrusion into Indian air space is not on a routine navigation sortie and hence cannot be restricted to a particular altitude as media reports imply. In this case, the air defence fighter would have been required to investigate/sanitise a volume of air space and hence would have been continuously monitored and controlled by the ADDC/GCI who incidentally would also have on its radars, all aircraft including civil traffic transiting the area. To imagine a disaster of the Charkhi-Dadri type is therefore somewhat farfetched. Incidentally, the Charkhi-Dadri disaster involved head-on collision between a Saudi Arabian Airlines Boeing 745 and a Kazakhastan Airlines Il-76, both operating under the control of the civilian ATC.
Media reports have also attempted to club the other episode of an IAF An-32 aircraft making an approach at Delhi airport on a runway that was closed for repairs. In this case, there was neither conflict of military and civilian traffic nor duplicity of ATC. This was a simple case of aircrew error and hence ought not to be clubbed with the episode involving the Su-30MKI aircraft.
Control over air space and coordination between military and civilian air traffic have for long been contentious issues. Although, over the years, there has been considerable forward movement in this regard but the episode under discussion indicates that in matters related to coordination between military and civilian air traffic, much still remains to be done.