Eaton is a power management company and a world leader and premier innovator in the regime of aerospace in which it designs, manufactures and integrates the industry's most advanced products and technologies. These products power hundreds of military and commercial aircraft platforms with a focus on improved reliability, weight reduction and fuel efficiency. Eaton has customers in more than 175 countries. Uday Yadav, President, Aerospace Group, Eaton, in conversation with Air Marshal (Retd) B.K. Pandey, Senior Editor, SP's Aviation.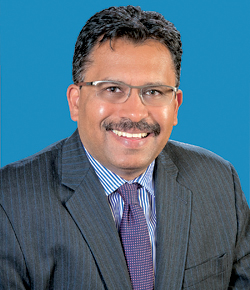 SP's Aviation (SP's): Can you briefly describe the profile of your company, its range of products and technologies across the spectrum of military as well as non-military applications?
Uday Yadav (Yadav): Eaton is a power management company providing energy-efficient solutions that help our customers effectively manage electrical, hydraulic and mechanical power safely, efficiently and sustainably. Eaton is a world leader and premier innovator in providing cutting-edge systems, solutions and technologies to the global aerospace industry. We design, develop, manufacture and integrate the industry's most advanced offerings in the areas of engine solutions, fuel and inerting, hydraulic systems, and motion control.
For Eaton's aerospace business, India is an emerging market as the industry is witnessing rising investments from both commercial and defence segments. Eaton's aerospace products are prolific on a variety of aircraft fleets widely used by Indian operators. The business in India is represented by a Sales and Support office located in Pune and Bengaluru. Eaton's India Engineering Centre (EIEC) in Pune is the largest integrated engineering center for Eaton globally. This engineering center provides new product design services, system design services and existing product engineering support for aerospace.
Eaton's aerospace business supports various commercial platforms including the Airbus A320 and the Boeing 787 and 737 in India with significant Eaton content. Specific to India and in addition to commercial programmes, Eaton supplies significant content to indigenous Indian air defence programmes, such as the Tejas fighter jet, Saras transport aircraft, Hansa flight training aircraft, HJT 16 Kiran jet trainer, and ALH. Eaton also supports a host of Western military platforms flying in India, such as Jaguar, Sea King Helicopters, Hawk, Lockheed C130J, C17 and Boeing BBJs.
SP's: What is the history and size of the company's presence in India and the range of activities/ products that the company has to offer to the Indian market?
Yadav: Eaton considers India as a very strategic and important market. Eaton entered India in the year 1999 through the global acquisition of Aeroquip vickers. Today, with 18 locations and seven manufacturing facilities, all of Eaton's businesses – aerospace, electrical, hydraulics and Vehicle are well represented in India. Eaton also has captive centers for engineering services, financial support services, global support services, IT support and global sourcing. In India, Eaton is headquartered in Pune and has more than 3,800 employees across all locations in the country.
Eaton's diverse range of products and solutions apart from aerospace as described above include:
Electrical: In India Eaton's Electrical Sector business is headquartered in New Delhi. The business has sales offices in nine cities across India and a contract manufacturing facility at Manesar near Delhi. Eaton's Electrical business in India provides power distribution, power quality and back-up, control and automation, power monitoring and management solutions and services to commercial, residential, utility, alternative energy, IT and data centres, public sector institutions and OEMs. Eaton is a leader in UPS systems, power conditioning products and DC power system products. Eaton's Power Distribution solutions encompass low voltage and medium voltage distribution & control, automation products and services to help our customers manage electrical power across utility, industrial, renewable energy, buildings and infrastructure markets.
In November 2012 Eaton completed the acquisition of electrical equipment supplier Cooper Industries plc. As part of this acquisition two manufacturing locations of Cooper in Pondicherry and Chennai are being integrated into Eaton's India operations. The manufacturing facility at Pondicherry manufactures high voltage fuses, high speed fuses, low voltage bus fuses, solar fuses, low voltage din type fuses, expulsion links, fuse holders, PV combiner boxes. The Chennai facility manufactures intrinsic safety barriers and isolators, distributed i/os for hazardous area applications, fieldbus barrier components.
Hydraulics: Eaton's Hydraulics business in India is headquartered at Pimpri, Pune. Eaton is recognised as a worldwide leader in the design, manufacture and marketing of reliable, high-efficiency hydraulic systems and components for use in mobile and industrial applications. The hydraulics manufacturing facility at Pimpri is one of Eaton's Centers of Excellence (COE) for gear pumps and has been expanded to also manufacturing of steering control units and Rockshaft Control valves. The other key products manufactured at this facility include gear pumps, vane pumps, piston pumps, direction control valves, mobile valves, hydraulic power units and cylinders.
Vehicle: Eaton's Vehicle Group in India has manufacturing plants in Ranjangaon, Ahmednagar and Nasik. Eaton manufactures and supplies medium and heavy-duty truck transmission and components, superchargers and products for valve actuation, torque control and fluid conveyance. Eaton provides an array of products and solutions that include:
Six speed manual transmission for various applications like tippers, tractor-trailers, and haulage vehicles.
Nine speed manual transmission on demanding vocational applications (tippers) and haulage vehicles.
Hybrid solution on CNG engine and diesel platforms.
Automated manual transmission (AMT) for various applications.
380 and 430 SD clutch for various and extremely niche demanding application (deep mining tippers).
SP's: Your company has already been involved in product support for a number of aircraft in service with the Indian Air Force. Has your company considered entering the field of maintenance, repair and overhaul (MRO) for civil and military aircraft, an area somewhat underdeveloped in India?
Yadav: Eaton's goal is to increase support for our customers in India by expanding our distribution channels for our products and solutions and by establishing the appropriate level of service (MRO) for the indigenous and acquired aircraft of the Indian Air Force. Ultimately we want to deliver the best value by optimising aircraft performance and by superior management of the lifecycle cost.
SP's: India being the largest importer in the world of military hardware, opportunities for business related to offset obligations on the part of OEMs winning contracts, is substantial. Has your company factored this in its business strategy in India and if so how?
Yadav: Eaton has partnered with the Hindustan Aeronautics Ltd (HAL) in providing MRO support for our hardware installed on military aircraft. We also expect to continue partnering with HAL on future programmes. In terms of sourcing, we have 13 Indian firms as our key suppliers for global products and we do see India as a best sourcing country. Eaton procedurally also certified and trained these firms to align their standards for components to meet Eaton's standards and requirements.
SP's: Can you please catalogue for our readers the specific achievements of your company in the Indian market?
Yadav: In India, Eaton is supporting the growth of military and commercial aviation sectors along with platforms being introduced into these markets, such as Boeing's 787 and 737. We also continue to provide support for indigenous platforms by contributing proven products and technologies. Through strategic collaborations with Indian firms, we are keen on playing a greater role in new indigenous platforms such as the multi-role transport aircraft and the regional transport aircraft. Eaton's components and systems are prolific on a variety of aircraft fleets widely used by Indian operators. Commercial platforms in India with significant Eaton content include the Airbus A320 and the Boeing 737, 747 and the newly introduced 787. As an example, on the A320 Eaton provides the hydraulic engine driven pump, electrical motor driven hydraulic pump, electrical emergency generator, hydraulic power transfer unit, engine fuel pumps, airframe fuel transfer and boost pumps, fuel valves and many conveyance products.
Eaton has won significant content on indigenous programmes of HAL such as the Tejas fighter jet, Saras, Hansa, HJT-16, ALH and light combat helicopter on hydraulic, fuel and conveyance systems. Eaton intends to participate with India's armed services in their modernisation programmes and to be proactive in supporting upgrade projects on military fleets.