The government is creating an environment for regional aviation to become a reality as pan-India development can alone add momentum to the country's economic growth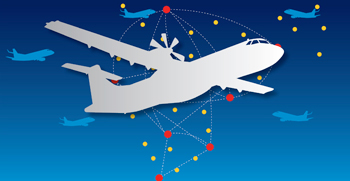 Can you believe that there are 476 airstrips/airports in India? And they have been around for much longer time than one would think. They have been part of the Indian landscape from almost the time planes, military to begin with, started flying in India. But if you look at pan-India airline connectivity, which is largely untapped, you wonder what all these airports are doing. Many of them are in a state of disuse, some are with the defence, some are used once in a while, and some just do not have any facilities except a landing strip which again has weathered time.
The concentration of passenger and cargo movements has been limited to few cities. Top seven cities (Delhi, Mumbai, Bengaluru, Hyderabad, Chennai, Kolkata and Kochi) account for nearly four-fifths of passenger movement. The rest of the traffic is handled by about 70 airports and one can see the skewed growth that is happening in India.
Lopsided development
Having realised the lopsided development that is taking place, state governments have started building counter-magnets to the major cities. While the cities are bursting at their seams, the Tier-II and -III cities are beckoning investors with easy land availability, inexpensive land acquisition, rentals and other facilities. Several state governments are giving incentives for setting up industries and other institutions away from the major cities. It is happening and to make it happen at an accelerated pace there needs to be effective multi-modal transportation – rail, road and air network. The rail and road network in India is fairly well developed thanks to the highways projects. However, it is air connectivity that is lagging behind. The present Narendra Modi Government with an active Minister of Civil Aviation, P. Ashok Gajapathi Raju is giving the necessary impetus for the civil aviation sector to flourish. The added emphasis is on regional connectivity and the Minister makes it a point to drill this home whenever he talks about the potential of India's civil aviation sector.
The industry and also government organisations have pointed out what needs to be done to put aviation on the right track. The Airports Authority of India (AAI) had called for a relook at the route dispersal guidelines (RDG) as passenger and aircraft traffic was heavily loaded towards 17 international airports as compared to 55 domestic airports. Domestic airports had less than 10 per cent passenger traffic. The issue was whether to have infrastructure in place and then bring airlines in or the latter seeking facilities at destinations. It really was a chicken and egg syndrome. And the government now has taken the initiative to develop the airports in the hope that the airlines will follow. There are reports on how some airports where the government has invested money has not seen even a single passenger passing through the airport gates. One such is the Jaisalmer airport which can handle over three lakh passengers a year, with parking bays for three 180-seat narrow body jets. But that one-off thing is a temporary phenomenon. Once the airports and the airlines get their act together, the connectivity will transform India.
Capacity building
India needs to build airports, at least 50 new, to handle the growing capacities. The Centre for Asia Pacific Aviation (CAPA) has said that with exponential rise in Indian air traffic and passengers, capacity at airports in metro cities are going to reach saturation limits. The six metros as such would require new airports by 2026 and in some cases, much earlier. The situation is similar at the busier non-metro airports. CAPA said of 30 large non-metro airports, 60 per cent will reach projected saturation level in the next two years.
The government has spent over $50 million since 2009 on eight airports that do not receive scheduled flights, a reminder that the airlines also need to get their act together by balancing out route networking. These airports are being called 'ghost terminals' and the answer to this situation is developing regional aviation.
Keeping all these factors in mind, the government has drafted a National Civil Aviation Policy which is awaiting Cabinet nod and it is hoped that it will be announced at the India Aviation event in Hyderabad from March 16 to 19, 2016. The policy has given priority to regional aviation. The Prime Minister recently pledged $413 million for four new airports in Bihar, but analysts state that there should be practicality in announcing such decisions and not be carried away by electoral prospects. Be that as may, the policy on regional connectivity is a right step.
Here is what the government is offering, starting with a Regional Connectivity Scheme (RCS) which will come into effect from April 1, 2016.
The policy details are:
The Ministry of Civil Aviation (MoCA) will target an all-inclusive airfare not exceeding Rs. 2,500 per passenger, indexed to inflation for a one-hour flight on RCS routes.
This will be implemented by way of:
– Revival of un-served or under-served aerodromes and airstrips.
– Concessions by different stakeholders.
– Viability gap funding (VGF) for scheduled commuter airlines.
– Cost-effective security solutions by the Bureau of Civil Aviation Security (BCAS) and state governments.
Currently around 75 out of 476 airstrips/airports have scheduled operations. Revival of airstrips, depending on demand, as no-frills airports will be done at a cost not exceeding Rs. 50 crore, mostly through AAI. Requirement of 12 per cent project IRR will be relaxed for revival of these airports, wherever the airport is under AAI control.
RCS will be made operational only in those states which reduce VAT (value-added tax) on ATF (aviation turbine fuel) at these airports to 1 per cent or less.
For customs duty, SCA (scheduled commuter airlines) will be treated at par with scheduled commercial airlines provided they do not undertake any charter carriage.
State governments will provide free land and multi-modal hinterland connectivity (road, rail, metro, waterways, etc) as required.
For 10 years from the date of commencement of flight operations under RCS:
– There will be no airport charges levied on SCA for their operations under RCS.
– Service tax on tickets under RCS will be exempted.
– State governments will provide police and fire services free of cost. Power, water and other utilities will be provided at substantially concessional rates.
– ATF drawn by SCA's from the RCS airports shall be exempt from excise duty.
– VGF indexed to ATF prices and inflation will be provided for a particular route, on a competitive bidding basis if necessary, for a period of 10 years from commencement of operation.
VGF will be shared between MoCA and the state government in the ratio of 80:20.
MoCA's share of VGF will be provided through the regional connectivity fund (RCF).
RCF will be funded by a levy of 2 per cent on all domestic and international tickets from January 1, 2016, onwards under Clause 5(2)(ab) of the Aircraft Act of 1934. The RCF levy will be applied on all routes other than Cat IIA routes and RCS routes.
Proceeds from auctioning of additional bilateral rights will go to RCF.
The RCF will be collected and operated by AAI or any other entity identified by MoCA.
SCAs will be provided easy options for entry into and exit from RCS.
Route Dispersal Guidelines
Along with the regional connectivity scheme, the RDG is getting overhauled which again will benefit various under-served and unserved regions.
RDG was introduced in 1994 to provide air connectivity to Jammu & Kashmir, North East, island territories, Tier-II and Tier-III cities, by way of internal cross-subsidy by airlines, using their profits on the trunk routes (12 in number). RDG has succeeded in creating connectivity to remote locations. Capacity actually deployed on Cat-II and -III is in excess of the RDG threshold, highlighting the business potential in these regions.
The following action will be taken to rationalise the RDG scheme:
Category I routes will be rationalised by adding more routes based on a transparent criteria. The criteria proposed for a Cat-I route is a flying distance of 700 km, average seat factor of 70 per cent and annual traffic of five lakh passengers based on information available with the Directorate General of Civil Aviation (DGCA). MoCA will endeavour that the rationalisation of Cat-I routes does not cause undue financial and operational burden on airlines.
The traffic to be deployed on Cat-II, -IIA and -III expressed in terms of a percentage of CAT-I traffic will remain the same.
Revised categorisation will apply 12 months after the date of notification in order to allow sufficient time to airlines to plan their operations. The review of routes under different categories will be done by MoCA once every five years.
Airlines may change routes within Cat-II and -III with a 30-day prior intimation to MoCA and DGCA.
However, withdrawal of any existing domestic operation to and within North East region, Islands and Ladakh will require prior permission from MoCA.
It remains to be seen with these incentives whether any new players are going to venture in the regional aviation sector and also how the legacy airlines are going to work out their operational strategies. As of now there are only three new regional airlines – Air Costa, Air Pegasus and TruJet – all three based in southern India. There is one more due to take wings – FlyEasy from Bengaluru with Embraer jets, but that surely ain't enough to effectively cover an India which is on the move.