With the new civil aviation policy, India could well achieve self-sufficiency in ground handling and then work towards the laudable objective of becoming an MRO hub for Asia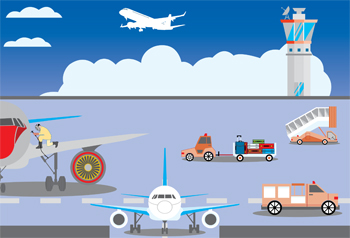 A new civil aviation policy was released in June 2016 and a Regional Connectivity Scheme drawing inspiration from it and circulated in draft form, is awaiting finalisation. While national policies cannot be expected to provide full satisfaction to all stakeholders, a beginning has been made by way of policy, something that has not happened since liberalisation of civil aviation in the 1990s and emergence of private of airline in the 1990s and again since 2003. Constant invocation is repeated ad nauseum in aviation events, of the cheering projection of India becoming the world's third largest aviation market by 2020.
However, skeptics are beginning to have doubts about it. An apt parable here is of a strong man lifting an elephant calf off the ground and triumphantly declaring that he would do so every coming day. The story would end on a despondent note the day the creature's mass overwhelms the lifter's might. Indian civil aviation is optimistically projected to grow like the calf; but the supporting infrastructure appears to be constrained in achieving commensurate incremental strength to support the inexorable enlargement of its burden. So is the Indian system doomed to never match its civil aviation pretensions of growing to a third place or is there hope? This article covers two aspects of related infrastructure—ground handling and maintenance, repair and overhaul (MRO).
Is Ground Handling Off the Ground Yet?
On August 9, 2016, the CEO of Cambata Aviation, India's oldest private ground handling company, wrote to its employees not to report for work. The action was the culmination of a troublesome period the company had witnessed as it progressively lost business to competition and had problems disbursing salaries. Its 1,000 employees threatened hunger strike unless they were paid their dues. This turbulence was a symptom of the woes ground handling has had in India for almost 15 years now.
In May 2003, for security reasons, the Home Ministry made it mandatory for ground handling at airports to be carried out by firms floated by Indian Airlines, Air India and Airports Authority of India (AAI) while turning down a proposal by the Ministry of Civil Aviation (MoCA) to permit domestic airlines to continue self-ground handling at airports. Adversely affected were the over 40 ground handling agencies across the country employing 20,000 personnel whose protests were countered by the government with assurance that it would induct trained manpower into the new ventures being floated by the government firms. Airlines and ground handlers promptly pointed out the fallacy that if the personnel who were going to work for the government firms were largely the same as were working for private ones, how would enhanced security levels be achieved by the change? A similar question on security was raised about joint ground handling ventures which both Indian Airlines and Air India were contemplating with Singapore Airlines and Singapore Airport Terminal Services (SATS), both foreign entities. Eventually, the Home Ministry relented in June 2003, permitting private domestic airlines to carry out self-ground handling only to overturn that ruling in 2007 by disallowing self-handling by domestic carriers at metro airports. The alternatives offered were three entities, the airport operator or its subsidiary, a subsidiary of Air India or Indian, and a ground handler selected through a competitive bidding process. After prolonged and unsuccessful parleys, private airlines moved the Supreme Court in 2011. Their main concerns were lowered efficiency of turnaround, reduction in service quality, and huge losses on account of the investments in ground equipment and training of personnel. Though the apex court did not pronounce judgement on the issue, it directed an interim order in this regard be followed, allowing airlines to self-handle their aircraft even at metro airports. In September 2015, private airlines operating at Chandigarh airport were denied ground handling services and five private airlines filed a petition against the contract awarded by AAI to Air India Air Transport Services Limited (AIATSL) to handle ground operations. The High Court allowed private airlines to manage ground handling services against the decision of AAI.
Against this backdrop the new civil aviation policy enshrines what it calls "a new framework". From the point of view of scheduled airlines, the most cheering stipulation is that all domestic scheduled airline operators including helicopter operators, are free to carry out self-handling at all airports using equipment owned or taken on lease and also through a subsidiary, through own employees or employees of their own subsidiary taken on regular employment. Hiring of employees through manpower supplier is not permitted; but hiring of equipment without manpower is allowed. As far as airport operators are concerned, major airports are required to ensure that there are at least three ground handling agencies (GHA) including Air India's subsidiary/joint venture (JV) while small airports are exempted from this minimum number of ground handlers, leaving it to the airport operator to decide the number, based on the traffic, airside extent and terminal building capacity. Air India's subsidiaries/JVs are required to match the royalty/revenue share offered by other GHAs. In the event of multiple GHAs, Air India is to match the lowest royalty/revenue offered by the other GHAs. Detailed functions for airlines and airports are expected to be notified separately while a loosely worded clause asks airlines and agencies allowed to carry out ground handling services at airports to "ensure compliance with security provisions as required under the law". Unless subsequent fine print takes away some of the munificence of the policy, this is good news for airlines.
MRO
The second biggest component of an aircraft operator's expenditure is on maintenance of his fleet, the first being aviation fuel. The Directorate General of Civil Aviation (DGCA) website lists 55 approved foreign MRO to which Indian operators can take their aircraft. The majority of heavy maintenance is carried out by foreign MRO. Thus, a domestic strength in the MRO arena would mean succour by way of lower maintenance costs. Unfortunately, Indian MRO industry has had an under-nourished growth and is far from attaining the status required to serve a civil aviation market touted to reach third position in a few years.
The new civil aviation policy makes the right noises about remedying this state, declaring the government's intent to develop India into an MRO hub for Asia. Some steps were taken in this direction through provisions in the union budget 2016-17 by way of exemptions and regulatory relaxations. Other steps proposed in the policy include making it easier for foreign aircraft to use Indian MRO facilities, exhortation to state governments to impose no VAT on MRO facilities, provision of land for MRO in all future airports and relaxation of airport royalties and additional charges for five years from the policy approval date.
The $100 million MRO facility in Nagpur built by Boeing consequent to an agreement between Boeing and Air India after it placed a huge order for Dreamliners in 2006, was inaugurated by Union Minister Nitin Gadkari in June 2015. However, for some reasons, it failed to take-off. In February 2016, Air India invited bids from private players to take over and operate the facility. It is understood that SpiceJet has signed up with Air India for use of that facility for major servicing of their aircraft.
Private sector MRO have been more successful with Air Works India leading the market. In existence since 1951, the company and proudly claims to be "the largest independent MRO facility in India". Some other players are Deccan Charters, Reliance Aerospace Technologies and Indamer Aviation. For helicopters, MRO facilities are negligible. There are over 300 helicopters flying in India but MRO support has been negligible so far and only now Pawan Hans Helicopters Limited is planning to set up four MRO firms as a part of its diversification plan; the first two are to come up in Delhi and Juhu, with Guwahati and an as yet unnamed station in the South. It remains to be seen whether the iterations in the policy document actually get translated into meaningful regulations. If they do, India could well achieve self-sufficiency for its own airlines and then work towards the laudable objective of becoming an MRO hub for Asia.
General Aviation Left Generally Unhappy
As is evident from the foregoing, the ground handling policy and MRO excludes non-scheduled operators and business aviation from its scope. While the policy was still being finalised, Delhi International Airport Limited (DIAL) issued eviction notices to all the general aviation aircraft operators some of whom are carrying out their maintenance activities under existing agreements and within the ambit of existing rules and regulations, ordering them to vacate the hangar spaces so far leased to them. This step was a prequel to DIAL entering into agreements with two fixed-base operators (FBO)/MRO (Bird Worldwide Flight Services – ExecuJet and Indamer – Mjets) for a duopolistic and what turned out to be oppressive regime allowing only these two entities to handle flights and carry out maintenance activities for general aviation operators based at Delhi. Business Aircraft Operators Association (BAOA) appealed in Delhi High Court; but was told by the court that the members affected by the DIAL notification would have to file cases separately. Affected companies have reached working compromise with the designated service providers and currently no litigation is in progress. However, BAOA has got the court to permit it to reserve the right to file a case in the future.
Conclusion
Ground handling and MRO expenses are substantial shares of an aircraft operator's overall outflow of payments and any saving therein would help bottom lines. For over a decade, policyrelated woes have affected the prosperity of Indian civil aviation. All stakeholders in civil aviation wait with bated breath to see how the new civil aviation policy is transmuted into processes and practices. If civil aviation has to flourish, the government will have to not just be content with having framed a policy but also throw its weight behind consummating the spirit of the policy and cajole state governments into doing so. At the moment, future projections can at best be speculative.
Lufthansa Technik in Asia-Pacific
Lufthansa Technik is a leading provider of maintenance, repair and overhaul (MRO) and modification services in the civil aviation industry. In the Asia-Pacific region Lufthansa Technik is engaged for over 30 years, offering several thousand jobs in the region and serving more than 130 customers.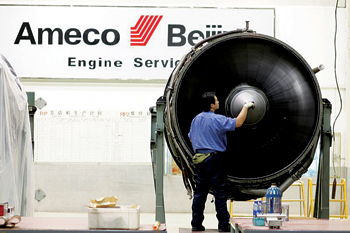 Lufthansa Technik in China
Lufthansa Technik has important commercial interests and several highly visible projects in China.
Ameco: Based in Beijing, Aircraft Maintenance and Engineering Corporation (Ameco) is a joint venture of Lufthansa (25 per cent) and Air China (75 per cent), founded in 1989. Ameco specialises in MRO of aircraft, engines and components. With about 11,000 employees, Ameco is the biggest provider of technical support services in China. Currently, it possesses maintenance licences from almost 30 countries including CAAC, FAA and EASA. It has over 160 maintenance stations worldwide, forming a large maintenance network.
Lufthansa Technik Shenzhen Co. Ltd: It is a joint venture of Lufthansa Technik (80 per cent) and Beijing Keilan (20 per cent). Operational since 2002, it provides MRO services for airframe related components (ARC) and aircraft components (COM), including modifications, spares supply and engineering support.
Lufthansa Technik Services India (LTSI)
Founded in 2005 and based at Bengaluru, LTSI is a subsidiary of Lufthansa Technik AG. As the successor to One Stop Airline MRO Support Pvt. Ltd., the company operates a pool of components and provides materials management, customer service and spares provisioning services for the Indian and South East Asian customers of Lufthansa Technik AG. LTSI also manages material stock for customers in India and in some cases holds inventory for them at Bengaluru and offers warehouse services for aviation and non-aviation companies. LTSI represents the component division of Lufthansa Technik in the India, Bangladesh, Sri Lanka and Maldivian markets.
LTSI's main focus is regional component service for Airbus aircraft of the types A319, A320, A321, A330/A340 as well as for Boeing aircraft of the types 737NG and 777.
Lufthansa Technik in Malaysia
Airfoil Services Sdn. Bhd. (ASB) is a joint venture between MTU Aero Engines (50 per cent) and Lufthansa Technik (50 per cent). ASB specialises in the repair of blades from major aircraft engine types, including GE, CFMI and IAE. At ASB's factory in Selangor, Malaysia, engine airfoils for low-pressure turbines and high-pressure compressors are repaired.
Lufthansa Technik in Philippines
Founded in 2000 as a joint venture between Lufthansa Technik AG (51 per cent) and MacroAsia Corporation (49 per cent), Lufthansa Technik Philippines (LTP) offers aircraft MRO services. Specialising in base maintenance for the A320 family, A330, A340 and A380 aircraft types, LTP offers line maintenance services, engine, component and back-shop support, and personnel assignment. LTP recently completed a hangar expansion project which extends two existing bays to accommodate a second A380 and another wide-body for base maintenance. Equipped with versatile docking systems, mezzanines and linking bridges, it is able to fit current and future aircraft types such as the A330, A350, B777 family and B787.
Lufthansa Technik sales organisation in Asia
In Asia, Lufthansa Technik's sales activities are headed by a Senior Vice President Corporate Sales Asia-Pacific. In 2015 Lufthansa Technik regionalised its sales organisation to offer the region's aircraft operators a focal point of contact in an effort to bring the wide-ranging services and capabilities of Lufthansa Technik closer to its customers.