The IAF stands today at the threshold of acquiring multi-spectrum strategic capabilities, synonymous with India's growing regional stature and expanding national interests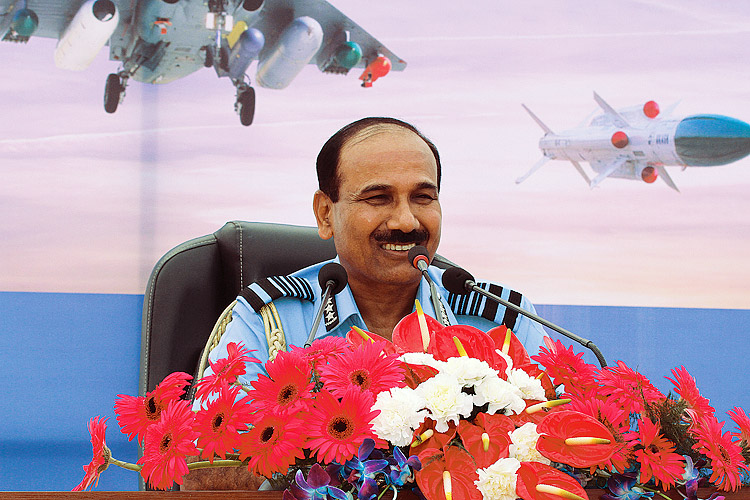 On the occasion of the 84th anniversary of the Indian Air Force (IAF), I extend my warm felicitations to all air-warriors, NCs (E), DSC personnel, civilians and their families. My special greetings to our esteemed air veterans and their families. The Air Force Day is a momentous occasion as we look back on our rich past with a deep sense of pride on our achievements over the last eight decades. The IAF stands today at the threshold of acquiring multi-spectrum strategic capabilities, synonymous with India's growing regional stature and expanding national interests.
In the year gone by, the IAF has continued to grow from strength to strength. The flying effort of the IAF of more than 2,70,000 hours during the year gone by, is the highest in decades. The IAF not only flew 40,000 hours more than the average over the last ten years, it also recorded the second lowest ever accident rate of 0.22. However, the tragic loss of 29 personnel onboard the missing An-32 aircraft reminds us of the inherent risks and challenges of military aviation. Our thoughts and prayers are with the families of the personnel who were onboard the An-32 aircraft. The IAF achieved a number of operational milestones during the year. The successful conduct of Exercise Live Wire, an Air Force level exercise and the Fire Power Demonstration, Exercise Iron Fist-16 at Pokhran range, aptly showcased the operational capability and readiness of the IAF. Participation by the IAF in international exercises like the recently completed deployment to Alaska for Exercise Red Flag and the exercise on the return with the UAE Air Force, demonstrated our growing strategic reach and power projection capabilities. Continual air logistics missions flown for the police forces towards Operation Triveni and air maintenance of the Indian Army in one of the most challenging terrain and weather conditions in the world, have been noteworthy.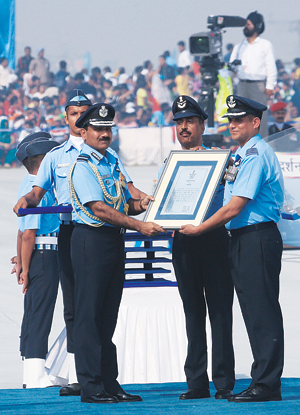 CAS honouring the awardees on 84th Air Force Day
The IAF excelled in the execution of its operational tasks, as also in rendering assistance during various contingencies and in aid of civil authorities, both within the country and abroad. Our nation reposes a high degree of trust in our capabilities to respond promptly and effectively to any contingency and being the first responder, the IAF with its reach, response and proactive approach, led from the front. The IAF's swift and prompt response during the agitation in Haryana, floods in Chennai, suppressing forest fires in Kollam and Uttarakhand, airlift of relief material to Fiji and Sri Lanka and evacuation of our stranded diaspora from south Sudan, was indicative of its humanitarian assistance and disaster relief (HADR) capabilities in out of area contingencies. Without regard for personal comfort and safety, our air-warriors braved daunting challenges and saved precious lives.
This year is historic as for the first time, three women officers have been inducted as fighter pilots in the IAF. Accomplishment of tasks allotted to the IAF in a safe and timely manner, speaks volumes of the professionalism and operational capability of our air-warriors. It is indeed noteworthy that our squadrons, units and stations worked tirelessly to sustain high levels of combat potential. My compliments to all air-warriors for their dedication. I urge each one of you to remain anchored to our core values and continue honing your skills with single-minded devotion.
While we must justifiably feel proud of our achievements, we need to continue to evolve as a potent fighting force. The recent terrorist attacks on our Army and airbases, are stark reminders of the troubled times we live in. The IAF remains ever-ready to undertake operations to defend our nation's sovereignty and achieve the objectives set by our political leadership to deter and respond to such hostile acts by our adversaries. The challenges of capability development in terms of meeting conventional, subconventional and non-conventional threats by induction and expeditious operationalisation of weapon systems, creation of appropriate infrastructure, training of air-warriors in absorbing high-end technology, need to be met through detailed planning and timely execution of projects and work services. We also need to train extensively so as to exploit these capabilities effectively.
In consonance with the 'Make in India' initiative, the IAF has taken an important step in its quest of reducing its reliance on foreign weapons systems and platforms with the induction of the light combat aircraft Tejas. The induction of advanced light helicopter, Akash surface-to-air guided weapon, air-to-air Astra missile, IACCS, air defence radars, AEW&C platforms and BrahMos surface-to-surface and air-to-surface missiles in the IAF are some of the other success stories of our indigenisation effort. To enhance our operational capability, 36 Rafale aircraft are being acquired while the midlife upgrade of MiG-29, Mirage 2000 and Jaguar fleets is already underway. Induction of Apache attack helicopters, Chinook heavy-lift helicopters and air defence radars along with upgrading of airfield infrastructure and communications network will provide unprecedented operational capabilities to the IAF.
As we invest in new capabilities, protection of these valuable assets and resources and of our invaluable air-warriors and their families, is a high priority task. The security environment in the neighbourhood and beyond continues to be fragile and poses several challenges. New security measures have been instituted and standard operating procedures have been revised to counter any kind of threat to our bases. The boot camp at Naliya, the QRT and Young Officers Course at Bhatinda have been initiated with an aim of increasing security training and consciousness, physical fitness and combat efficiency of our personnel. Procurement of state-of-the-art equipment is also being processed and would further bolster our capability to safeguard national security.
In line with the IAF's vision of 'People First, Mission Always', the welfare and well-being of our personnel and their families is of utmost importance. I assure you of the IAF's commitment to improve the quality of life and enhance productivity at workplace. Creation and upgrade of infrastructure for sports and games, living accommodation, shopping complexes, schools and auditoriums, have enhanced the quality of life and standards of living of our personnel. These efforts have served to enhance the morale of our personnel. As we rededicate ourselves to our mission on this special day, we take the opportunity to pay tribute to our veterans and acknowledge their outstanding contribution. We are immensely indebted to our brave pioneers who endured tremendous hardship during the formative years of the IAF. On behalf of all serving air-warriors, I salute their tenacity and leadership. Their vision will always serve as a beacon and will guide us in the completion of our mission with honour and pride. The times ahead will test our calibre, competence and resolve. For all of us who don the blue uniform, it becomes our sacred responsibility to follow the core values of 'Mission, Integrity and Excellence' so that we can continue to 'Touch the Sky with Glory'. My wife Lily and I convey our greetings to all air-warriors, NCs(E), DSC personnel, civilians, esteemed air veterans and families and wish you continued success in all future endeavours. Jai Hind!