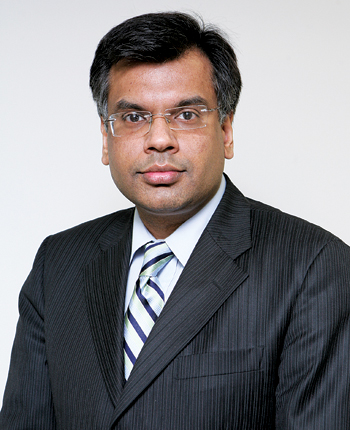 An Introvert Person
An Evolving Person
A Humble Yet Firm Leader
A Globally Respected Professional
In the global corporate world, quite a few Indians are leading from the front and that certainly warms the cockles of heart of us Indians. One such Indian who does us proud is in the realm of aerospace and defence. That is 47-year-old Dr. Vivek Lall, Chief Executive in charge of US and International Strategic Development at General Atomics, perhaps the largest privately held defence and nuclear company in the world. He is one of the senior most Indian origin persons in the United States to lead aerospace and defence organisation at a global level including United States. Dr. Lall was appointed in August 2014 and he is based in San Diego, California.
AT A GLANCE
Chief Executive: US & International Strategic Development, General Atomics
Engineering expertise
PhD in Aerospace Engineering & MBA
Firm believer of R&D
Ounding Co-Chair of the US-India Aviation Cooperation Programme
LED team that clinched path-breaking Indo-US defence deals
Winner of 2008 OCA National Asian Pacific American Corporate Achievement Award
Cambridge (UK) listed him as one of only 2,000 Outstanding Scientists of the Twentieth Century
Former President of the Mathematical Asociation of America
Trained as a private pilot
The ladder of leadership and success continues for Dr. Vivek Lall as he has age on his side. His leadership traits are borne from the fact that he has a firm footing in research and development and management. His foundational research efforts at the NASA Ames Research Center in various multidisciplinary engineering fields have catapulted him to the top from one organisation to another – Raytheon, Boeing, Reliance and now General Atomics. He is a firm believer in R&D and innovation which he argues is the fuel for growth for any company or country to stay ahead of the curve...the rest including manufacturing follows.
Though an American citizen, Dr. Lall is a true global citizen having grown up around the world. After being born in Jakarta, Indonesia, he has traversed the world living in Austria, Tanzania, UK and Canada. But he firmly believes in Indian values and the growth story of India and is one of the persons who have been instrumental in integrating US-India defence relations in the last decade. He continues to do with greater fervour as he believes that India has the wherewithal to become a top aerospace and defence country. Aptly so, he finds the stellar leadership of the Prime Minister Narendra Modi as the right ingredient for the country to accelerate its superpower capabilities. Personally, he is inspired by the life of Prime Minister Modi while his parents have been his best friends and mentor who encouraged him to pursue his dreams no matter what the field was.
THOUGH AN AMERICAN CITIZEN, HE IS A TRUE GLOBAL CITIZEN HAVING GROWN UP AROUND THE WORLD...FIRMLY BELIEVES IN INDIAN VALUES, GROWTH STORY OF INDIA...ONE OF THE PERSONS INSTRUMENTAL IN INTEGRATING US-INDIA DEFENCE RELATIONS IN THE LAST DECADE.
Dr. Lall did his O levels and A levels through the University of London, UK (equivalent of 10th and 12th grade). Indeed, he chose aerospace and defence, having completed bachelor of mechanical engineering degree at a very young age of 19 years from Carleton University in Canada with his thesis being on 'Aircraft Performance', a starting point for his interest in aerospace. Subsequently, he completed his masters in aeronautical engineering from Embry-Riddle Aeronautical University in Florida. He also has a PhD in Aerospace Engineering from Wichita State University in Kansas and MBA from the City University in Seattle. He also completed management and executive courses at the American Management Association in Washington DC and the Boeing Leadership Center in St. Louis. This educational depth has helped him stay ahead of the learning and leadership curve. He was so much into circuits that his Dean at the University told him to "get a social life".

With Barack Obama, US President
With Shinzo Abe, Japanese Premier
With Narendra Modi, Prime Minister of India
With Najib Razak, the Malaysian Prime Minister
With Hillary Clinton, the front-runner
for US Presidential elections
With Khalid Al-Attiyah, Qatar's Defence Minister

But Lall continued to delve deep into research and worked on singleengine blades for Canada's National Aeronautical Establishment. With his father, a career diplomat, posted to Panama during Noriega's time, he moved to Florida's Embry-Riddle Aeronautical University. During his master's work, he took up a summer job with Eastern Airlines for a short stint as the airline soon packed up.
LALL CONTINUED TO DELVE DEEP INTO RESEARCH AND WORKED ON SINGLE-ENGINE BLADES FOR CANADA'S NATIONAL AERONAUTICAL ESTABLISHMENT...DURING HIS MASTER'S WORK, HE TOOK UP A SUMMER JOB WITH EASTERN AIRLINES FOR A SHORT STINT AS THE AIRLINE SOON PACKED UP
At Raytheon, also at Wichita, he worked on the Joint Primary Aircraft Training System (JPATS) Beechcraft T-6 Texan II and once had to sit, shivering, in a green King Air aircraft, holding up two mikes for acoustic profiling. He joined Boeing on September 17, 1996. He worked on computational fluid dynamics and air elasticity and loads and dynamics for the 757-300 aircraft. He moved from engineering to management and later, the then CEO of Boeing Commercial Aircraft (BCA) Allan Mullaly, put him on his seven-member Technical Excellence Team.
His work at Boeing in the Airplane Performance and Propulsion group has been acknowledged as pioneering. He also worked as an adjunct faculty member at Embry-Riddle, McConnell Air Force Base, besides being co-chair of the US-India Aviation Cooperation Programme launched by Norman Mineta in 2005. He was appointed as Vice President and Country Head, Boeing Defense Space & Security in May 2007, when he led a team to conclude the path-breaking and largest ever US-India defence deals for C-17 Globemaster, P-8I anti-submarine warfare aircraft and Harpoon missiles.
JAPANESE SENIOR OFFICIALS HAVE OFTEN CALLED HIM THE "MOST POWERFUL ASIAN-AMERICAN IN THE US DEFENCE INDUSTRY"
It was in 2003 that Lall was appointed Managing Director of Boeing Commercial Airplanes and the team had a successful business run with major deals being struck with India. He was one of the few Boeing employees to have worked for both the commercial and defence units.
Dr. Vivek Lall in his illustrious career has travelled to many countries including Japan, Saudi Arabia, Indonesia, Canada and the U.K. He, along with the Japanese Prime Minister are on an advisory Board to see development and progress for India and Japan. Japanese senior officials have often called him the "most powerful Asian-American in the US defence industry". Quite remarkably, Dr. Lall has been recognised for his service to the nation at different points by US Presidents George Bush and Barack Obama, Secretary Mineta and Secretary Locke. He is known personally to and is respected by many Heads of State around the world.
Dr. Lall has been the recipient of several honours including the 2008 OCA National Asian Pacific American Corporate Achievement Award in the US. In the year 2000, Cambridge (UK) listed him as one of only 2,000 Outstanding Scientists of the Twentieth Century, a coveted distinction. He is in the Signma Gamma Tau Aerospace Honor Society as well as the Pi Mu Epsilon Mathematics Honor Society. He was also the President of the Mathematical Association of America. He is not only conversant with mathematics, aerospace engineering and management but also with five different languages – English, Hindi, French, German and Swalihi.
He is a trained private pilot having gone to the Phoenix International Flight Training Center in Florida and that explains his desire to keep 'flying high' and his obsession to contribute as enormous as possible in the aerospace sector.