This year there were 450 exhibitors from 50 countries and nearly 50 aircraft on the static display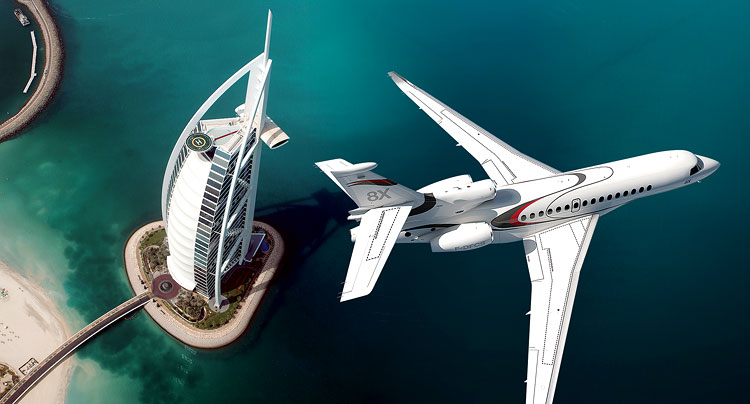 Successful Debut: Ultra-long range Falcon 8X
The three-day Middle East and North Africa Business Aviation Association (MEBAA) Show 2016 was a success on many counts and the event has come to epitomise the trends in the Gulf region. The event held from December 6 to 8 at the new Al Maktoum International Airport was against a backdrop of continued global uncertainty about when robust economic growth will return.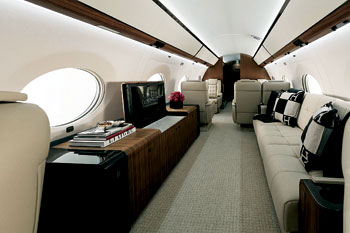 Four-Living-Area G650ER on Display at MEBAA 2016
The aviation industry here is always looking at ways and means of expanding business, as it is a major contributor to the economic prosperity of the region. The seventh biennial event was preceded by the MEBAA Conference, which is supported by the UAE General Civil Aviation Authority (GCAA). The CEO of Mubadala, Homaid Al Shemmari in his keynote address said the business aviation sector has to adapt and consolidate to be relevant in the difficult times. He listed out many challenges facing the sector including costs, stiff competition from commercial airlines, increasing customer expectations and geopolitics. Despite the looming clouds, MEBAA organiser F&E Aerospace said the event was almost 10 per cent bigger than the previous edition in 2014. This year there were 450 exhibitors from 50 countries and nearly 50 aircraft on the static display, attracting over 9,000 visitors. The aircraft on display included from the small aircraft Diamond light singles to the big boys – Airbus and Boeing with their business variants.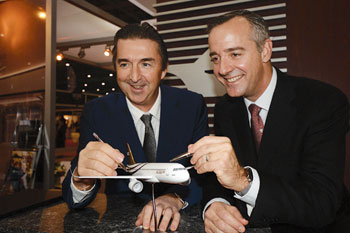 Jet Aviation Dubai joins ACJ Service Centre network
"We are thrilled to see the show going from strength to strength…and the fact that we are seeing so many new exhibitors from around the world, coupled with the increases in commitment, demonstrates that the MEBAA show is cementing its status in the business aviation industry," said MEBAA founding Chairman Ali Alnaqbi.
Falcon 8X debut
Dassault Aviation presented its expanding line of large-cabin long range Falcon business jets – Falcon 8X and Falcon 2000 LXS twinjet. It introduced for the first time the ultra-long range Falcon 8X. The first Falcon 8X delivery to a Gulf customer took place in mid-November, following its certification by the GCAA.
"The delivery of a Falcon 8X to a regional operator – barely a month after the entry into service of the first aircraft – says a lot about the important role the Middle East is expected to play in the success of our new flagship," said Renaud Cloatre, International Sales Director for the Middle East Region. Like the Falcon 7X, Dassault's most popular offering in the region, the 8X is expected to be a big seller in the region, where operators value the exceptional combination of range, cabin comfort and operating efficiency. The Middle East Falcon fleet has nearly doubled in the last seven years, to over 70 aircraft, and continues to grow despite the softness of the current global market.
Derived from the popular Falcon 7X, the Falcon 8X offers the greatest range and the longest cabin of any Falcon, allowing it to fly non-stop from New York to Dubai, Dubai to Adelaide, or Chicago to Jeddah. It also share the 7X's exceptional operating economy and short-field performance.
Dassault Falcon also presented the Falcon 2000LXS equipped with FalconEye CVS. The 4,000 nm (7,410 km) Falcon LXS, the newest addition to the 2000 line, offers a short-field capability comparable to smaller midsize and super midsize business jet models but with a far better range and comfort level.
Reinforced Product Support Network
Dassault continues investing in the Gulf to improve and expand its regional product support network. Falcon customers can rely on an Authorised Service Centre, spares distribution centre and regional sales office in Dubai and an Authorised Service Centre and technical office in Jeddah, Saudi Arabia. These regional facilities are backed by a growing global support network staffed by some 1,700 Dassault engineers, experts and technicians.
Gulfstream pitches four-living area G650ER
Gulfstream Aerospace Corp. displayed three of its business jets – the flagship Gulfstream G650ER, the high performing Gulfstream G550 and the class-leading Gulfstream G280. The attraction at the event was the four-living-area of G650ER highlighting the company's commitment to exceeding customers' expectations for customisation, comfort and craftsmanship.
Mark Burns, President, Gulfstream said that "Gulfstream aircraft deliveries to the Middle East began in 1976. Forty years later, we have more than 120 aircraft based in the Middle East and North Africa. With this growth, we continue to invest in Product Support capabilities throughout the region, including expanding our parts and materials inventory at Dubai World Central."
Cessna Citation Latitude wows Middle East
Textron Aviation Inc debuted the Cessna Citation Latitude midsize business jet, besides it had on display the Cessna Grand Caravan EX and the Beechcraft King Air 350i turboprops.
"Textron Aviation supports an expanding fleet of more than 300 jets and turboprops in the Middle East utilised throughout the region in various business and special mission applications," said Kriya Shortt, Senior Vice President, Sales and Marketing. Cessna Citation Latitude has experienced tremendous success with 40 aircraft delivered and over 12,000 fleet hours amassed in just over a year. Its reliability, efficiency and total ownership value make it an ideal business tool for operators in the Middle East and throughout the world.
"We expect this family of aircraft will be ideal for meeting the high demand for larger business jets in the Middle East where we've experienced excellent market reception of our Citations," said Shortt.
Beechcraft introduces special mission enhancements
Beechcraft Corporation said it is now offering Pratt and Whitney Canada PT6A-67A engines for improved performance on its King Air 350HW and King Air 350ER turboprops. The company is offering an increased gross weight option for these platforms, increasing the maximum take-off weight to 17,500 pounds. Both enhancements are now FAA and EASA certified and offered as factory options for new aircraft or as aftermarket modifications.
THE CEO OF MUBADALA, HOMAID AL SHEMMARI IN HIS KEYNOTE ADDRESS SAID THE BUSINESS AVIATION SECTOR HAS TO ADAPT AND CONSOLIDATE TO BE RELEVANT IN THE DIFFICULT TIMES. HE LISTED OUT MANY CHALLENGES FACING THE SECTOR INCLUDING COSTS, STIFF COMPETITION FROM COMMERCIAL AIRLINES, INCREASING CUSTOMER EXPECTATIONS AND GEOPOLITICS.
"The King Air 350 platform is renowned as a worldwide mission enabler and these optional enhancements will offer customers added performance and payload for special mission operations," said Bob Gibbs, Vice President of Special Mission Aircraft. "We have successfully modified a fleet of NATO air force-operated King Air 350ER aircraft with these upgrades, and we are excited to offer these options to provide more value to our special mission customers."
Cedar Executive picks an additional Embraer Legacy 500
Middle East Airlines (MEA) confirmed the purchase of a second Embraer Legacy 500 business jet for its private-jet affiliate, Cedar Executive. The second aircraft is expected to enter into service in mid-2017.
Cedar Executive is based at Rafic Hariri International Airport in Beirut. The company started operations with a brand-new Legacy 500 that was delivered in January 2016. Cedar Executive offers private-jet charter travel services for its customers along with FBO services including maintenance, hangarage and facilities for general aviation aircraft.
"Cedar Executive has exceeded their customers' expectation with a high end premium service in their very first year of operation. It is a pleasure to be part of this accomplishment by supplying the aircraft that combines the comfort, technology and performance desired for the ultimate travel experience," said Marco Tulio Pellegrini, President and CEO, Embraer Executive Jets. "We are committed to offer the best customer service to support this continuing Legacy 500 fleet growth."
"Our aim at Cedar Executive is to provide our guests with nothing short of a world-class and blissful experience. Our existing Legacy 500 has delivered that for our revered guests throughout the Middle East," said Fouad Fawaz, Cedar Executive CEO. "The addition of a further aircraft is testimony to both the quality of the service Cedar Executive's guests' experience, and the performance of these magnificent aircraft."
Bombardier in full force
Bombardier Business Aircraft's most advanced business jets — the Learjet 75, Challenger 650, Global 5000 and Global 6000 aircraft were on static display. Peter Likoray, Senior Vice President, Worldwide Sales and Marketing, Bombardier Business Aircraft, said: "With a very strong team and a fleet of more than 100 aircraft based in the Middle East, Bombardier is well-positioned to build on its current presence as a world-class provider of exceptional business aircraft in the region.
"We expect the Middle East to remain a promising market for business aviation in the next 10 years. Our market forecast predicts 350 deliveries valued at $12 billion over the next 10 years, with Medium and Large category aircraft accounting for about 95 per cent of these deliveries," he added.
BBJ ties up with GKN Aerospace
Boeing Business Jets (BBJ) announced that it will work with GKN Aerospace's Fokker business to develop, produce, offer and support the Skyview Panoramic Window, the largest window available on any passenger jet offered today. The window will be available as a feature on the BBJ, BBJ 2, and all three members of the BBJ MAX family – including the new BBJ MAX 7 – with scheduled entry-intoservice in 2018.
"We are thrilled to formally confirm our partnership with GKN Aerospace's Fokker business for the development of this fantastic feature on the BBJ, the largest airplane window available in the market," said Boeing Business Jets President David Longridge.
"We are proud to announce the next step for the Skyview Panoramic window together with Boeing Business Jets," said Peter Somers, President of GKN's Fokker Services business. "The innovative technology applied in the largest window in the market, enhances passenger comfort and is now also available for BBJ MAX airplanes." The window will be available through GKN Aerospace's Fokker business as a retrofit on existing BBJs, and through Boeing Business Jets as a priced feature. It will be delivered on BBJ MAX airplanes starting in 2018.
AC J320neo Family continues to win orders
Airbus Corporate Jets won another commitment for an ACJ-320neo, highlighting the continuing success of its new aircraft family. The latest deal adds to the seven orders already won by the ACJ320neo family, taking total orders and commitments to eight, comprising six ACJ320neo and two ACJ319neo aircraft. "The ACJ320neo family further improves a proven and successful design, allowing customers to take more of their lifestyles to even more of the world," points out Airbus Chief Operating Officer, Customers John Leahy. The ACJ319neo can fly eight passengers for more than 15 hours, or 6,750 nm (12,500 km) while the ACJ320neo can carry 25 passengers for over 13 hours, or 6,000 nm (11,100 km). Over180 Airbus corporate jets are in service around the world, and they are flying on every continent, including Antarctica.
Jet Aviation Dubai joins AC J service centre network
Jet Aviation's maintenance, repair and overhaul (MRO) facilities in Dubai are to join the ACJ Service Centre network, adding to the choice of Airbus-approved facilities around the world for ACJ customers and operators. Its Basle facilities became part of the ACJ Service Centre Network earlier this year. The ACJ Service Centre network now comprises Comlux America in Indianapolis, HAECO Private Jet Solutions in Xiamen, Jet Aviation in Basle and Dubai, Sepang Aircraft Engineering (SAE) in Kuala Lumpur and ST Aerospace in Singapore.
All in all the OEM's find the Middle East market a lucrative one, driven by the rich tastes of Arabs, besides the growth of the tourism and hospitality market. Though at present the scenario is depressing, the OEMs are hoping that good days will bounce back.