Lufthansa Technik offers airlines and other operators of commercial airliners whatever they need to keep their fleets in the best possible condition and their operating costs at a low level — everything from minor maintenance to complete overhauls, from repair of defective components to comprehensive spare parts logistics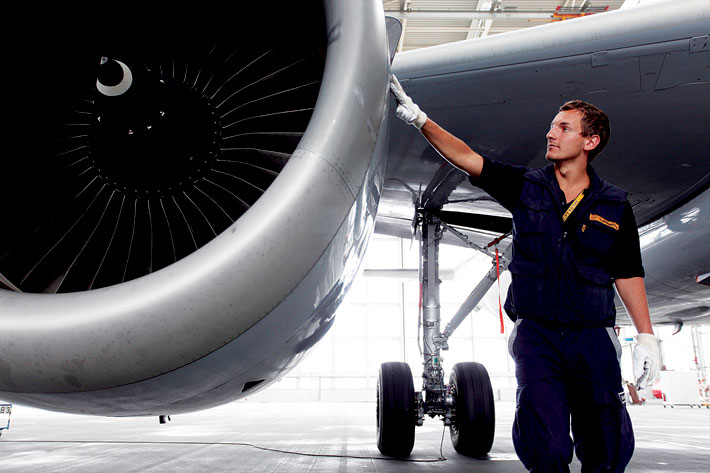 Line Maintenance in Munich of Lufthansa Technik
The perception is that if it anything German, the engineering must be excellent. This is a truism. Despite its engineering excellence, it is always backed up by service support, for two reasons — one to keep the product in shipshape condition and two to extend the life of the product and solution. This requirement is so essential in the aviation industry and it was but natural for a German company to be associated with it. Lufthansa Technik is the world's leading provider of MRO (maintenance, repair and overhaul) services. From its roots in the 1950s, Lufthansa has come a long way having a firm foothold in the MRO segment, serving clients from across the world.
With complex technologies and precision technologies so integral to the aircraft, the need to keep them in running condition is highly critical and Lufthansa Technik has perfected that art or science, if you may. The aircraft is a highly complex machine consisting of hundreds of systems and subsystems and to keep them 'well-oiled' as in good working condition, it requires unique capabilities to meticulously service the aircraft on the ground, to keep it flying.
Landing gear overhaul at Lufthansa Technik
Landing Gear Services UK in London
Lufthansa Technik Services India
Passenger safety is utmost
Lufthansa Technik has summed it up aptly what its role is: To ensure the safety of passengers and to keep the airline's flight operations reliable and cost-effective, all these many components have to work together flawlessly. The technical servicing of aircraft, including engines and all components, is what Lufthansa Technik does to perfection. It offers airlines and other operators of commercial airliners whatever they need to keep their fleets in the best possible condition and their operating costs at a low level — everything from minor maintenance to complete overhauls, from repair of defective components to comprehensive spare parts logistics.
In this endeavour, it has expanded its reach, not just limiting itself to servicing aircraft of the Lufthansa Group. It has taken its expertise to various parts of the world and with great success. The company now serves customers all over the world: airlines large and small, charter carriers, operators of VIP aircraft, airlines whose aircraft have to fly under extreme climatic conditions, or whose aircraft are subject to the strain of shorthaul traffic with frequent take-offs and landings. More and more airlines are outsourcing some or all of their fleet maintenance and overhaul to external specialists with strong technical knowhow. They seek a partner with a wide range of skills that can assist them in every aspect of service and provide them with true added value — with everything they need coming from a single source, including engineering and logistics.
Global presence
Besides its home base in Germany, Lufthansa Technik has facilities in Belgium, Bulgaria, China, Hong Kong, Hungary, India, Ireland, Italy, Malaysia, Malta, Philippines, Puerto Rico, Russia, UAE, United Kingdom and the United States.
Indian operations
In India, Lufthansa Technik set up the Lufthansa Technik Services India Pvt Ltd (LTSI), a fully owned subsidiary of Lufthansa Technik AG (LHT). As the successor to One Stop Airline MRO Support Pvt. Ltd. (OSA), the 30-strong company operates a pool of components and provides materials management and spares provisioning services for the Indian and South East Asian customers of Lufthansa Technik AG.
LTSI also manages the home base material stock for customers in India and in some cases holds inventory for them at the Bengaluru site. LTSI's main focus is regional component service for Airbus aircraft of the types A319, A320, A321, A330/A340 as well as for Boeing aircraft of the types 737NG and 777. In this connection the company cooperates closely with Lufthansa Technik's Aircraft on Ground (AOG) Desk in Hamburg. Customers enjoy access on a 24 x 7 basis to the full service spectrum of integrated and comprehensive Total Component Support (TCS), ranging from the component pool and materials management to customer service and logistics and transport services.
At the heart of LTSI's business operations is the approximately 500 square metres, fully air-conditioned warehouse that complies with the latest European standards. Continuous monitoring of temperature and humidity allows even the most sensitive items to be stored here without any problems.
Lufthansa Technik's permanent presence in India through LTSI means that Indian and South East Asian customers can count on a fast, local materials service for a growing number of aircraft types and rely on highly skilled customer service in their region. Thanks to its sales office in Mumbai, Lufthansa Technik Service India now offers single component maintenance (SCM) as well as the integrated products and is well positioned for the future in this expanding market.
Pact with Air India
Recently, Lufthansa and Air India entered into an agreement for the maintenance and repair of the carrier's Boeing 777-200/300 landing gears. The four-year contract covers a total of 15 shipsets. The maintenance and overhaul work will be performed by Lufthansa Technik Landing Gear Services UK (LTLGS) located in Hayes, London, in the United Kingdom. Zang Thio, Vice President Corporate Sales South East Asia and Australia at Lufthansa Technik, commented: "We are very proud to extend our customer base in India with the country's flagship carrier. I am certain that with our extensive level of experience, we will meet our customer's expectations both in terms of quality and reliability."
EXPANDING SERVICES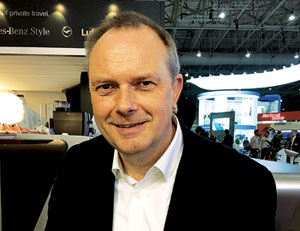 Wieland Timm, Vice President (Sales) VIP &
Special Mission Aircraft, Lufthansa Technik
Jayant Baranwal (SP's Aviation): Can you elaborate on your MRO capability?
Wieland Timm: Yeah we are doing engine overhaul for these types of aircraft, which I mentioned — Airbus, Boeing and Bombardier. We are doing landing gear overhaul. We are doing all components, services which are in those types of aircraft. We are doing as well base maintenance, line maintenance activities, we are doing C services, that means carbon, or whatever products such as nascelles we are repairing. We have several cabin products, we are producing entertainment systems for VIP aircraft. Well, we have a dedicated team with our OEM for specific p arts, so we have a seat, we have some cooking topics, we have some patient transport units and so on several types of that. And we will find next year a new division which links to digital data of aircraft and develop products for it. So our idea is to have a preventive maintenance so you know in advance when that component will collapse and when you land the new component is there so that you can change it. This is the idea in general.
Full interview click here: https://goo.gl/m90szC
The first Boeing 777-200/300 landing gear delivery to Air India also marks an important milestone for LTLGS — the 50th Boeing 777-200/300 landing gear overhaul by LTLGS since 2013. This amounts to a market share of approximately 70 per cent in the currently anticipated global market.
Sandra Eckstein, Managing Director of Lufthansa Technik Landing Gear Services UK, commented: "All of us here at LTLGS are honoured to celebrate this important milestone in our operations and we are delighted to add Air India to our existing customer base, which includes major Boeing 777-200/300 operators from Europe, the Middle East and Asia."
Innovation-driven
One of the reasons why Lufthansa Technik is a world leader is because it tailors innovation for its customers. In a world characterised by ever-increasing demands in terms of energy efficiency, emissions, individual customer wishes, and the high availability requirements for aircraft, Lufthansa Technik strives to offer tailored solutions to its customers. This includes both new technologies and the customer-specific bundling of individual measures from an extensive innovation portfolio. Lufthansa Technik, for example, offers comprehensive measures to lower kerosene consumption and to reduce ground times.
The focus of all innovation activities is the customer. By involving the customer in the individual innovation processes, Lufthansa Technik gives a new meaning to the term, "strategic partnership". In this way, customer requests can be taken onboard and implemented in a way that fits the market, drawing on the innovation potential within Lufthansa Technik's portfolio of ideas.
Seven business units
Lufthansa Technik has seven business units (Maintenance, Overhaul, Component Services, Engine Services, VIP Services, Landing Gear Services and Original Equipment Innovation) serving about 800 customers worldwide.
Lufthansa Technik operates maintenance stations with the capability to perform checks on customer aircraft at over 60 airports in Germany and around the world. Lufthansa Technik's maintenance hub is Frankfurt airport, where it has three large hangars. Here 4,000 staff maintain aircraft belonging to Lufthansa's and many other fleets 24 hours a day, 365 days a year. In Germany Lufthansa Technik moreover runs maintenance stations in Munich, Berlin and at another 13 airports. In addition to the permanent stations, Lufthansa Technik has also developed a mobile maintenance service that is unique in the world, called the Airline Support Teams (AST). These small teams consist of highly qualified engineers and mechanics. When called on, they are able to repair damage to engines or to the airframe anywhere in the world within a matter of hours and thus ensure that disruption of a customer's flying operations is minimised.