Mainline airlines around the world are adopting low-cost carrier (LCC) fare structures in order to tap into the growing number of price-sensitive consumers. They're also hoping that many of those travellers will pay slightly more.
For years, mainline carriers have been trying to find effective ways to adapt their traditional business models to be able to compete with low-cost, low fare airlines. Cramming more seats into cabins, slashing costs, new-generation yield management systems, rejigging fare structures and even creating the airline-within-an-airline concept. Airports in both Europe and North America are littered with failed experiments — BA's Go, Delta's Song, United's Ted, Continental Lite, Air Canada's Zip — where the parent companies could never completely separate their offspring operationally and financially. Today, however, the major carriers are learning how to compete. Jetstar, Rouge and Scoot seem to be standing on their own. Yet a more fundamental change is underway with mainline airlines which is levelling the playing field with LCCs and generating some new revenue.
Competing for Screen Attention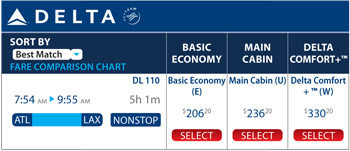 Re-jigging airfares:
Full service carriers are learning how to compete
Online search engines have transformed the way consumers buy air travel. The bias that was inherent in airline-owned reservation systems decades ago has been replaced by more neutral search logic that ranks flight preferences controlled by the user. In order to attract price-sensitive buyers who mostly prioritise the output by lowest fare, mainline carrier flights need to appear on the same screen as LCC flights. And that means mainline price points need to appear to be competitive.
Passengers flying on most major airlines have grudgingly accepted that the all-inclusive ticket price is a thing of the past. Charges for checked bags, seat assignment, priority boarding, food and beverage, and live conversations with reservations staff are now the norm.
Unbundling the components of the travel experience and pricing them separately has allowed low-fare consumers to pay for what they truly value. Mainline carriers historically matched LCC price points through inventory control, but by stripping off the individual elements, they are finally able to show "bare bones" ticket prices.
Consumers Are Moved to Tiers
If you search an airline's website for a domestic or regional flight, there is a good chance the corresponding economy class fares are grouped in three tiers. The once-unbundled ticket price is, essentially, now re-bundled with each tier comprised of progressively more valuable product components. The clever marketing names communicate a tier's contents.
Basic Economy (Check 'n Go, Starter Fare, Economy Light, Value)
– no frills, bare bones transportation, hand baggage only
– no advanced seat reservation, no checked baggage, no refunds, no changes
– no upgrades, limited or no frequent flyer points accrual
Classic Economy (Light & Relax, Saver, Smart, Plus)
– includes most items excluded in Basic Economy
Flexible Economy (Fast & Flex)
– same as Classic
– refunds (reduced penalty), changes, priority boarding, food voucher, premium seating
Each tier is intended to offer those travel elements that appeal to different consumer types. On short-haul domestic flights under 90 minutes, for example, are advance seat reservations, ticket changes and refunds essential items for a pricesensitive traveller?
In most cases, the mid-tier fare is priced the same or slightly below the basic tier if all the excluded extra components are purchased separately. For value-driven travellers, particularly those who check baggage, it's often more cost-effective to buy the midtier fare. Airlines are hoping most consumers will figure that out.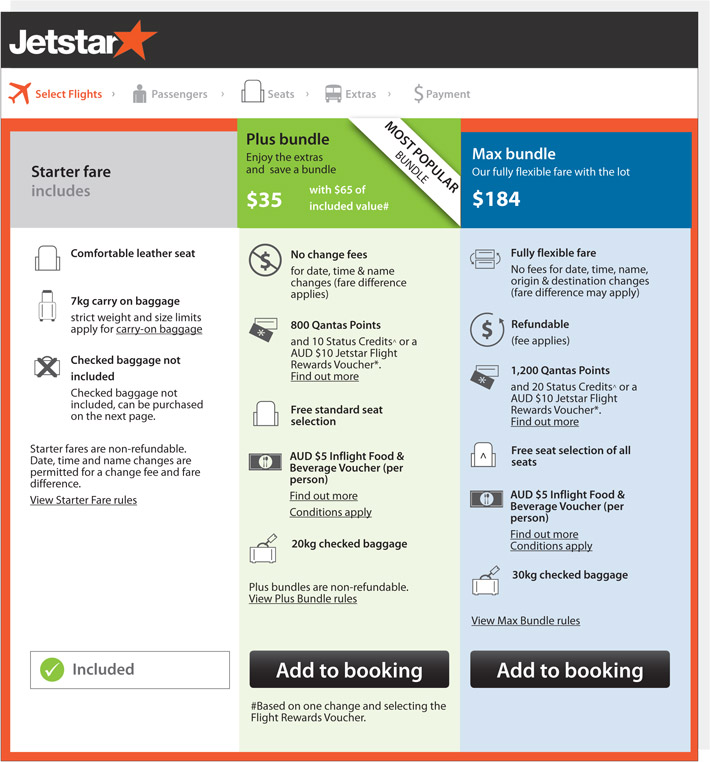 Unbundling ticket prices: Passengers now pay only for what they value
Willingness to Buy Up
It's not only leisure travellers who buy the lowest fare. Savvy business passengers, especially those who make frequent same-day short-haul return trips, don't need to pay more for checked baggage and in-flight amenities. For them, the hand-bag only basic price combined with any frequent flyer programme elite status that gives early boarding privileges saves money and delivers good value. Mainline airlines, however, would like to get those chronic, lowest-fare business travellers to buy up to the next tier. Squeezing more revenue from any number of them, no matter how few, adds to the bottom line. How willing are price-conscious consumers to pay more? That may depend on how loyal they are to one carrier.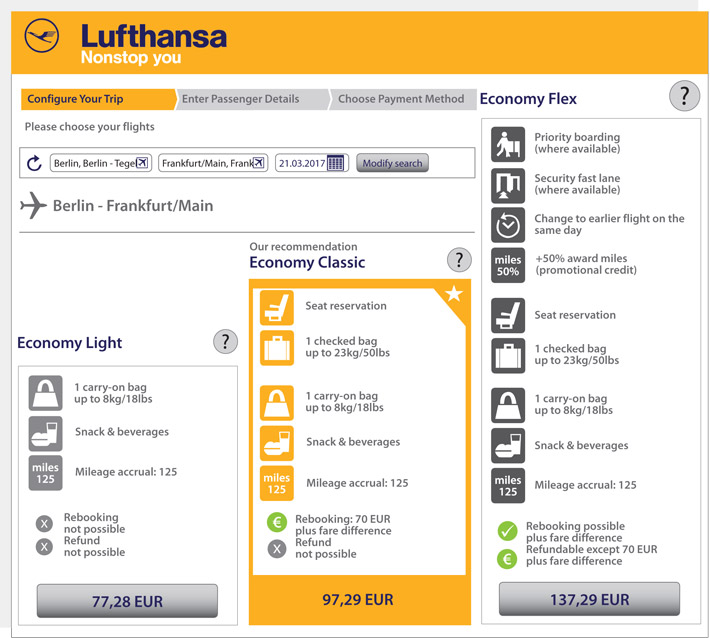 Mainline Carriers: All-inclusive ticket prices are a thing of the past
What Price Loyalty?
As the number of mainline airlines migrating to the three-tier economy fare structure goes up, product differentiation between carriers goes down. In the United States, Delta Air Lines was the first major airline to introduce tiered fares. Last month, American Airlines joined United Airlines in rolling out the new fares in a handful of domestic markets with more to follow later this year. In Europe, most major carriers, including British Airways and Lufthansa, were selling bundled fares in regional markets throughout 2016.
The appeal of mid-tier, classic fares may be that they simply deliver what consumers used to have years ago with all-inclusive ticket prices. Then, you reserved a seat, had a checked baggage allowance, could change your flight for a fee, earned frequent flyer points, and didn't pay extra for a cup of tea. Today, those items are now offered in new, more transparent packaging.
For a mere Rs. 200, £15, €20 or $30 more than the one-way basic economy price, classic fares may be a very inexpensive way for airlines to keep their frequent business travellers loyal.
The Full Product Spectrum in India
Domestic tiered fares are also offered by LCCs in India. SpiceJet, IndiGo and GoAir each bundle specific elements of the travel experience although the product packages are not the same across all carriers. Yet unlike many of the world's major airlines that have already adopted or are migrating to a tiered fare structure, Jet Airways continues to offer its lowest fare with all the traditional frills. Every domestic ticket accrues JP frequent flyer miles and includes a checked baggage allowance, meals, flight changes and refunds. With each higher price point comes more generous benefits and greater seat inventory.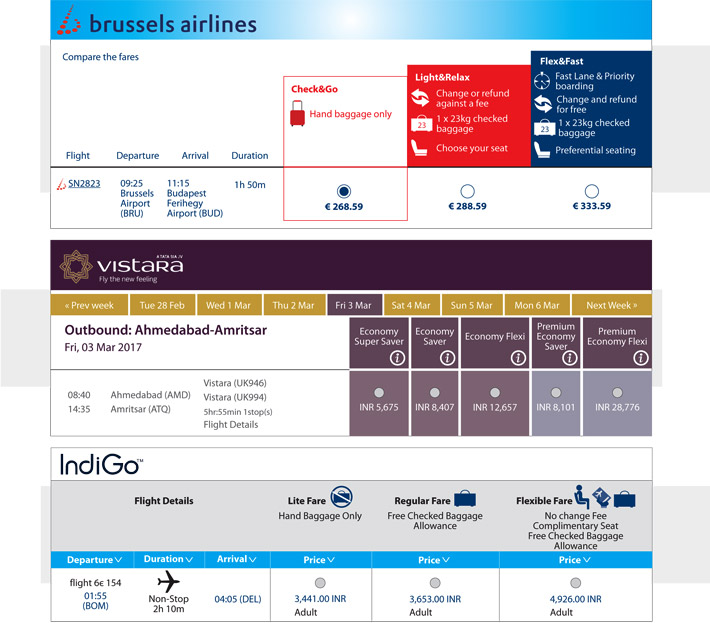 Attracting Passengers (Above): Mainline carriers are competing with LCCs
One Market. Two Structures
As LCCs grow their domestic networks and add more aircraft, can mainline airlines afford to give all the perks to their lowestfare passengers to stay competitive? When yield management systems arrived in the 1980s, airlines embraced the power of the technology and adopted inventory-driven ticket pricing to maximise revenue.
Now, consumer segmentation and the explosive growth in ancillary revenue is redefining how airlines sell tickets. The trend to fare bundling seems to be here to stay. At least until the next idea comes along to replace it.

Byron Bohlman is a 35-year airline industry veteran. He was a former domestic airline pricing director for Air Canada and global marketing director at Bombardier and Embraer.