While the Regional Connectivity Scheme unfolds gradually, one has to wait and watch how this is going to impact the mainline players and the regional players, including general aviation operators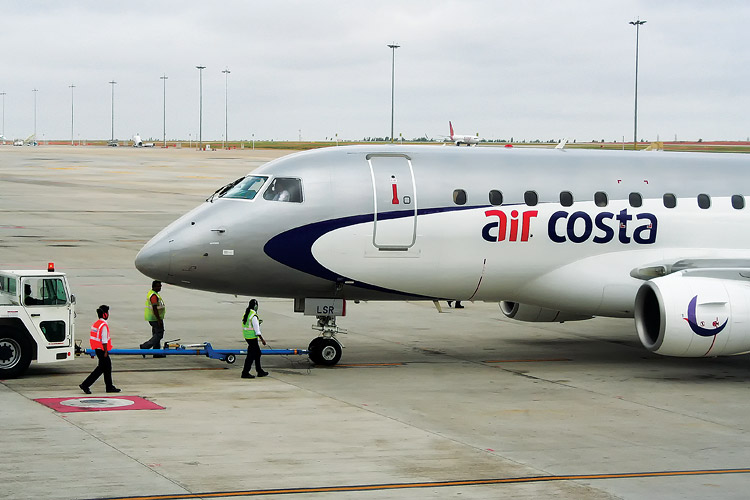 Need of the hour: Unless floor pricing is implemented, operator s such as Air Costa are likely to face immense level of pressure thereby difficulty to sustain their operations. The ministry will have to intervene to create a conducive environment
Everyone is talking about how Indian aviation will soar in the years to come, with aviation growth registering over 20 per cent year on year, reflected mostly by massive surge in passenger movement. They all seem euphoric that India will be the third top aviation market in the next five years, from its current ranking of ninth. That is a phenomenal jump. Everyone is banking on the National Civil Aviation Policy and the Regional Connectivity Scheme to do wonders. While the top echelons in the Civil Aviation Ministry are doing everything to create an ecosystem for growth, there are still many issues that are eroding airline performance, more so of the regional airlines.
Regional Airlines getting grounded
All is not well on the regional airline front. The first regional airline from Vijayawada — Air Costa — is again in the news for all the wrong reasons. It has suspended flight operations due to financial muddle, the second such set back in nearly four years of its operations. While it began on a good note, peaked it with ordering 50 E-Jets E2 at the 2014 Singapore Airshow, Air Costa is now facing another bout of financial nightmare. The company, which had four Embraer aircraft at its peak, is left with none as the lender GE Capital Aviation Services (GECAS) has repossessed them. Negotiations are on between the lessor and Air Costa and the latter has stopped taking bookings for a temporary period. The Vice President (Marketing and Brand Communication) Kavi Chaurasia had told the media that a clear picture would emerge soon and the airline would announce when operations would be resumed.
With fund crunch, the airline has reportedly only paid the base slab salaries for January and the promoters, LEPL Group, are trying to clear the dues. The Vijayawada-based group has diversified interests in real estate and infrastructure development.
While Air Costa is floundering, another regional airline which hit the dust is Air Pegasus. It had to shut down operations within almost a year of starting as it could not repay the lease amount to Dublin-based lessor Elix Aviation. Bengalurubased Air Pegasus is part of Décor Aviation which is into ground handling. The Directorate General of Civil Aviation (DGCA) had suspended the flying licence of Air Pegasus in November 2016 after the carrier failed to give assurance for resumption of its operations then. Air Pegasus has not been operating its services since July 27, 2016, following huge losses and its failure to pay lease rentals to the aircraft lessors.
Air Pegasus-FlyEasy tie-up
Meanwhile, another operator from Bengaluru — FlyEasy — who was supposed to take off some time back has not started operations, but has taken a different route. Now, FlyEasy has taken a stake of 74 per cent of Air Pegasus for an undisclosed sum, hoping to start commercial operations. It is reported that FlyEasy will invest Rs. 26 crore in the partnership with Rs. 13 crore as capital and the rest would be debt restructuring. Subsequently, it plans to invest Rs. 60 crore.
Shyson Thomas, who started Pegasus, said the company was in talks with Oman Air and FlyDubai for selling its stake, but these did not materialise. "After the Kingfisher debacle most foreign investors are worried and suspicious about the Indian market," Thomas said. Air Pegasus has entered into a strategic partnership with ABC Aviation and Training Services Pvt Ltd-led FlyEasy India to revive its operations from March 1, the airline said in a statement recently. "Air Pegasus will continue as a regional airline operating in Tier-II and Tier-III cities," said Thomas. The firm did not disclose investments or any other details but said FlyEasy's Zulfikar Ahmed Khan will be the new group Chairman while Thomas will continue in the board as Vice Chairman.
Air Carnival's low load factors
AFTER THE KINGFISHER DEBACLE MOST FOREIGN INVESTORS ARE WORRIED AND SUSPICIOUS ABOUT THE INDIAN MARKET
The southern part of India has another regional outfit in Air Carnival, promoted by a Coimbatore-based conglomerate. It commenced operations from July 18, 2016, with Coimbatore International Airport as the hub and connecting to major regional airports. The airline has started services with ATR 72-500 aircraft initially and plans to add two more by the end of June 2017. Another regional player TruJet from Hyderabad is also operating ATR 72-500 and has plans to induct ATR 72-600 soon. Air Carnival had the lowest load factor in January 2017 at 56.6 per cent, and TruJet was at 74.8 per cent, while the latter had the highest cancellations in January. Regional airlines (Air Carnival, Air Costa, TruJet and also Air Pegasus till it was flying) always were on the top of the list in cancellations, causing severe inconvenience to passengers.
Grim picture
Indeed, a very grim picture for the regional airline segment. The problems are galore — huge debts; lessor's repossessing aircraft; low passenger load factors; high rate of cancellations; unpaid salaries; safety issues etc — and above all the segment is gradually losing its sheen among the flying passengers.
Why is it that regional airlines have found themselves in such a quagmire? Well, it is not just regional airlines, but even low-cost carriers and full service airlines (take Air India for instance, it is always in a mess and now and then bailed out by the government). That was one of the grouses of Vijay Mallya stating that there was no bail out for Kingfisher Airlines while government-run Air India is always on a ventilator. Coming back to regional airlines which are floundering, the reasons for their not establishing themselves as a segment lie within.
High cost of operations
One of the main reasons for regional airlines to hit air turbulence very fast is the high cost of operations and the not-so-deep pockets to sustain operations. Even companies which have requisite funds are now wary to enter the regional airline segment as evidenced by VRL Logisitics backing out of the regional airline project. The promoters — Vijay Sankeshwar and Anand Sankeshwar — had said in May 2016 that they would start a regional airline, but now have informed the Stock Exchanges that they would not go ahead with that plan in the light of new aviation policy. Instead the VRL group is planning to make forays into launching a regional television channel, a safer bet?
AT F taxes need to be lowered
The high cost of aviation turbine fuel (ATF) is another reason for airlines not to become viable soon enough as ATF accounts for nearly 40 per cent of operational costs and with such volatility, airlines have to have real good revenue management team to offset this cost as much as possible. The Centre which is aggressively making a case for expanding regional aviation has asked states to reduce taxes on ATF for regional flights. Heeding to the request by the Minister of Civil Aviation, P. Ashok Gajapathi Raju, the Delhi government recently announced that it had reduced value added tax (VAT) from 25 per cent to 1 per cent on ATF for regional flights. If this happens across India, the regional airlines can breathe a little easier, while there continue to be other challenges.
Financial crunch continues to plague regional airlines and there is not much of lessor confidence in the regional players. For that matter, the airline sector has problems of access to funds. Says Shyson Thomas of the failed airline Air Pegasus that 'the debacle of Kingfisher Airlines was the turning point' in lessors rethinking on India as an investment destination. The lessors have had gargantuan difficulties in repossessing aircraft and taking it out of India. The government realising that there was low lessor confidence has made it easier and also tried to bring down leasing costs.
Collaboration, not confrontation is the answer
The regional players also have a grouse against the mainline players, including low-cost carriers, who they feel are slashing ticket fares to such an extent that it becomes unviable for a regional player to compete in such markets. The question therefore before both the segments is — to live and let live. Regional players state that the mainline players should not get into 'predatory pricing' on thin routes which are suitable for regional airline. Unless there is collaboration, the problem is not going to go away. The best route would be for mainline airline and regional airline to join hands to work out the best route networking for the travelling public.
While the Regional Connectivity Scheme unfolds gradually, one has to wait and watch how this is going to impact the mainline players and the regional players, including general aviation operators. But the route that seems most reasonable is collaboration which the airlines need to start exploring, before it is too late.