There is fierce competition to deliver tomorrow's aircraft with engines that are much lighter, quieter and more energy-efficient than the conventional turbofan engines used presently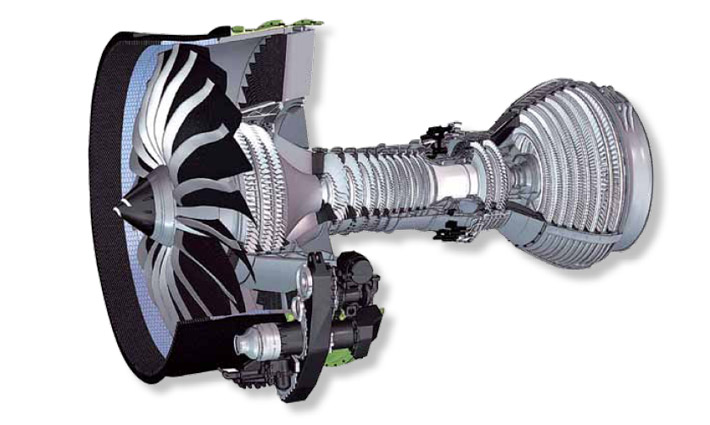 Cutting Edge Technology: Cutaway of CFM's LEAP engine
Engines are the life of an aircraft. Any improvement in longevity, efficiency and performance in life is always most welcome as it has a cascading effect on many other aspects in the life-cycle of an aircraft and economics of an airline or any other operator. Engine makers are constantly working on new research to advance/enhance the above aspects in an engine. There is fierce competition to deliver tomorrow's aircraft with engines that are much lighter, quieter and more energy-efficient than the conventional turbofan engines used presently. In commercial aviation, the major players in the manufacturing of turbofan engines are Pratt & Whitney, General Electric, Rolls-Royce and CFM International, a joint venture between Safran Aircraft Engines and General Electric. A major entrant into the market is Aeroengine Corporation of China. All the engine manufacturers have in the pipeline, developments that are going to make air travel that much more comfortable.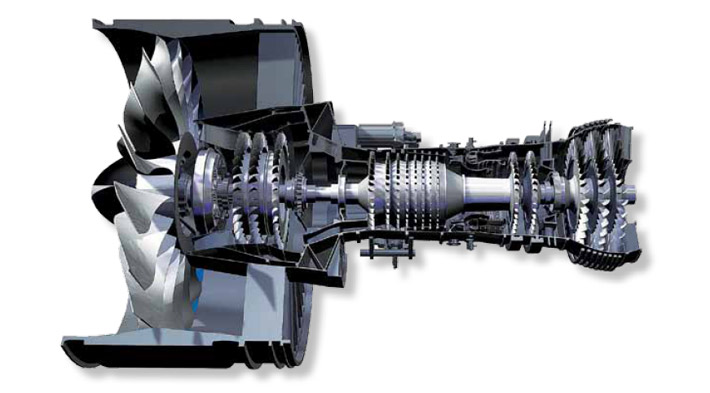 Game-changing Technology: Cross section of PW1000G Engine
GE9X, World's Largest Engine
The GE9X jet engine that GE Aviation is developing for Boeing's next-generation wide-body passenger jet, the 777X, is wider than the body of a Boeing 737 and more powerful than America's first manned space rocket. It's also a big deal for the company's business. Although the world's largest engine isn't scheduled to enter service until around 2020, the company already has recorded some 700 orders and commitments valued at $28 billion at list price. For the first time, the engine will include a variety of 3D-printed parts and the latest composite materials, including the light and heat-resistant space-age materials called ceramic matrix composites.
To keep up with competition, GE Aviation needs the facilities to accommodate it. The company has invested $4.3 billion in the US and another $1.1 billion abroad to meet production goals. The US investments include $214 million to build five new high-tech plants adding about two million square feet of new manufacturing floor space.
GE Aviation has upgraded its current plants in West Jefferson in North Carolina and Hooksett in New Hampshire. Additionally, it created centres for additive manufacturing and other emerging technologies such as digital engine monitoring and CMC development.
PRATT & WHITNEY'S GEARED TURBOFAN ENGINE IS REVOLUTIONISING MODERN FLIGHT AS THE MOST EFFICIENT, QUIETEST AND THE MOST SUSTAINABLE ENGINE ON THE MARKET
The LEAP was the first jet engine developed for passenger aircraft with parts from CMCs. To meet demand, the GE Aviation factory in Huntsville, Alabama, will make raw materials for composites and send them to Asheville, N orth Carolina, for production. The plants will draw on expertise from CMC research labs in Cincinnati, Ohio and Newark, Delaware. The company says this is "America's first fully-integrated supply chain to mass produce components from this advanced material."
GE Aviation also opened an Additive Development Center in Cincinnati and a component production operation in Auburn, Alabama, where over 40 additive machines are mass producing commercial and military engine components.
Although bulk of the engine production will take place in the United States, most of the engines will be exported to customers in Asia, the Middle East, Europe and elsewhere. The company says that two-thirds of its over $25 billion in annual revenues comes from international sales. "GE Aviation is a global company with significant technology capability around the world," said Colleen Athans, Vice President and General Manager of the GE Aviation Supply Chain. "At the same time, we are introducing several highly proprietary technologies that are upping our manufacturing capabilities in the United States."
Rolls-Royce UltraFan Engine Design
Rolls-Royce has commenced high-power testing of the world's most powerful aerospace gearbox, marking another significant step in the development of new UltraFan engine design. Available from 2025, UltraFan will offer 25 per cent fuel efficiency improvement over the first-generation Rolls-Royce Trent engine, with power scalable for widebody or narrow-body aircraft. The tests are taking place at its Power Gearbox (PGB) Center of Excellence in Dahlewitz, Germany, where the gearbox will ultimately run at up to 1,00,000 horsepower – the equivalent of over 100 Formula One cars.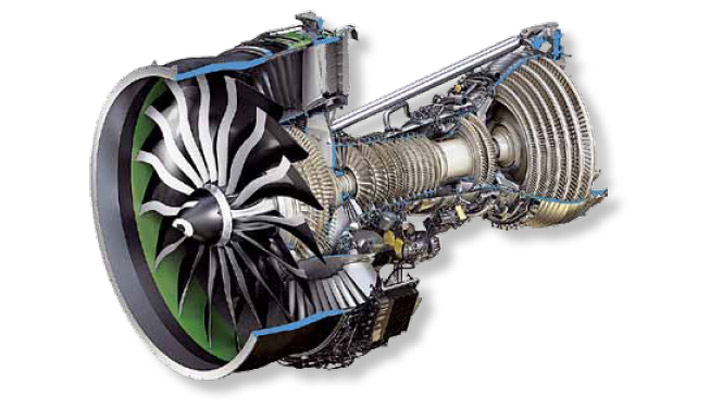 More Powerful: GE Aviation's GE9X jet engine
Mike Whitehead, Rolls-Royce Chief Engineer and Head of Programme UltraFan Technologies, Civil Aerospace, said, "We are continuing to deliver on the UltraFan programme and this latest achievement marks another milestone. Having successfully started tests on the Attitude Rig last year, we are now starting Power Rig tests and it is really exciting to see our future technology come to life."
CFM's Successful LEAP
Similarly research at CFM International has led to the development of LEAP which stands for Leading Edge Aviation Propulsion. The LEAP delivers a 15 per cent improvement in fuel consumption, compared to today's best CFM56 engines and maintains the same level of dispatch reliability and life-cycle maintenance costs. Leveraging the successes and unrivaled experience of the CFM56 programme, the LEAP engine is built for 99.98 per cent dispatch reliability which means more time in the air than on maintenance.
The LEAP engine's fan blades are manufactured from 3D woven resin transfer molding carbon fibre composite, an industry first for CFM. This technology results in fan blades that are not only lightweight, but so durable that each individual blade is strong enough to support the weight of a wide-body airplane like the Airbus A350 or Boeing 787.
Pratt & Whitney's PurePower
While at Pratt & Whitney, PurePower engines are making headlines with good orders. Pete Bradley from Pratt & Whitney has said that "inside a jet engine, air flowing faster than a hurricane is combined with fuel to generate heat that powers the plane. Designers are turning to supercomputers to model these complex processes to make new engines that are cleaner, quieter and cheaper. Our first aircraft engine transformed the aviation industry. It was the 410-horsepower, air-cooled Wasp which delivered unprecedented performance and reliability for the time. We have been leading change ever since. Today, Pratt & Whitney develops game-changing technologies for the future, such as the PurePower PW1000G engine, with patented Geared Turbofan engine technology. The company's worldwide large commercial engine maintenance, repair and overhaul network provides innovative services that add value and delight customers around the globe."
THE LEAP DELIVERS A 15 PER CENT IMPROVEMENT IN FUEL CONSUMPTION AND MAINTAINS A HIGH LEVEL OF DISPATCH RELIABILITY AND LIFE-CYCLE MAINTENANCE COSTS
Pratt & Whitney's Geared Turbofan engine is revolutionising modern flight as the most efficient, quietest and the most sustainable engine on the market. Discovery Channel Canada's 'Daily Planet' highlights the innovative technology that is driving the next-generation of efficient, sustainable air travel.
Pratt & Whitney says its new engines which use an internal gearbox to slow down the speed of the fan, could reduce fuel consumption by 20 per cent compared to an airliner with conventional engines. Competitor CFM International states that its advanced engine LEAP could achieve similar improvements without such a radical break from existing technology. Both new engines have been deployed on different versions of Airbus's new jet, the A320neo.
D8 Novel Jumbo Jet Design
As mentioned earlier, there is continuous research going on at all the aircraft manufacturers' facilities. NASA is supporting research and development on a number of experimental aircraft including the D8, a novel jumbo-jet design being developed by a partnership that includes Pratt & Whitney, MIT and Aurora Flight Sciences. Those involved say the D8 could burn 70 per cent less fuel than today's aircraft.
The D8 is a commercial aircraft concept that enables substantial efficiency improvements within the next decade. In 2008, Aurora Flight Sciences, the Massachusetts Institute of Technology and Pratt & Whitney began an effort sponsored under NASA's N+3 programme to revolutionise future aircraft design. Through physics-based modeling across multiple engineering disciplines, the team identified configuration of the air vehicle as the single most important opportunity to achieve a significant breakthrough in energy efficiency and environmental impact. The result was a new aircraft configuration known as the D8, which is capable of achieving significant reductions in community noise, emissions and fuel burn. The D8 configuration has the potential of achieving a 71 per cent reduction in fuel burn, a 60 EPNdB reduction in noise and an 87 per cent reduction in LTO NOx – all relative to a best-in-class Boeing 737-800 narrow-body aircraft.
The efficiency gains of the D8 are the result of a tightly integrated design approach, considering the air vehicle as a single, integrated system rather than an assembly of individual parts. For example, increased lift generated by the wide 'double-bubble' fuselage means smaller wings are needed to carry the vehicle's weight, resulting in less fuel to fly a given mission. When the engines are integrated into the back of the fuselage, thrust requirements are further reduced due to efficiencies from Boundary Layer Ingestion. This means that smaller engines can be used, which reduces weight and hence fuel consumption even further. This cycle of repeated optimisation is what gives the D8 such ground-breaking efficiency, but it requires that all facets of the aircraft be designed together.