"Business aviation in Europe is growing and this show featured several new business models that offer new opportunities to grow the market further." — Brandon Mitchener, CEO, EBAA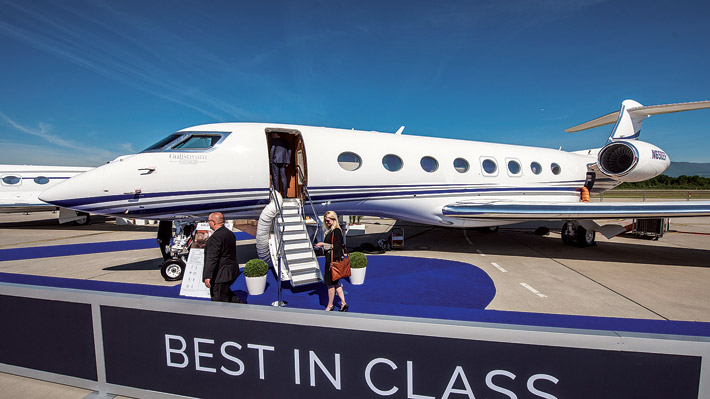 Unbeatable Performance: Gulfstream G650ER
The 2017 European Business Aviation Convention & Exhibition (EBACE 2017), according to the organisers, was one of the most successful in recent memory, reinforcing its reputation as the industry's most important event in Europe. EBACE is jointly hosted by the National Business Aviation Association (NBAA) and the European Business Aviation Association (EBAA). This year's show took place from May 22 to 24 at Geneva's Palexpo conference centre and Geneva International Airport.
"Anyone who spent the last week at EBACE can see the passion and professionalism that define this industry," said EBAA CEO Brandon Mitchener. "This show was full of energy and excitement for the future, with amazing technology on display, in-depth policy discussions and more than a few deals closed." Mitchener joined EBAA as CEO in April 2017 and this year attended EBACE for the first time. "I'm thrilled to be a part of this industry at such a pivotal time," he said. "Business aviation in Europe is growing and this show featured several new business models that offer fresh opportunities to grow the market further." NBAA President and CEO Ed Bolen agreed, stating, "This show was an all-around success for attendees, exhibitors and the entire industry. This week once again highlighted the enduring value of EBACE and of business aviation around the world. Clearly, ours remains a forward-looking industry and we are confident EBACE will continue to be an important part of its future."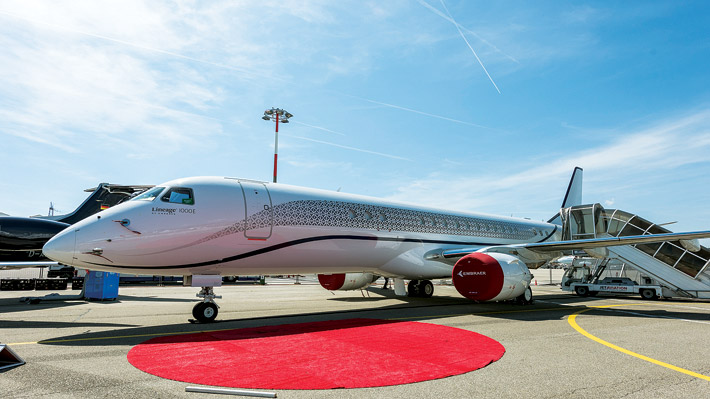 Top in the Class: Embraer Lineage 1000E
EBACE 2017 featured over 400 exhibitors, representing nearly 40 different countries, on the show floor, while 56 aircraft were on display at the Geneva International Airport and three at the Palexpo exhibit hall. The show commenced with an address by solar aviation pioneer, Dr Bertrand Piccard. As the first pilot to fly around the world entirely on solar power aboard the groundbreaking Solar Impulse aircraft, Piccard predicted innovation would lead aviation towards a more sustainable future. Next year's EBACE will return to Palexpo and Geneva International Airport on May 29 to 31, 2018. Meanwhile, various aircraft companies had so much to share with regard to product development.
Dassault Selects Honeywell's JetWave
Dassault Aviation had on static display the flagship Falcon 8X, besides a Falcon 900LX and a Falcon 2000LXS. At the show, Dassault announced that it had selected Honeywell's JetWave Ka-band system as a high speed in-flight connectivity option for new Falcon Jet aircraft. Initial installations are already underway with first delivery to commence in the summer. The option will allow JetWave Ka-band antennas to be installed on all in-production Falcon models, including the new Falcon 8X ultra-long range trijet, the Falcon 7X, 900LX and the Falcon 5X ultra wide-body twin. JetWave will also be available as a retrofit on in-service Falcons and as an upgrade option on aircraft that are already equipped with other SATCOM solutions.
"Staying at the cutting-edge of technology by offering seamless, consistent global connectivity is of primary importance to our customers," said Eric Trappier, Chairman & CEO of Dassault Aviation. "Honeywell's JetWave is the perfect tool to meet this requirement."
Cessna Citation Longitude Makes Headlines
Textron Aviation Inc, a Textron Inc company debuted its new super-midsize Cessna Citation Longitude to the European market. In addition to the Longitude, the company showcased many of its class-leading Citation business jets and turboprop platforms. Textron Aviation announced that its first order from a European customer for the super-midsize Longitude with Travel Service from Czech Republic picking it up. Also on show was Cessna Citation Latitude.
"We are thrilled to introduce the super-midsize Citation Longitude to the European market this year at EBACE, allowing visitors to experience first-hand the class-leading amenities and capabilities, including the quietest cabin in its class," said Tom Perry, Vice President of Sales, Europe. "With over 1,700 jets and turboprops based in Europe, Textron Aviation outperforms its competition in delivering aircraft and support to customers throughout the region that further their success."
Additional class-leading Citation jets on display included the Cessna Citation XLS+, offering customers an unparalleled combination of comfort, ease of operation, range of mission capabilities and favorable operating efficiencies. The Cessna Citation CJ4, CJ3+ and M2 represented the company's CJ series, the best-selling light jet product line. Also on display was the Cessna Grand Caravan EX.
With over 600 turboprops operating in Europe, Textron Aviation continues to lead this segment with its established Beechcraft King Air and Cessna Caravan platforms. The Beechcraft King Air series offers over five decades of turboprop excellence and customers in Europe have enjoyed the platform's superior performance and flexibility. The Beechcraft King Air 250 was on display, featuring the Pro Line Fusion avionics system.
Gulfstream G500 Makes a Mark
The all-new Gulfstream G500 made its first voyage to EBACE. The aircraft was featured at Gulfstream's static display alongside the record-setting Gulfstream G280, the stalwart Gulfstream 550 and the unparalled Gulfstream G650ER. "The G500 flew its maiden voyage before EBACE two years ago and we have worked methodically since then to expand the test fleet and move the aircraft towards certification later this year," said Mark Burns, President, Gulfstream. "The flight-test crew and all Gulfstream employees working on this programme are keeping the G500 as well as the Gulfstream G600 on track to enter service with industry-leading safety, performance and comfort."
The production aircraft recently flew its longest journey to date, flying a cross-country mission that lasted 10 hours and six minutes and covered 4,808 nautical miles (8,904 kilometres) across the US The G500 can fly 5,000 nm (9,260 km) at Mach 0.85 or 3,800 nm (7,038 km) at Mach 0.90 and has a maximum operating speed of Mach 0.925, the same as Gulfstream's G650 and G650ER. The G500 is on schedule to receive type certification and enter service later this year.
Bombardier Flies Green
Bombardier Learjet 75, Challenger 350 and 650 and Global 6000 jets were flown at EBACE using biofuels supplied by AEG Fuels. The fuel was produced by AltAir Fuels, which starts with used cooking oils and supplied by Netherlands-based SkyNRG to the KLM Jet Centre in Amsterdam, where the business jets were fuelled for their flight to Geneva.
"These sustainable fuels are produced from renewable resources and are considered 'drop in' fuels that blend with traditional fossil fuels without any equipment changes," said AEG General Aviation EVP Greg Cox. "These biofuel-powered flights further demonstrate Bombardier Business Aircraft's commitment to sustainability as an integral part of how it conducts its business," said customer experience Vice President, Jean-Christophe Gallagher.
Pilatus Debuts Third PC-24
Pilatus displayed its third PC-24 (P03) prototype, the first production conforming PC-24 to be built. Pilatus said serial production is underway, and will be ramped up ready for the first customer delivery.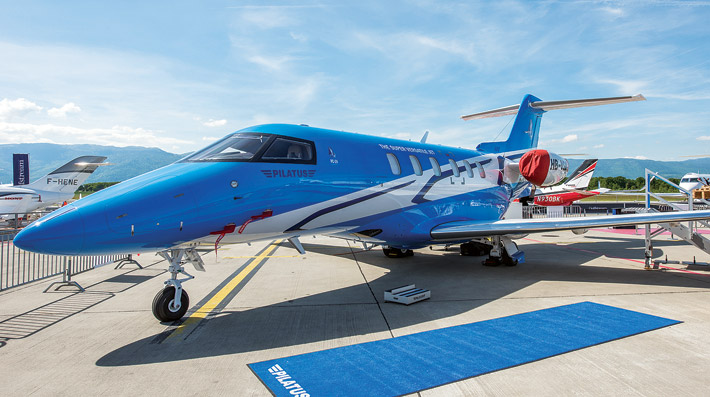 Versatile Jet: Pilatus PC-24
P03 flew for the first time on March 6 and has contributed to the test fleets total 1,525 hours over 950 flights. Next to P03 will be a 1:1 mock-up with a "Vail" style interior, which demonstrates the six plus two seating configuration. In 2014, Pilatus sold 84 PC-24s in the space of just 36 hours. The aircraft is expected to gain certification in the fourth quarter of 2018, with customer deliveries beginning shortly afterwards.
Embraer's Business Jets
Embraer Executive Jets marked its presence by showcasing the entire range of business jets. All aircraft, from the entry level twin-jet Phenom 100E all the way up to the ultra-large Lineage 1000E, graced the Embraer static display. Embraer's static display included the world's best-selling Phenom 300, the clean sheet design Legacy 450 and Legacy 500, along with Legacy 650E which now carries an unprecedented 10-year or 10,000 flight hour warranty, the longest in the business jet industry.
ACJ Family Expands with 330neo
Airbus Corporate Jets is rounding out its new engine option (neo) offerings with the launch of the ACJ330neo which would offer a range that the company touts as "nonstop to the world." Announced on the eve of EBACE 2017, the VIP variant of the Airbus A330neo can fly 25 passengers 9,400 nm and is capable of connecting Europe to Australia, non-stop. The ACJ330neo fills the gap in the ACJ family between the ACJ319neo and the ACJ350XWB, providing a product line that offers 80 to 300 square metres of cabin space and a range from 6,750 to 10,800 nm. With the ACJ330neo, said Benoit Defforge, Managing Director of Airbus Corporate Jets, "Our family is complete."
The first A330neo will be handed over to airline customers next year and according to Defforge Airbus Corporate Jets has reserved slots for the ACJ330neo in 2019. He added that the newest member of the ACJ family already is attracting interest.
The first two members of the neo family, the ACJ320 and ACJ319, meanwhile, are on track for customer deliveries at the end of 2018 and the second quarter of 2019, respectively, said Chadi Saade, Airbus Vice President Commercial. Airbus has previously announced orders for eight of the neo family, including six ACJ320neos and two ACJ319neos. Airbus Corporate Jets has not disclosed its customer base for most of the neo family, but Alpha Star based in Riyadh, is the launch customer of the ACJ319neo.
HondaJet Programme
Honda Aircraft Company provided an update on the HondaJet programme at EBACE. The company has expanded sales of the HondaJet to Southeast Asia and received multiple aircraft orders to support a new fractional ownership programme in the United Kingdom and Southern Europe. "Following a strong introduction of the HondaJet at ABACE 2017 and significant interest from customers about owning a HondaJet, we are beginning aircraft sales in Southeast Asia," said Honda Aircraft Company President and CEO Michimasa Fujino. "We see great potential for the HondaJet in Southeast Asia, one of the world's fastest growing regions." Honda Aircraft Company has partnered with Thai Aerospace Services (TAS) to establish HondaJet Southeast Asia. TAS will provide sales, service and support for HondaJet customers in Thailand, Cambodia, Laos, Malaysia, Myanmar, Singapore and Vietnam.
Honda Aircraft Company said it had received multiple orders for a hybrid fractional ownership programme for those who wish to turn left or right. The company, FlyHonda, based in the Isle of Man, allows customers the opportunity to fly. Service will be offered in the United Kingdom and Europe. FlyHonda joins two other HondaJet operators in Europe.