Evelyn 'Bobbi' Trout completed her training and was issued with a licence to fly, becoming the fifth woman in the United States to be accomplish this feat!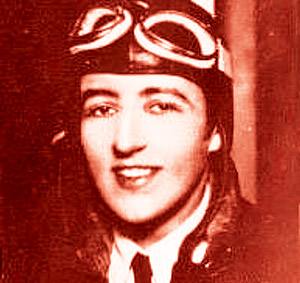 Nowadays an hour of flying is routine. Spending a whole day in the air before landing can be an endurance test. But what about taking it in turns with a co-pilot to fly a small, flimsy aircraft continuously for several days? That's what Bobbi Trout loved. She was the first to set an official non-refuelled endurance record for women. She even wanted to remain airborne for a month without landing – something her aircraft refused to do.
Evelyn 'Bobbi' (the nickname came from her distinctive bobbed hairdo) Trout was born on January 7, 1906, in Greenup, Illinois, United States. As a child, she heard an aircraft flying overhead and this triggered a lifelong fascination with flight. She shunned the traditional girlish activities like cooking and sewing, preferring to tinker with greasy machines. She even wheedled her parents into buying her a motor service station which she ran herself. She first flew at 16 but had to accumulate money for flight lessons. Finally she saved approximately $2,500 and joined a flying school on January 1, 1928.
In the course of her training in forced landings she almost met her end when the young instructor made her execute a tight turn through 270 degrees at low height. Seconds later the plane spun out of control and crashed into the ground. When her mother saw the accident report on the front page of the newspaper she rushed to the hospital. She was greatly relieved to discover that Bobbi only needed a few stitches for a gash on the forehead, while her rather imprudent trainer was unharmed.
All attempts to make Bobbi abandon flying failed and she made her first solo flight six weeks later on April 30, 1928. In another two weeks, she completed her training and was issued licence number 2613, becoming the fifth woman in the United States to be awarded a licence to fly. Her mother finally came to terms with her obsession and bought her an International K-6, a four-seat biplane. And within months, Bobbi was back among the headlines, but this time for a good reason — record setting.
It was a year after she started flight training that Bobbi Trout set her first record. The Fédération Aéronautique Internationale (FAI) had just laid down that endurance records had to be broken by at least an hour to be recognised. She flew into the pre-dawn sky on January 2, 1929, and did not land till darkness set in. By then, her Golden Eagle aircraft had spent 12 hours and 11 minutes in the air. This constituted a new solo endurance record for women, improving on the previous record by over four hours.
Within days, however, the record was snatched by Elinor Smith. By now Bobbi was growing in confidence that she could remain airborne for much longer periods. So she persuaded the manufacturer to install auxiliary tanks and increase the fuel capacity of the Golden Eagle. On February 10, 1929, Bobbi took off a little before dusk, meaning to fly through the night. But the monotony of an uneventful flight can be extremely soporific and drowsiness soon set in. She later recalled rubbing her neck and singing loudly in an attempt to stay awake.
A couple of times she fell asleep, but was alerted by the change in the engine sound as it went into a dive and woke up in time to recover. Around 10 am, a little short of her planned completion time, the plane ran out of fuel and she landed. However, she had already set a new women's solo endurance record of 17 hours, 24 minutes and become the first woman to fly through the night. If the newspapers were impressed by these feats they did not show it. A typical headline went: "Tomboy Stays in Air 17 Hours to Avoid Washing Dishes".
Next, Bobbi targeted the women's altitude record for light aircraft. On June 16, 1929, she climbed to an altitude of 15,200 feet in her more powerful Golden Eagle Chief, setting a new altitude record for women and attracting both fame and adulation. Later that year she took part in the first Women's Transcontinental Air Derby competing with other pilots including Amelia Earhart in the gruelling race. Although engine trouble put her out of contention to win a prize she showed great determination in completing the race.
Next, she teamed up with arch rival Elinor Smith in an attempt to repeatedly refuel a plane in midflight and keep it airborne for a month. Following intensive preparation and training, they finally took off on November 27, 1929. However, after almost two days went by in alternating four hour shifts of sleeping and flying, a refuelling mishap damaged the feeder plane and the women were forced to land before they completely ran out of fuel. They had set a world record, remaining airborne 42 hours, 31/2 minutes.
On January 4, 1931, Bobbi Trout took off for her final endurance record. This time it was with starlet Edna May as her partner, in an effort to attract publicity and sponsorship. Within a couple of days, they broke Bobbi's existing refuelled endurance record. However, early on the morning of January 9, the engine began to misbehave. Soon it started coughing and spitting oil. They remained airborne as long as possible, but were forced to land around dusk. Although they had fallen well short of their planned time, they set a new women's refuelled endurance record of 122 hours, 50 minutes. And the FAI awarded Bobbi its highest honour – the FAI's Medallion.
Bobbi Trout never married. She was able to devote her entire life to flying and died on January 24, 2003, following a heart attack.