Continuing on this winning note, the organisers announced that the 53rd International Paris — Le Bourget Air Show, the world's biggest aerospace fair, will be held from June 17-23, 2019.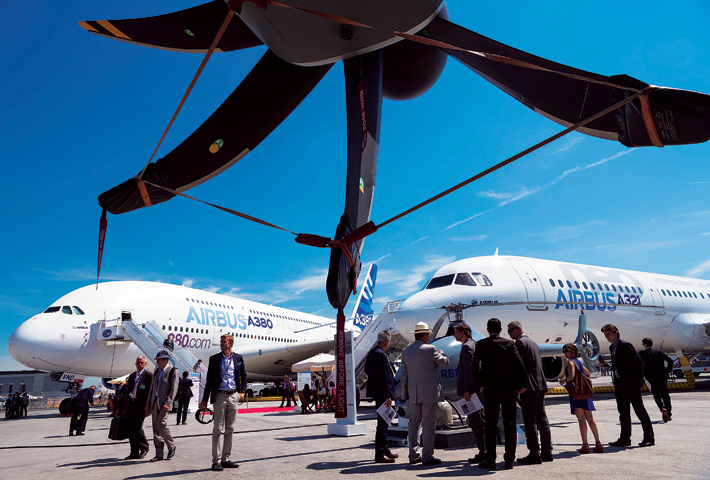 Big Birds on Display: Double-deck, wide-body, four-engine jet Airbus A380 and A321 on display at the show
Though the number of visitors to the iconic air show of the world at Le Bourget Air Show, better known as Paris Air Show, saw an eight per cent drop, what grabbed headlines were the astounding deals that were struck, totaling over $150 billion. There were 897 orders and purchasing commitments for a catalogue value of $115 billion for a total of 934 commercial aircraft setting a new record for orders.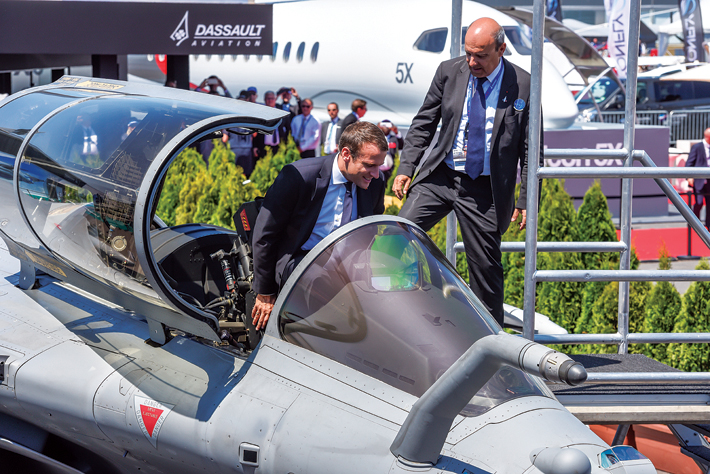 Presidential Visit: French President Emanuel Macron on an official visit on day 1 of the air show. He is seen in the cockpit of Dassault Rafale.
The Chairman and CEO of Paris Air Show, Emeric d'Arcimoles, declared "This 52nd Paris — Le Bourget Air Show was a remarkable success with a record number of exhibitors and $150 billion worth of orders announced, despite the slight drop in the number of visitors. The impressive demonstration flights of Dassault Aviation's Rafale by a French Air Force pilot, of Dassault Aviation's Falcon 8X, the presentations of the A380 by the French aerobatic demonstration team, the Patrouille de France, the Airbus A350-1000 and A400M and other aircraft delighted the French President as well as the public from the first to the last day of the show."
AIRBUS NOT ONLY MARKED A SOLID SALES TALLY BUT ALSO EXTENDED ITS VALUE OFFERING AT BOTH ENDS OF ITS COMMERCIAL PRODUCT PORTFOLIO
While the organisers stated that it was a success for innovation, they also gave out encouraging numbers: Exhibitors - 2381 exhibitors (three per cent more than in 2015) from 48 countries (the same as in 2015); trade visitors-1,42,000 (six per cent fewer than in 2015); general public-1,80,000 visitors (ten per cent fewer than in 2015). The slight drop in the number of trade visitors can be ascribed to a number of exhibitors' budget restrictions. The drop in general public attendance may be explained partly by the heightened security measures and the heat wave, the statement said. There were 27 national pavilions and 140 aircraft on display, both static and aerial. These included the Airbus A321neo, Airbus A350-1000, Boeing B787-10, Boeing B737 MAX 9, Kawasaki P1 maritime patrol aircraft, Mitsubishi MRJ90, Lockheed Martin F-35 fighter at Le Bourget for the first time. Dassault Aviation's Rafale and Falcon 8X, the Airbus A380 and A400M, the Airbus Tiger and NH90 Caiman helicopters were popular with the public. There were 290 official delegations from 98 countries and seven international organisations, including 160 official defence delegations from 86 countries and four organisations (NATO, the UN, OCCAR and the EU).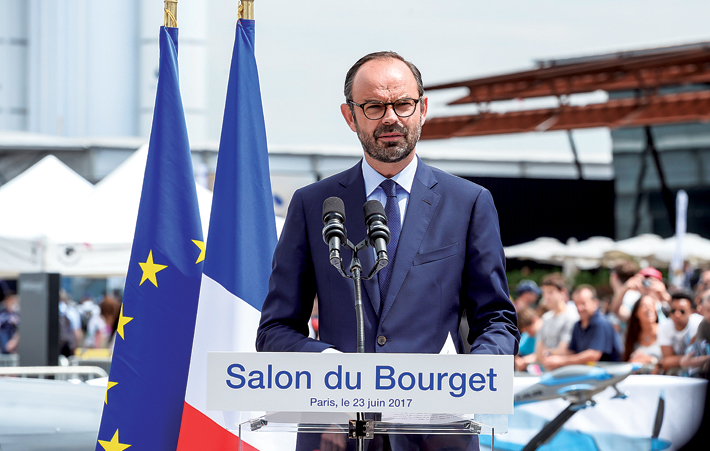 PAS 2017 highlights: French Prime Minister Édouard Philippe at the Air Show
Big Boys Make Noise
Delegations apart, Paris Air Show is a battleground for many airframers. For the aviation companies, Paris continues to be a good hunting ground, particularly for the big two players – Airbus and Boeing – who rattle their sabres here, besides Embraer, Bombardier and other emerging players from China, Japan, knocking on their doors.
Boeing Takes Commanding Lead over Rival
Boeing strengthened its market position with important announcements and multi-billion dollar orders and commitments for commercial airplanes and commercial and defence services at the Show. The company launched the 737 MAX 10, the newest member of the 737 MAX family, with more than 361 orders and commitments from 16 customers worldwide. This wide market acceptance endorsed the 737 MAX 10 as the industry's most efficient and profitable single-aisle airplane. Commercial customers announced incremental orders and commitments during the week for a total of 571 Boeing airplanes, valued at $74.6 billion at list prices.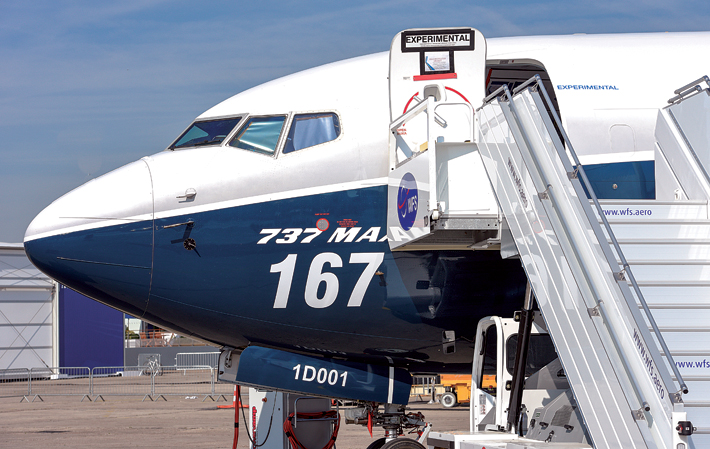 Efficient and Profitable: Boeing 737 MAX 9 on the display
Boeing revealed its 2017 Current Market Outlook, raising its 20-year outlook to more than 41,000 new airplanes, valued at $6.1 trillion. Boeing also forecasts significant growth in the Aerospace Services Market, projecting $2.6 trillion demand in commercial and government services for the next ten years. Boeing confirmed its new Global Services business remains on track to be up and running next month. Standing up a global services business will sharpen the company's focus and accelerate its capabilities expansion.
Boeing Global Services announced multi-year services agreements valued at $6 billion during the Show. The announcements included: Commercial Services: UPS ordered three 767 Boeing Converted Freighters; Monarch selected Boeing's Global Fleet Care (formerly GoldCare) and flight training services for its entire 737 MAX fleet and Norwegian selected Boeing to provide all its flight training requirements across its Boeing fleet. Government Services: Rolls-Royce reached a parts and sales distribution agreement with Aviall for support of its global fleet of AE defence engines; the Indian Navy chose Boeing to support its fleet of P-8I maritime patrol aircraft and the US Defence Logistics Agency signed a contract with Boeing to support its F-15 fleet.
Airplane Development Vice President Michael Delaney laid out the deliberate, disciplined and driven approach Boeing Commercial Airplanes is following with execution on the MAX, 787-10 and 777X development programmes and the study of how to optimally address the middle of the market in the next decade. Looking further into the future Product Development Vice President Mike Sinnett explored the possibilities for advancing autonomous technology to help enhance safety, decision-making and traffic management in the face of continued projected growth in air transportation.
Boeing also announced the launch of Boeing AnalytX, which has brought together more than 800 analytics experts from across the company focused on transforming data into actionable insights and customer solutions. Five customer agreements were announced to provide solutions powered by Boeing AnalytX. The Boeing 737 MAX 9 starred in the daily flying display while the 787-10 Dreamliner, P-8A, V-22, AH-64 Apache and CH-47 Chinook were featured in the static display.
Airbus Notches Up Nearly $40 Billion Business
Providing strong evidence that the commercial aircraft market remains healthy, Airbus announced $39.7 billion worth of new business during the 2017 Paris Air Show. The company won commitments for a total of 326 aircraft, including firm orders for 144 worth $18.5 billion and MoUs for 182 aircraft worth $21.2 billion. A320 Family aircraft sales and commitments were robust, with business accounting for a total of 306 aircraft worth $33.8 billion. This total comprises 132 firm orders worth $14.7 billion, and MoUs for 174 aircraft worth 19.1 billion. In the Wide-body segment, Airbus won business for 20 aircraft worth $5.9 billion, comprising 12 firm orders worth $3.6 billion and MoUs for eight aircraft worth 2.3 billion.
John Leahy, Chief Operating Officer Customers, Airbus Commercial Aircraft said: "Our commercial success this week at Paris extends our already diversified order backlog to a new industry record of over 6,800 aircraft, with 326 orders worth $40 billion." Further to the new orders, the show also saw a repeat order from DHL Express for four more A330-300 Passenger-to-Freighter conversions, in partnership with EFW and ST Aerospace.
Airbus not only marked a solid sales tally but also extended its value offering at both ends of its commercial product portfolio. In the Single-Aisle family, Airbus decided to offer the Airspace Cabin brand which, on the A320, includes the biggest overhead bin in its class. For the A380, Airbus has increased revenue-earning potential with even better fuel efficiency, thanks to enhanced large winglets, greater cabin capacity and a new higher take-off weight capability to increase its payload-range.
In addition, Airbus week launched a new open aviation data platform called Skywise to support the digital transformation of the industry and add value for our customers' operations. Skywise combines Airbus' aerospace expertise with advanced data analytics solution provided by Palantir Technologies.
Embraer's 'Profit Hunter' Gets Attention
Among the debutants here was the Embraer E195-E2, the newest member of the Brazilian firm's family of regional jets. John Slattery, President & CEO of Embraer Commercial Aviation, said that it's the biggest plane Embraer has ever built and he expects airlines will recognise its value. "It is very cheap to operate, it is very light and we believe airlines will be able to generate extra revenue and that's why we've called it the profit hunter."
Embraer's E195-E2 made its first international appearance in Paris decked out in a Golden Eagle livery to drive home the point that it is a 'profit hunter'. "We've extended it by three rows and we've improved the range by 600 nautical miles to 2,600." Slattery was confident that the new offering would steadily add to its 70-strong existing customer base. "We are going to introduce new customers to the Embraer E-jet family. There will be low-cost carriers as well as traditional flag carriers, so we are broadening our operational franchise."
"We have a broad franchise footprint in continental Europe and North America which account for most of our business. We expect to see sales of about 6,500 units over the next 20 years," said Slattery. The E2 family of aircraft are powered by Pratt & Whitney's PW1900G and use cockpit technology from Honeywell Aerospace. The E195-E2 which can be configured to 144 seats, is expected to enter service in 2019.
At the Show, Japan's Fuji Dream Airlines ordered up to six E175s which is included in Embraer's 2017 second quarter backlog. Besides, FDA has also extended the agreement for Embraer's Flight Hour Programme (Pool) for up to eight years. Similarly, Japan Airlines made an order for an addition E190 following one year of E190 operations in Japan. AIR currently operates seven E190s and 17 E170s – 24 E-Jets in total, with an additional eight E-Jets on backlog. KLM Cityhopper ordered two additional E190s which will join the existing 30 E190s and nine E175s flying with KLM Cityhopper. Deliveries for the newly ordered aircraft are scheduled for 2018. When KLM Cityhopper's move to an all Embraer fleet is complete, the airline will have 49 E-Jets, the largest E-Jet fleet in Europe consisting of 32 E190s and 17 E175s. The national carrier of Belarus, Belavia acquired two additional E-Jets: one E175 and one E195. The aircraft will join the four Embraer jets already operated by Belavia — two E195s and two E175s. The acquisition is an essential part of Belavia's fleet renewal initiative, a core priority in the airline's business strategy.
Embraer also announced firm orders and commitments for the E2 family from two undisclosed customers.These consist of ten E195-E2's, with an additional ten purchase rights for the E190-E2. Also, according to the latest Market Outlook, Embraer projects a steady market demand for 6,400 new jets in the 70-130+ seat capacity category (2,280 units in the 70-90 seat segment and 4,120 units in the 90-130+ seat segment), worth $300 billion, by 2036. The 70-130+ seat jet world fleet-in-service will increase from 2,700 aircraft in 2016 to 6,710 by 2036, the fastest growing segment among all aircraft seat capacities. Market growth will drive 63 per cent of total demand and the remaining 37 per cent will be delivered to replace ageing aircraft.
Demonstrating the company's unique position within the commercial, defence and executive aircraft markets, three Embraer aircraft were at the Show. This was Embraer's largest presence at a major air show bringing together a static display that showcased the new E195-E2, the largest member of the second generation of Embraer's family of commercial jets, the multi-mission transport and aerial refueling aircraft KC-390 and the state-of-the-art mid-light business jet Legacy 450, a remarkable union of technology and design aircraft that flies faster and farther than any other jets in its class. The acclaimed runway legend ERJ 145 was also on static display.
ATR Begins 2017 on a Good Note
ATR has received commitments for the purchase of 89 aircraft and options for 20 additional ones since the beginning of the year. These commercial results have enabled the regional turboprop manufacturer to achieve, in less than six months, a book-to-bill ratio in excess of one.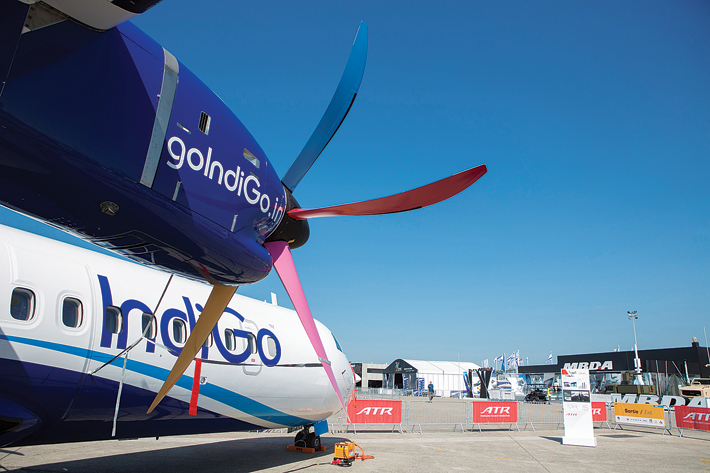 Leader in Turboprops: Earlier this year, ATR signed a deal for 50 ATR 72-600 with the Indian carrier IndiGo
At the Paris Air Show, ATR announced new deals that will enable both ATR 42-600s and ATR 72-600s to develop new markets in China and Africa in particular. It announced two additional orders: one ATR 72-600 from Sweden's BRA, which brings the airlines' ATR 72-600 fleet to ten aircraft and one ATR 72-600 from Air Tahiti, a long-standing partner that has been operating ATRs for three decades. In total, five new deals were announced.
CHINA, INDIA, IRAN AND SENEGAL ARE ABOUT TO EXPERIENCE WHAT THE BRAND NEW ATR -600S CAN BRING IN TERMS OF PASSENGER COMFORT AND BUSINESS DEVELOPMENT
Earlier this year, ATR signed a deal for 50 ATR 72-600s with the Indian carrier IndiGo, along with orders for 20 ATR 72-600s and 20 options with Iran's national flag carrier, Iran Air. Since January, five customers have purchased ATRs for the first time, thus further strengthening ATR's leading position and attractiveness among carriers operating in the regional sector.
The 89 orders booked since the beginning of the year are valued at over $2.3 billion. As of today, ATR has a backlog of over 250 aircraft, corresponding to production for about three years. Christian Scherer, Chief Executive Officer of ATR, declared: "The level of sales we have booked in less than six months reflects a positive evolution in the market and that the ATR aircraft are the optimal choice to open new routes at the lowest operating costs for airlines. No matter where there is potential for regional connectivity, our aircraft provide the best solution at the lower risks. Regional communities in China, India, Iran or Senegal are about to experience what the brand new ATR -600s can bring not only in terms of passenger comfort, but also in terms of business development".
Lockheed Martin and Tata partnership
Lockheed Martin and India's Tata Advanced Systems Limited (TASL) announced their partnership to pursue India's light fighter requirement with an F-16 Block 70 'Make in India' offer. The F-16 Block 70 is the newest and most technologically advanced F-16 at present. The two companies announced that they will produce the F-16 Block 70 in India, should it be selected by the Indian Air Force (IAF).
"Lockheed Martin is honoured to partner with Indian defence and aerospace leader Tata Advanced Systems Limited on the F-16 programme, said Orlando Carvalho, Executive Vice president of Lockheed Martin Aeronautics. "Our partnership significantly strengthens the F-16 'Make in India' offer, creates and maintains numerous new job opportunities in India and the US and brings the world's most combat-proven multi-role fighter aircraft to India."
The proposed Lockheed Martin-TASL F-16 partnering agreement will further build on TASL's proven airframe component production for the C-130J airlifter and the S-92 helicopter. Lockheed Martin has produced more than 4,500 F-16 fighter jets and approximately 3,200 aircraft remain operational and are flown today by 26 countries.
F-35 thunders across Parisian skies
After about 10 years it first took to the skies, Lockheed Martin's F-35 made its first aerial demonstration at the show, wowing the visitors, both trade and the public. The aircraft roared in the skies while the company is hoping that it will be able to ink some mega deals for the stealth jet fighter. An F-35A, designed for the US Air Force, took off in a vertical climb, then made a series of loops, twists and other dramatic maneuvers. The stealth fighter also showcased its capabilities in a dog-fight. Lockheed Martin is reportedly nearing a $37 billion deal with 11 nations, including the US as per media reports and if this materializes it will probably the largest sale ever for the combat aircraft. Billie Flynn, test pilot of the aircraft, said at the show "We are going to crush years of misinformation about what this aircraft is capable of doing."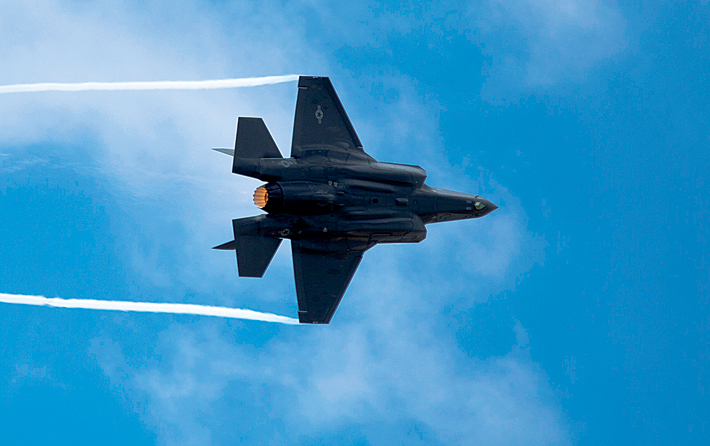 PAS 2017 highlights: Lockheed Martin F-35A flies its aerial demonstration debut at the Paris Air Show 2017
Pratt & Whitney Gets Extended Range Eligibility
Pratt & Whitney announced the grant of 180-minute Extended Range Operations (ETOPS) eligibility for its PurePower PW1100G-JM engine by the European Aviation Safety Agency. "This is a significant milestone for both the Pratt & Whitney team and the PurePower engine family. This 180 minute ETOPs classification is the maximum required in its class," said Chris Calio, President, Pratt & Whitney Commercial Engines. The US Federal Aviation Administration had approved ETOPs for the engine in December 2016. ETOPS certification sets the maximum allowed amount of single-engine flying time that an aircraft can be from the nearest suitable airport. The PW1100GJM engine powers the A320neo.
Thales and Reliance Defence Joint Venture
Thales and Indian firm Reliance Defence will seek to form an Indian Joint Venture (JV) with the proposed shareholding of 49 and 51 per cent respectively. The JV is being setup as part of Thales offset commitment for India's Rafale contract for 36 fighter aircraft. The JV will be located in the Special Economic Zone of Mihan-Nagpur in Maharashtra and will be the base for setting up an Indian supply chain for the manufacture of microwave technologies and high performance airborne electronics.
Thales provides equipment and systems that together account for about 25 per cent of the total value of each Rafale, such as the RBE2 AESA radar, the Spectra electronic warfare system, optronics, communication navigation and identification system (CNI), majority of the cockpit display systems, power generation systems and a logistics support component. The JV will look to develop Indian capabilities to integrate and maintain radar and Electronic Warfare sensors.
Anil Ambani, Chairman Reliance Group called the strategic partnership with Thales as a major milestone. "We are delighted to seal this strategic collaboration with Reliance Defence Limited. This JV resonates with our strategy to strengthen our industrial footprint in the country by building collaborations with the Indian industry. It reaffirms our commitment to India, and our active contribution to 'Make in India' said Patrice Caine, Chairman and CEO, Thales.
Bombardier Signs Up SpiceJet
Bombardier Commercial Aircraft has signed a letter of intent (LOI) with Indian low-cost carrier SpiceJet for up to 50 Q400 turboprop airliners. The LOI includes 25 Q400 turboprops and purchase rights on an additional 25 aircraft. Based on the Q400 turboprop list prices, the order could be valued at $ 1.7 billion. "When finalised, the repeat order will increase the Q400 aircraft fleet in the fast-growing market in the Asia-Pacific region and will launch the high-density 86-passenger model of the Q400 aircraft in India," said Fred Cromer, President, Bombardier Commercial Aircraft.
"This is also compelling evidence that the demand for turboprop aircraft is healthy in short-to medium-haul markets that can't economically support jets that are more expensive to operate." "SpiceJet operates India's largest regional fleet and is the only organised operator in this space," said Ajay Singh, Chairman and Managing Director, SpiceJet. "The acquisition will help us further increase connectivity to smaller towns and cities and help realise Prime Minister Narendra Modi's vision of ensuring that every Indian can fly."
"The Q400 is the largest turboprop aircraft available on the market and the 86-seat configuration will support SpiceJet develop its domestic operations from Tier-2 and Tier-3 cities across India," said François Cognard, Vice President, Sales, South-Asia and Australasia. Since 2010, SpiceJet has taken delivery of 15 Q400 aircraft. The airline currently operates 20 Q400 aircraft in a 78-seat configuration to domestic and international destination.
MRJ Debut
Mitsubishi Heavy Industries (MHI) and Mitsubishi Aircraft Corporation brought the third Flight Test Aircraft (FTA-3) of the Mitsubishi Regional Jet (MRJ) to Le Bourget Airport and the new generation regional transport was on static display. This was the first trip to Europe for the MRJ. The aircraft conducted the ferry flight to Paris from Moses Lake via Winnipeg and Goose Bay, Canada and Keflavik, Iceland. FTA-3 is in the livery of launch customer All Nippon Airways Co, Ltd (ANA).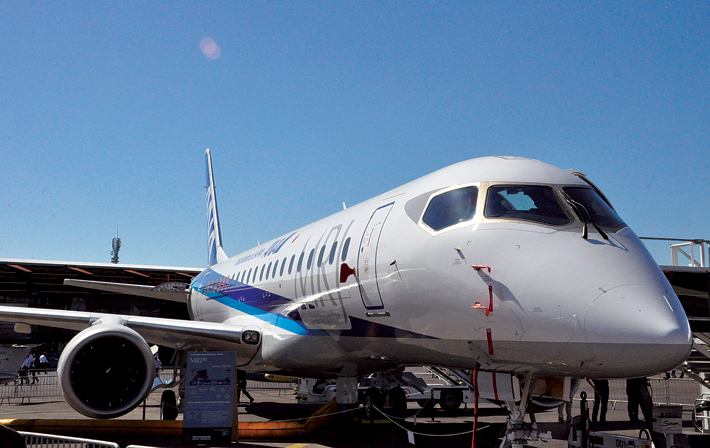 European Debut: Mitsubishi Regional Jet (MRJ) FTA-3 was on static display at Le Bourget airport, Paris
"I can't think of a finer stage on which to present this highly anticipated next-generation aircraft. The European debut of the aircraft is another sign of the progress of this programme," said Shunichi Miyanaga, President and CEO, Mitsubishi Heavy Industries.
Yes, Paris is a fine stage for aviation companies. Despite the fewer footfalls, the organisers were exuberant as the deals made all the difference. Continuing on this winning note, they announced that the 53rd International Paris — Le Bourget Air Show, the world's biggest aerospace fair, will be held from June 17-23, 2019.