With the major hubs heavily congested, the question analysts ask is why operators do not connect regional airports with 'right' size aircraft without transiting through the major hubs?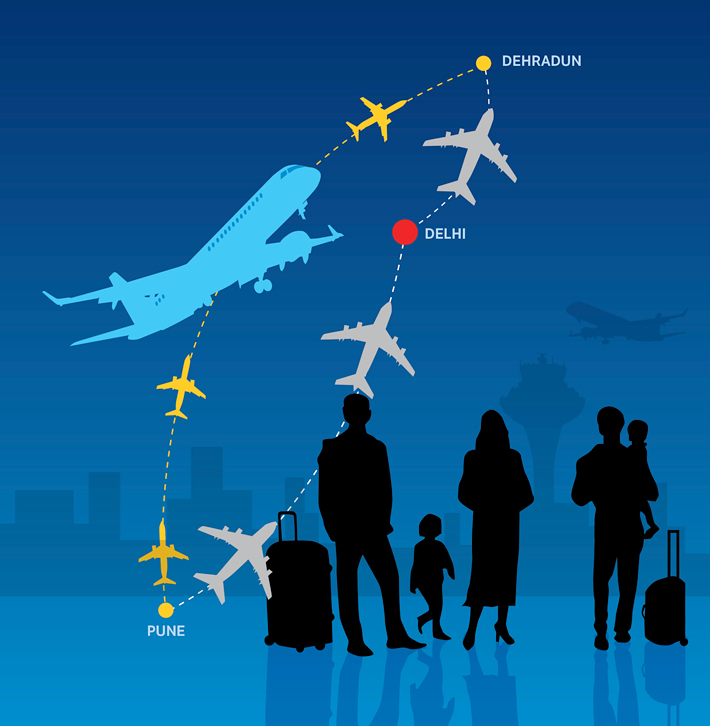 Indian aviation continues to soar to greater heights. The Directorate General of Civil Aviation (DGCA) has stated that India's domestic airlines carried 99.89 million passengers in 2016 as against 81.09 million in 2015, registering a 23.18 per cent growth. By 2020, passenger traffic at Indian airports both domestic and international, is expected to increase to 421 million. India has overtaken Japan (97 million domestic passengers) to take the third spot, but it is still way behind China (436 million) and the US (719 million). However, India will become the third largest market two to three years ahead of what has been projected earlier.
While such humongous passenger growth is good, the worrysome part is that infrastructure, particularly airports, will come under severe pressure, unless of course, corrective action is taken and in time. India's key airports at Delhi, Mumbai, Bengaluru, Hyderabad, Chennai, and Kolkata account for 66.5 per cent of India's total air traffic and the rest comes from the nearly 100 other operational airports. The six airports listed above are the major hubs and are facing capacity crunch. These six locations require new airports by 2025-26 or even earlier. Meanwhile, the government is developing 50 un-served and under-served airstrips as low-cost airports in Tier-II and -III cities. Each of these airports is estimated to cost between Rs. 100 crore to Rs. 150 crore.
It is not just air traffic congestion at these major hubs, Delhi and Mumbai being the worst affected, there exist problems at the terminal level as well. This is likely to worsen as more planes get inducted into the fleet of the airlines. Presently, India has over 430 aircraft in service and the airlines are expected to add 100 aircraft in the next 18 to 24 months and over 700 airplanes in the next decade, all of which will add to the congestion woes of the hubs.
Congestion at the Hubs Causes:
• Much longer travel time
• Hub airport resources over-stretched
• Delays in landings
• Delays in take-offs
• Extra burning of aviation fuel
• Double take-off and Double landing
• Twice the process of Security clearances
• Unsolicited wastage of passengers' time
• Passengers' discomfort
• Increased environmental issue, thanks to delayed landings
'Right-Size' Aircraft for Point-to-Point Travel
With the major hubs heavily congested, the question analysts ask is why operators do not connect regional airports with 'right' size aircraft without transiting through the major hubs? From the perspective of a passenger travelling from an airport in Tier-II or -III city, presently air travel is cumbersome. He has to be at the airport at least 45 minutes before departure, add to that the flight time to a major hub, before reaching final destination. The layover time is a nuisance. Though air travel reduces the travel time from point-to-point, secondary and tertiary sector passengers tend to spend more time in accessing the airport and in layovers. Analysts hope that in 'UDAN,' regional connectivity will be such wherein operators will look at routes that will avoid major the hubs. Embraer calls it the concept of 'hub bypass'.
Long Layovers
One of the examples analysts give is why can't there be a flight between Madurai, a temple town in South India to Jaipur, the pink city in Rajasthan or vice versa and the frequency of these flights can be determined based on demand. A SpiceJet flight from Jaipur to Madurai takes 7 hours 55 minutes with two layovers, one in Delhi for 1 hour 5 minutes and another in Chennai for 35 minutes. This is really stretched for a passenger who is seriously looking at 'direct routing' options, even if it means paying a little extra as he or she would be saving on time and layover issues.
Presently, there is no such connection and a passenger from Madurai would have to make a trip via Chennai, Bengaluru or Delhi which is not only additional time in the air, but also additional airfare. The passenger from Madurai or Jaipur or any other such unconnected city by direct flights feels let down, even while the government is making grand plans for regional connectivity. While it is good to connect a hub to a Tier-II or -III city, the effort should be to connect Tier-II to another Tier-II or -III city and help decongest the hubs.
Regional Jets for Pan-India Coverage
This could be done by deploying a regional jet which can fly the required distance without any stopover. The reasoning is that single-aisle aircraft such as the A320 is too big for the journey, leaving many seats unsold, while the turboprops are ideal for short haul. It is quite a situation for airline revenue analysts who have to suggest the right aircraft for such direct long routes and regional jets are best suited to fill that slot. With seating capacity from 70 to 130, these jets are not only capable of flying the pan-India distance but also can have optimal loads.
As the next phase of air traffic growth is expected from India's Tier-II and -III cities, many of these passengers being first-time flyers, the urgency to provide direct connections to important destinations across the country needs no emphasis. These travelers are looking at air travel for long routes, while for short distance travel between five and eight hours by surface transport, they can do it by taking an overnight bus or train or even driving down. Taking a flight for a destination which is five hours by road does not make any sense, as access to the airport itself takes about two hours (including check-in time, security clearance, etc) and travelling from the airport to the destination takes an average of an hour. The flight time is half hour to 45 minutes. All one is doing is saving about an hour, but paying an average fare between Rs. 2,500 and Rs. 3,000. Whether it is worth it, only the passenger can answer depending upon urgency and the preferred mode of travel.
McKinsey report on airport congestion in metros states that airlines tend to deploy bigger aircraft to accommodate more passengers. McKinsey calls it 'up-gauging' wherein many airlines start using bigger planes even on short-haul flights. In 2002, nearly half of short-haul seat capacity at Beijing Capital International Airport was carried on wide-body aircraft. Wide-body usage fell significantly through 2010, as demand picked up for travel to secondary Chinese cities. But by 2012, a year after the airport became saturated, a new trend began. Wide-body use rose again as carriers were forced to upgauge in order to handle the increased volume of passenger traffic.
Connection-Heavy Routes Get Dropped
Evidence suggests that as an airport gets more constrained, airlines drop connection-heavy routes in favour of routes with high point-to-point demand, which are more profitable. Airlines operating out of congested airports tend to increase the frequency of flights on existing routes, rather than offer new destinations. Between 2002 and 2014, many large, unconstrained airports in and around Europe expanded their networks; Charles de Gaulle Airport in Paris added approximately 30 new cities to its list of short-haul destination list during this time, and Istanbul Ataturk Airport added more than 60. Airlines at Heathrow, however, actually reduced the number of short-haul destinations they serve but increased the frequency of flights to those cities. In short, as airports get busier, they offer more flights to fewer cities; unconstrained airports serve more cities, less frequently. This pattern is similar for longer flights. Seats on direct flights to and from congested airports are at a premium. Demand outstrips supply, which means airlines sometimes increase prices to focus on premium traffic. In 2012, the average price of a direct flight to or from Heathrow was more than three times that of nearby Gatwick.
SMALLER "RIGHT-SIZED" AIRCRAFT OFFER A NEW STRATEGIC MINDSET TO THE AIRLINE, AS IT DRIVES A SHIFT FROM COMPETING TO CREATING NEW MARKET SPACE AND SEEKING OUT UNTAPPED OPPORTUNITIES
This makes perfect sense when the travel is from a hub to another hub or another destination in demand which can be classified as primary market. This primary market is extremely competitive. Embraer has identified about 158 markets which have about four competing airlines with over ten daily flights and one can understand the kind of margins the airlines will be having, unless of course, it is peak season when airfares skyrocket. Embraer has identified over 800 markets which have less than one to five daily flights which can be easily served by a regional jet. Based on this market study, it has estimated an industry demand of up to 350 units in the 70-130 seat segment. Making similar argument are airframers such as Canada's Bombardier with CRJ700/900/1000 aircraft, Russia's Sukhoi offering Superjet International, China's ARJ21, Ukraine's Antonov with An-148/158 and Japan's Mitsubishi Regional Jet.
Embraer's E-Jets Making the Right Pitch
The Embraer E-Jet family is a series of medium range twinengine regional jet airliners, carrying 70 to 146 passengers commercially. The Brazilian aerospace conglomerate Embraer has created something called 'FleetSmart', a comprehensive range of fleet optimization solutions based around three key principles – design smart, experience smart and business smart. The E-Jets 170; 175; 190 and 195 have been around the world, giving operators an opportunity to capitalize on routes that neither turboprops or wide-bodies can viably handle. The E-Jets are designed for short to medium range flights, thus being the answer to regional aviation. The E-Jets E2 are the latest offering from Embraer and the largest aircraft in the E-Jet E2 family, the E195-E2 has been designed to maximize returns and efficiency on high-density routes, where the A320s and Boeings cannot fly with full capacities. The E195-E2 is optimized to cover more than 99.9 per cent of routes within the single-aisle segment, thus tapping routes which are not hitherto directly connected.
The E2 seating configuration comes in categories — three classes 120 seats — 12 seats @36", 28@34" and 80@31" pitch; Single class 132 seats @31 pitch and 146 seats@28" pitch. The runway legends have been the ERJ 130; 140; 145 and 145XR. The airliner is making the right noises for regional aviation, while directly and indirectly solving the issue of congestion of airports.
China's ARJ21 Focusing on Secondary Cities
China is aggressively looking at connecting its secondary cities with regional jet and its ARJ21 is rightly positioned for that. The ARJ21 is the first short-medium range turbofan regional aircraft developed by the Chinese. It has a layout of 78 to 90 seats and a range of 2,225 to 3,700 km. The aircraft has already notched up orders of over 400 from 19 different customers, signifying the need to fill the gap between short-haul to narrow-body aircraft and also of the need to connect secondary cities.
Similarly, Russia's SSJ100, a 100-seater airliner is being widely used by Aeroflot to connect the hinterland. While it has a fairly good base in Russia, it has not made any significant inroads internationally, except in Mexico, Armenia and Ireland.
Bombardier's Successful Regional Jet Programme
Making a strong case for regional jets is Bombardier's CSeries aircraft, the only single-aisle plane specifically designed to serve the 100-150 seat market. This drives the aircraft's phenomenal economic proposition and performance, opening up new opportunities in this segment. And for mediumhaul applications, the CRJ Series family of aircraft is the benchmark for regional jet efficiency in the 60 to 100-seat segment, offering up to ten per cent advantage in operating cost, reduced environmental impact and enhanced cabin interiors. With over 1,900 CRJ Series aircraft ordered worldwide, Bombardier's CRJ Series family of regional jets is recognised as the most successful regional aircraft programme in the world.
Then there is the Antonov An-148 which has a maximum range of 2,100-4,400 km and is able to carry 68-85 passengers depending upon the configuration. The Antonov An-158 is a stretched fuselage version of the aircraft, accommodating up to 99 passengers. Meanwhile, Mitsubishi Heavy Industries (MHI) has announced that the first delivery of the Mitsubishi Regional Jet (MRJ) will take place between mid-2018 to mid-2020, a programme delayed, but it is on as there is a market for the medium-range aircraft.
These smaller "right-sized" aircraft offer a new strategic mindset to the airline, as it drives a shift from competing to creating new market space and seeking untapped opportunities. Besides opportunities, it helps in decongestion of hubs across the world.
Indicative information as to how hubs are getting congested as the right capacity is not being used for point-to-point connectivity
BANGLORETO SRINAGAR
| | | |
| --- | --- | --- |
| Jet Airways | 1 Stop | Layover in New Delhi |
| SpiceJet | 1 Stop | Layover in New Delhi/Jammu/Chandigarh |
| Air India | 1 Stop | Layover in New Delhi |
| Vistara | 1 Stop | Layover in New Delhi |
| GoAir | 1 Stop | Layover in New Delhi |
| IndiGo | 1 Stop | Layover in New Delhi/Chandigarh |
BANGALORE TO VARANASI
| | | |
| --- | --- | --- |
| IndiGo | 1 Stop | Layover in New Delhi/Kolkata/Mumbai |
| Air India | 1 Stop | Layover in New Delhi/Mumbai |
| SpiceJet | 1 Stop | Layover in New Delhi/Hyderabad |
| Jet Airways | 1 Stop | Layover in New Delhi |
BANGALORE TO BAGDOGRA
| | | |
| --- | --- | --- |
| SpiceJet | 1 Stop | Layover in Kolkata |
| Jet Airways | 1 Stop | Layover in Kolkata/Mumbai/New Delhi |
| Air India | 1 Stop | Layover in New Delhi |
| IndiGo | 1 Stop | Layover in Kolkata |
| Vistara | 1 Stop | Layover in Kolkata/Guwahati |
GUWAHATI TO HYDERABAD
| | | |
| --- | --- | --- |
| IndiGo | 1 Stop | Layover in New Delhi/Kolkata/Bangalore |
| Jet Airways | 1 Stop | Layover in New Delhi/Kolkata/Bangalore |
| Air India | 1 Stop | Layover in Kolkata |
| SpiceJet | 1 Stop | Layover in Bangalore |
| GoAir | 1 Stop | Layover in New Delhi |
CHENNAI TO LUCKNOW
| | | |
| --- | --- | --- |
| JetAirways | 1 Stop | Layover in Mumbai |
| Air India | 1 Stop | Layover in New Delhi |
| GoAir | 1 Stop | Layover in Mumbai |
| IndiGo | 1 Stop | Layover in Bangalore |
BANGALORE TO DIBRUGARH
| | | |
| --- | --- | --- |
| Air India | 1 Stop | Layover in Kolkata |
| IndiGo | 1 Stop | Layover in Kolkata |
| Jet Airways | 1 Stop | Layover in Kolkata |
BANGALORE TO IMPHAL
| | | |
| --- | --- | --- |
| IndiGo | 1 Stop | Layover in Kolkata |
| Air India | 1 Stop | Layover in Kolkata |
HYDERABAD TO CHANDIGARH
| | | |
| --- | --- | --- |
| IndiGo | 1 Stop | Layover in New Delhi/Mumbai |
| Jet Airways | 1 Stop | Layover in New Delhi |
| Air India | 1 Stop | Layover in New Delhi |
| SpiceJet | 1 Stop | Layover in New Delhi |
| Vistara | 1 Stop | Layover in New Delhi |
BANGALORE TO LUCKNOW
| | | |
| --- | --- | --- |
| IndiGo | 1 Stop | Layover in New Delhi |
| Jet Airways | 1 Stop | Layover in Mumbai |
| Air India | 1 Stop | Layover in New Delhi |
| GoAir | 1 Stop | Layover in Mumbai |
HYDERABAD TO AMRITSAR
| | | |
| --- | --- | --- |
| Jet Airways | 1 Stop | Layover in New Delhi |
| Air India | 1 Stop | Layover in New Delhi |
| Vistara | 1 Stop | Layover in New Delhi |
| SpiceJet | 1 Stop | Layover in Mumbai/New Delhi |
AHEMDABAD TO KOCHI
| | | |
| --- | --- | --- |
| Jet Airways | 1 Stop | Layover in Mumbai/New Delhi |
| Air India | 1 Stop | Layover in Mumbai/New Delhi |
| SpiceJet | 1 Stop | Layover in Chennai/Bangalore/Hyderabad |
| IndiGo | 1 Stop | Layover in Hyderabad/Mumbai |
PUNE TO DEHRADUN
| | | |
| --- | --- | --- |
| IndiGo | 1 Stop | Layover in New Delhi |
| Air India | 1 Stop | Layover in New Delhi |
| Jet Airways | 1 Stop | Layover in New Delhi |
| SpiceJet | 1 Stop | Layover in New Delhi |
HYDERABAD TO LUCKNOW
| | | |
| --- | --- | --- |
| Vistara | 1 Stop | Layover in New Delhi |
| Jet Airways | 1 Stop | Layover in New Delhi/Mumbai |
| Air India | 1 Stop | Layover in New Delhi |
| GoAir | 1 Stop | Layover in New Delhi |
Source: Above is an Indicative list out of data collated from respective airlines' websites