With a Falcon, one can easily compress a two-day airline ordeal into one quick, out-andback journey and reach new growth markets faster and more frequently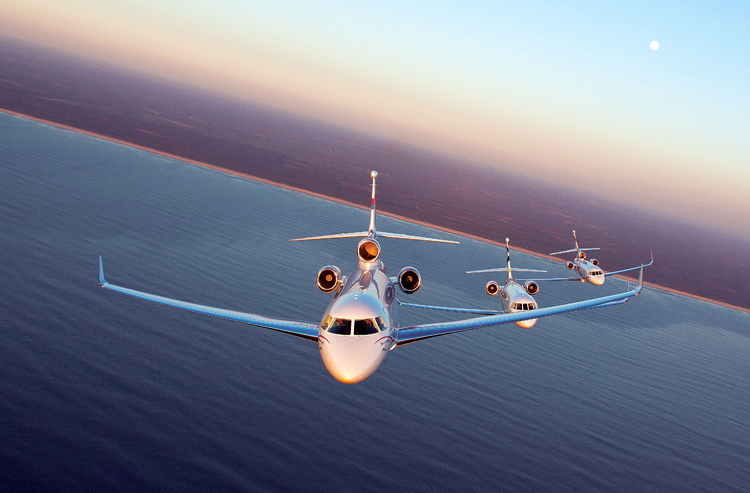 Falcons in flight
Though there are a handful of business jet manufacturers in the world, it is indeed not an easy task to zero in on the right business aircraft for your needs. Buying a business aircraft requires indepth understanding of the dynamics of business aviation, the range of small planes that are available in the market and for what purpose. Individuals and large companies buy business aircraft for many reasons – from connecting to remote locations where a plant may be existing; moving executives to locations to close a business deal where time is a constraint or just about avoiding the hassles of travelling in a commercial airliner or the price factor. There are experts who can help you choose the right aircraft.
It has been documented that business aviation provides individuals and organisations with tangible benefits such as time-savings, scheduling flexibility, efficiency and security. More than this, there is the direct correlation between business aviation benefits and shareholder value. The manufacturers themselves pitch in with a lot of inputs. One such is the famous French manufacturer Dassault Aviation which has a range of aircraft to suit different needs, be it for business or for leisure.
Dassault Aviation states that choosing to operate a Falcon could be one of the most practical business decisions an individual or a corporate will ever make. Falcons are renowned among business jets for their ability to fly to operate from small airfields. By contrast, commercial airlines serve only a fraction of the thousands of airports available to Falcons. With a Falcon, one can easily compress a two-day airline ordeal into one quick, out-and-back journey and reach new growth markets faster and more frequently.
Dassault Falcon has a range of aircraft namely the Falcon 2000S; Falcon 2000LXS; Falcon 900LX; Falcon 5X; Falcon 7X and Falcon 8X. Each Falcon model is the fuel-economy and low emission leader in its class, without compromising on cabin size and en route productivity. 'Overall cost of operation of the Falcon is comparable to much smaller jets. In today's unforgiving business environment, it's reassuring to know that the Falcon 2000 and 900 series have consistently outperformed their competition for retained value - by as much as ten per cent over the long term.
SINCE THE VERY FIRST FALCON FLEW IN 1963, THE COMPANY HAS BEEN BUILDING A GLOBAL REPUTATION FOR CREATING THE BEST FLYING BUSINESS JETS IN THE INDUSTRY
One significant advantage for Dassault Falcon has been its grounding. The company draws its experience in building fighter jets that fly at twice the speed of sound and withstand nine times the force of gravity. "We work with the same engineers, the same development teams and the same rigorous flight test pilots. This is unique in the industry and it gives every Falcon the strength, the durability and the cutting-edge technology of a combat-ready aircraft."
Exceptional Cabin Comfort
The Falcon cabin is spacious and comfortable. It is exquisitely customised to customer specifications and crafted from the finest materials. It features advanced technologies so one can work, rest and be entertained in comfort and in peace. Also, its smooth, quiet ride, full-size galley and stand-up lavatory/dressing room helps to keep the customers productive in-flight as well as rested and relaxed upon arrival.
Advanced Technologies
Dassault is a global leader in technology, having developed 100 aircraft prototypes over the last 50 years. It has created design software used by other leading aerospace and automobile companies. In fact, it's advanced CATIA and PLM (Product Lifecycle Management) software is now used by over 70,000 companies worldwide. And it is this drive for excellence and passion for technological innovation, which makes every Falcon more advanced, more refined and more efficient than any other jet. "All of this gives you outstanding performance in the air and in the boardroom."
Flying Made Easy
Dassault Falcon mentions how the aircraft is so easy to fly and has been endorsed by pilots. Compared to a standard jet, flying the Falcon is like driving a sports car as opposed to an SUV. This unique experience is the result of the technology transfer from developing advanced Mirage and Rafale combat jets. "Intelligent design features such as the wing's leading-edge slats give Falcons matchless airfield performance, mission flexibility and clean, crisp handling. Ask any pilot. Nothing feels and nothing flies like a Falcon."
Superior Efficiency
No other jet is as aerodynamically efficient as a Falcon. Unless, of course, it's a fighter jet from Dassault. The technical and engineering advancements these aircraft share, make every Falcon the absolute leader in its class. From superior fuel economy to lower carbon emissions, from greater agility and flexibility to slower, safer landing capabilities, the Falcon gives the best, every time.
Higher Resale Value
Experience has shown that Falcon jets consistently outperform their competitors in both cost of ownership and long-term retained value. Industry-leading technology and design, combined with exceptional performance and efficiency, make a Falcon a superior investment time after time.
Architecture
A Falcon's superstructure uses state-of-the-art aerospace materials such as titanium, magnesium, composite laminates, hybrids and alloys. This makes every Falcon lighter, stronger and more durable than ordinary business jets. And each design extracts every extra mile of fuel efficiency without giving up an ounce of tensile strength.
Power
To achieve the industry's most efficient thrust-to-weight ratios and satisfy some of the world's most sophisticated business jet owners, Falcon engineers work closely with engine manufacturers. Each set of power plants is integrated into the aircraft's design to optimise thrust and minimise drag, whilst always maintaining the company's reputation for creating the quietest cabin in the sky.
Aerodynamics
The exterior of every Falcon is designed to slice through the air more efficiently than any other business jet and at every altitude. Unique wing design allows each jet to land at a slower speed than similar jets in its class, giving it access to hundreds more smaller airports than other planes its size, thanks to 90 years of Dassault studying the physics of aerodynamics and its 40-year experience in aerospace technology.
Global Support
Owning and flying a Falcon entitles the customer to the highest levels of safety, reliability, performance and efficiency. Since the very first Falcon flew in 1963, the company has been building a global reputation for creating the best flying business jets in the industry, backed by a no-compromise organisation built on the belief that each customer is part of the global Falcon Family.
Dassault Falcon has four fundamental goals:
Establish, grow and maintain strong relationships with its customers.
Develop, provide and stand by its innovative and effective service solutions.
Maximise the availability of every aircraft it supports.
Listen to its customers, understand their needs and proactively deliver the right solution at the right time and every time.
Throughout the life of a Falcon, Dassault service professionals will bring unrivalled skill, experience and dedication to guarantee satisfaction and live up to the Dassault promise: Whatever it Takes.
FalconResponse, is a worldwide suite of AOG support services, provides state-of-the-art spares, tools and engineering resources to get a grounded Falcon back into operation as quickly as possible. Dassault is the first business jet manufacturer to dedicate an aircraft for alternative lift in the event of an AOG. It is also the first to use large-cabin aircraft for this purpose (a pair of Falcon 900s) and the first to offer the service over such a broad geographic footprint.