Aircraft powered by the LEAP engine are flying more than 95 per cent of available days. This is simply unprecedented for a new engine.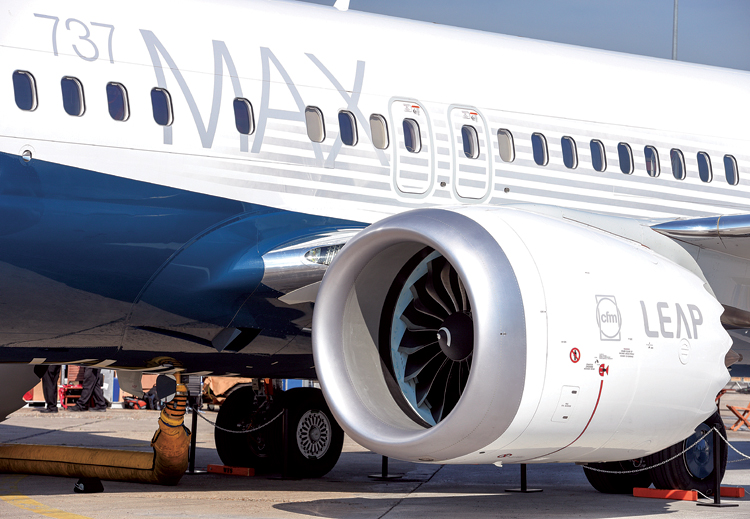 The date August 2, 2016 for CFM International is a landmark one as on that date, the first LEAP-powered commercial flight happened on a Pegasus Airlines flight from Istanbul to Antalya. Since then, over 75 LEAP-powered aircraft have entered service with a total of 15 operators on four continents. LEAP which stands for Leading Edge Aviation Propulsion is a high-bypass turbofan engine. It is produced by CFM International, a 50:50 joint venture company between GE Aviation of the United States (US) and Safran Aircraft Engines (formerly known as Snecma) of France. It is a modernised replacement for the successful CFM International CFM56 and intended to compete with Pratt & Whitney PW1000G in the single-aisle jetliner market.
Fuel Eficiency
"Entry of the LEAP engine into service is the most successful in our history and has been exceptional by any measure," said Gaël Méheust, President and CEO of CFM International. "Our customers are thrilled with the fuel efficiency the engines are providing, as well as the world-class utilisation level they are achieving with this very important asset. Aircraft powered by the LEAP engine are flying more than 95 per cent of available days. This is simply unprecedented for a new engine."
The LEAP engine is providing operators a 15 per cent improvement in fuel consumption and CO2 emissions compared to today's best CFM engine, along with dramatic reductions in engine noise. All this technology is focused on providing better utilisation, including CFM's legendary reliability out of the box, greater asset availability, enhanced time on wing margins to help keep maintenance costs low and minimised maintenance actions, all supported by sophisticated analytics that enable CFM to provide tailored, predictive maintenance over the life of the product.
Dispatch Reliability
The LEAP engine maintains the same level of dispatch reliability and life-cycle maintenance costs of today's best CFM56 engines. Leveraging the successes and unrivalled experience of the CFM56 programme, the LEAP engine is built for 99.98 per cent dispatch reliability — which means more time in the air and less maintenance time on the ground. It is lighter and more durable. The LEAP engine's fan blades are manufactured from 3D woven resin transfer molding (RTM) carbon fiber composite, an industry first for CFM. This technology results in fan blades that are not only lightweight but so durable that each individual blade is strong enough to support the weight of a wide-body airplane such as the Airbus A350 or the Boeing 787.
Aditive Manufacturing
The LEAP engine is the first engine to use additive manufacturing to 'grow' complex, fully dense yet lighter engines. Its fuel nozzles are 25 per cent lighter than previous models and five times more durable than parts manufactured conventionally. It features the second generation Twin-Annular, Pre-Mixing Swirler Combustor (TAPS II) which reduces NOx emissions by 50 per cent versus CAEP/6 standards. Unlike traditional combustors that mix fuel and air inside the combustion chamber, the LEAP engine nozzle pre-mixes these elements to provide what is called lean burn combustion.
BOTH GE AND SAFRAN AIRCRAFT ENGINES HAVE ADDED NEW MANUFACTURING CAPABILITY AT SITES THROUGHOUT THE US AND FRANCE, MAKING A COMBINED CAPITAL INVESTMENT OF OVER $1 BILLION
The unique LEAP debris rejection system provides the best erosion projection, preventing sand, dirt and other harmful items from reaching the core. As a result, the highly durable, more efficient LEAP engine stays newer for longer.
On its way to engine certification, CFM pushed its LEAP engine test programme to the limit. To meet the performance and reliability expectations made to its customers, a total of 60 LEAP engines were built to execute the most extensive ground and flight test certification programme in the company's history. To date, the LEAP-1A, LEAP-1B and LEAP-1C engines have all been jointly certified by EASA and FAA.
The LEAP-1A powers the Airbus A320neo (24,500-35,000 pounds thrust at altitude); the LEAP-1B powers the Boeing 737 MAX (23,000-28,000 pounds thrust) and the LEAP-1C is on COMAC C919 (27,980-30,000 pounds thrust).
Aftermarket Support
CFM has launched its most comprehensive readiness plan ever, ensuring smooth, successful entries into service for all LEAP operators. It has a dedicated expert field service engineers (FSE) network, entry-into-service road map customised for each client, reactivity or support stress tests, customer support centre on 24/7 basis and dedicated LEAP Maintenance Training Centers. It has in place over 60 customer support managers and over 250 global FSEs and five training centres on three continents.
Having produced and delivered the world's largest fleet of jet engines in the single-aisle market, CFM has ramped up production for the new LEAP engine by modernising and expanding production facilities. Both GE and Safran Aircraft Engines have added new manufacturing capability at sites throughout the US and France, making a combined capital investment of over $1 billion.
CFM International has signed agreements with Lufthansa Technik and AFI KLM E&M to provide maintenance and overhaul support for the company's advanced LEAP engine product line. CFM has long-standing relationships with both companies on the CFM56 family and has granted licenses for them to develop MRO services offerings to provide both on-wing and on-site support, as well as overhaul for LEAP engines.
Global Network
CFM has three of its own shops with the capability to support the entry of the LEAP engine into commercial service. These are Lafayette, Indiana in the US which can support both the LEAP-1A and LEAP-1B, Brussels, Belgium, which has capability for the LEAP-1A and Saint-Quentin-en- Yvelines, France which will support the LEAP-1B. The company has also established worldwide On-Site Support (OSS) capabilities to provide customers with extended on-wing support. These facilities can also perform lighter MRO work scopes. The new third-party shops will provide additional LEAP-1A and -1B capacity as they come online over the next couple of years.
"We committed a competitive LEAP engine overhaul approach to our customers, similar to what they have enjoyed with the CFM56 family," said Gaël Méheust, President and CEO of CFM International. "We just passed the one-year anniversary of the LEAP engine's entry into service. The engine is doing very well and our customers are pleased with the high utilisation rate and great fuel efficiency the engine is bringing to their operations. When these engines eventually do need to be overhauled, our customers will have a choice."
The first LEAP-1A-powered Airbus A320neo entered service with Pegasus Airlines in August 2016. Since then, the fleet has grown to include the LEAP-1B-powered Boeing 737 MAX. Currently, there are more than 20 airlines operating a total of nearly 100 aircraft. The fleet has logged nearly 150,000 flight cycles and 300,000 flight hours of highly reliable service.
CFM International's advanced LEAP engine is setting new industry standards for fuel efficiency and asset utilisation. At this year's Paris Air Show, it got further endorsements by way of record orders. It bagged orders for 1,658 LEAP and CFM56 engines, in addition to long-term service agreements, at a value of more than $27.3 billion at list price. For 2017, so far, CFM's order book was over 2,850 engines and total LEAP orders on the books for more than 14,000 engines. The orders are testimony enough of how the LEAP engines are making headway in the aviation industry, thanks to the innovations that are taking place at CFM International.