Business aviation and civil aviation have immense potential not only to grow as an industry, but to contribute significantly to the economy and in turn to national growth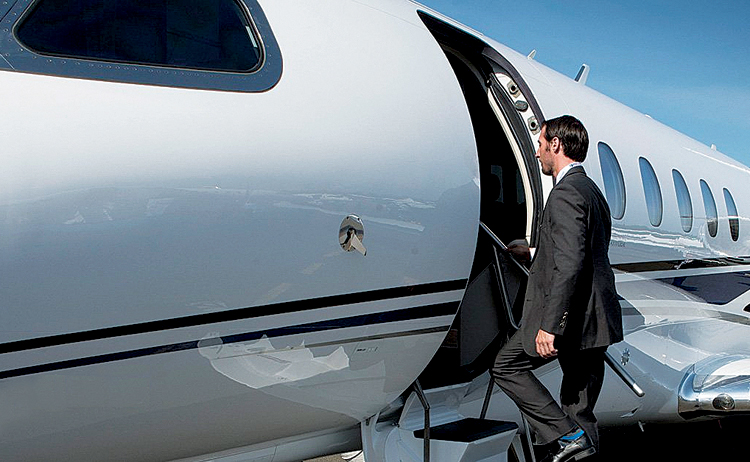 Business Aviation is the catalyst towards nation's economic growth
The Indian civil aviation industry is indulged frequently by projections placing it at the third largest over the next few years. The latest report on the subject is by the Centre for Asia Pacific Aviation (CAPA) that predicts the date for that happening as 2027. Orders for aircraft by airlines are burgeoning, there is a month to month growth in passenger figures and, the right noises are being made about infrastructure development especially airports. While skeptics are not too optimistic about the projections being made and feel that the Indian civil aviation market may plateau out soon, it must be pointed out that these projections relate to scheduled airline statistics.
Business aviation, on the other hand, is subjected to several constraining regulatory and infrastructural problems that tend to smother its growth. Successive governments have appeared to view business aviation as a luxury and have ignored its potential as a contributor to national economy. There have been several analytical studies carried out internationally to correlate benefits of business aviation with national economy. Sadly, Indian establishment appears blinkered against any such endeavour despite calls from the industry as well as Business Aircraft Operators' Association (BAOA), a body struggling to get its voice heard by the government.
What is Business Aviation?
The International Civil Aviation Organisation (ICAO) uses the terminology of 'General Aviation' which includes all civil aircraft that are not operated by commercial aviation or for aerial operations that are specific tasks such as crop spraying. ICAO glossary does not feature the term 'Business Aviation'. In 1998, the International Business Aviation Council (IBAC), an International Non-Governmental Organization (INGO) with a permanent observer status with ICAO, adopted the definition of business aviation as "That sector of aviation which concerns the operation or use of aircraft by companies for the carriage of passengers or goods as an aid to the conduct of their business, flown for purposes generally considered not for public hire and piloted by individuals having, at the minimum, a valid commercial pilot licence with an instrument rating." IBAC further subdivides business aviation into commercial, corporate, owner-operated and fractional ownership. As can be seen from the above, internationally, business aviation is seen as a sub-set of general aviation.
India adheres to the ICAO terminology for General Aviation and defines it as an aircraft operation other than a commercial air transport operation or an aerial work operation. Civil Aviation Requirements (CAR) SECTION 8 – AIRCRAFT OPERATIONS, Series 'O' Part III dated July 24, 2017 on 'Operation of General Aviation Aeroplanes' is "applicable to Indian registered aircraft engaged in general aviation which include those certified in private or passenger category for state governments, corporate business houses, individual owners or when such aeroplanes are not engaged in commercial air transport operations and aerial work". The term business aviation is absent from the CAR; but it can be surmised that in India, it means aircraft owned by individual businessmen or business houses. India is unique inasmuch as it has a term Non-Scheduled to describe commercial passenger operations which corresponds to IBAC's commercial business aviation. These include charter operations where a whole aircraft is hired. For this discussion, government-owned aircraft can also be included as they are non-commercial and contribute to the efficiency of the government they belong to.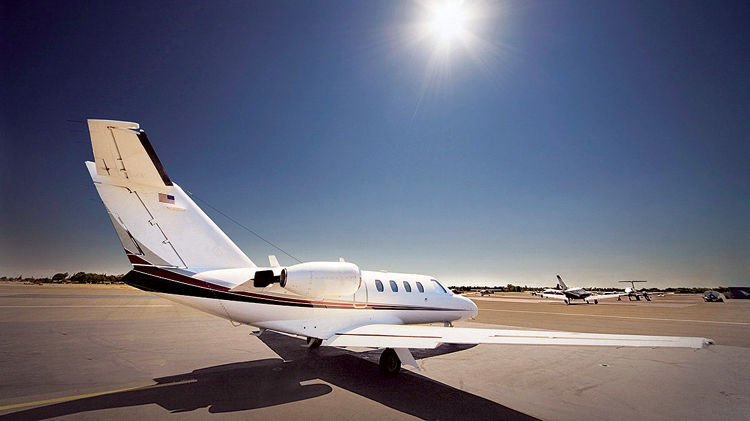 India can achieve big if business aviation industry in the country, receives its due recognition
In 2007, an inordinately high rate of import duty of around 21 per cent on business aircraft was introduced while the import duty on aircraft intended for commercial purposes was kept at the erstwhile low rate of around three per cent. Expectedly, there was a rush by some business houses to apply for an operator permit so that they could avoid paying the exorbitant import duty. Thus, some of the aircraft held on commercial permits, are actually being used mainly for the business purposes of the principal owner company. The term business aircraft is thus used here to include general and business aviation.
No Plane No Gain
North America has a healthy business aviation industry which is on an ascendant path and has grown by 34 per cent over the last five years. The National Business Aviation Association (NBAA) and the General Aviation Manufacturers' Association (GAMA) have jointly launched an undertaking called "No Plane No Gain" designed to make the general public and of course, the government, more aware about the importance of business aviation to US and its communities, companies and citizens. Every alternate year, NBAA carries out studies relating the use of business aircraft to the performance of the companies they serve. The latest study entitled Business Aviation and Top Performing Companies 2017 (S&P 500 Companies: Using Business Aircraft to Create Enterprise Value) and executed by NEXA Advisors uses facts and evidence to reach the conclusion that "business aviation contributes meaningfully to a company's enterprise value and continues to be a powerful tool of the best-managed companies in America". The Standard & Poor's 500 Index (S&P 500) is widely regarded as the best single gauge of large-cap US equities and includes 500 leading companies and captures approximately 80 per cent coverage of available market capitalisation. The study examined the financial performance of the S&P 500 companies between 2013 and 2017 and found that, when sorted into "Users" versus "Non-Users," those companies deploying aircraft to support their missions out-performed those that did not in several metrics. The most important measure of impact is a company's enter prise value, by both share amount and share appreciation. In this respect, Users outperformed Non-Users by about 70 per cent over the study period and the study concludes that business aircraft leverage key employee productivity, accelerate transactional closings and boost customer interaction. The study finally concludes that business aviation delivers extraordinary value for America's top performing companies and contributes across the board, in both financial and non-financial measures. The full report can be accessed at https://www.nbaa.org/business-aviation/nexa-business-aviation-and-top-performing-companies-2017.pdf.
Indian Business Aviation
BAOA formed through the amalgamation of Business Aviation Association of India (BAAI) and Indraprastha Aircraft Aviation Association (IAAA), has been rendering yeoman service to the business aviation sector. One of its most significant endeavours has been to convince the establishment that a business aircraft is not just a status symbol, but a substantial contributor to the national economy. BAOA has indeed made some progress towards softening the official posture towards business aviation. However, there does not seem to be any sign of immediate relief to the problems faced by this important segment of the Indian civil aviation industry.
Despite the number of aircraft in the business aviation category being far larger than that held by scheduled airlines, business aviation continues to be afflicted by several long-standing ailments. The regulatory framework is focussed primarily on scheduled operations and, in 2014, a committee was formed by the Directorate General of Civil Aviation (DGCA) to customise regulations for business aviation; but the task is yet to be completed to the satisfaction of the industry. Some of the regulations are so voluminous as to lose practicality of use for reference by the users who are small in size and can barely afford subsistence level staff. Maintenance, repair and overhaul (MRO) facilities for most of the business aircraft flying in India are minimal and major servicing is mostly carried out abroad at huge costs of time and money. Metros are openly hostile to business aircraft as they have limited space for parking of aircraft. The Chhatrapati Shivaji International Airport at Mumbai even has a daily curfew timing for business aircraft operations. The industry's long-standing demand for reduction in import duty for business aircraft is also pending for action although there is some pessimism about its being agreed to. Royalty charges at airports for MRO/FBO, etc are oppressively high and generally exist in monopolistic or duopolistic states, leaving business aircraft operators with no happy choice. Rotary-wing operations are possibly the worst sufferers as their cost of operations is high and the overheads make it more difficult for them to survive. The list goes on and on.
Concluding Remarks
The gap between business aircraft travel and business class airline travel is attempted to be bridged by some enterprising airlines; but the inherent advantages of owning and operating business aircraft are so self evident that purely financial considerations may not sway business houses and owners from business aircraft. However, some of the traditional advantages of possessing a business aircraft elsewhere in the world, are either absent or horribly stunted in India due to the regulatory mechanism and policies which straitjacket business aviation.
There is no doubt about the possible contribution of business aviation to the nation's economy. According to Mark D Martin, founder and Chief Executive Officer of Martin Consulting LLC, who was commissioned by BAOA to carry out a study on business aviation in India last year, "What emerges from this report is a powerful message. That message is business aviation is the catalyst India needs to grow and attain its regional and global supremacy."
Business aviation entities have long decried the apathy of the Ministry of Civil Aviation (MoCA). There is no doubt that business aviation and indeed, civil aviation as a whole, have immense potential not only to grow as an industry, but to contribute significantly to the economy and in turn to national growth. However, the MoCA does not appear to consider itself as a stakeholder in this domain. Business aviation has a very small leisure travel component which is incidental to meeting the main demands of commerce and is predominantly used by business leaders, owners and executives whose air mobility is essential to efficient functioning of their business ventures. Considering it as a luxury is a travesty that the establishment needs to be disabused of. It is high time this change of perception took place and is reflected in policies and practices so that business aviation can supplement all other endeavours by the nation to achieve economic properity. Endeavours of the BAOA have so far not met with the success they deserve; but one hopes that its unflagging campaign to get business aviation the attention and regulatory framework it deserves, will bring results in the years to come.
However, what could really make a difference is an independent, professional study commissioned by MoCA to analyse whether business aviation can make a contribution or not to the economy and national growth. The model used in the NBAA report can be emulated or similar studies used as templates to locate the study in India and focus on Indian conditions. There is an ample number of consultancies in India who could do justice to this task in an impersonal manner. Undoubtedly such a study would throw up the benefits of business aviation and illuminate the path forward. All that would then remain to be seen is whether India is ready to nurture business aviation or let it stagnate in its present state.