Don't think of Regional Jets as extinct birds. Instead, think of them as rising like a phoenix.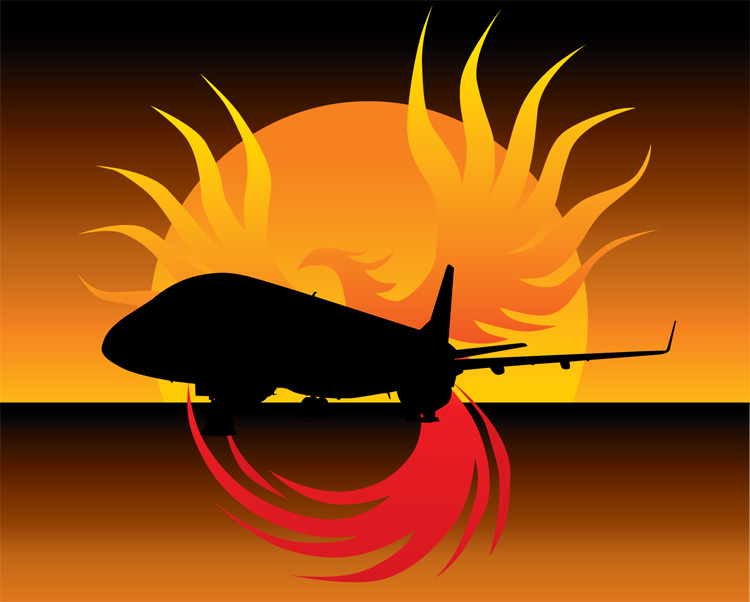 The list of airlines that once flew regional jets - Paramount Airways, Air Costa - and some that never got off the ground or are struggling to take off - Star Aviation and Flyeasy - seems to be growing.
Given the double-digit annual jump in passenger enplanements, why hasn't the regional jet revolution landed in India? It transformed air travel in North America and Europe, and has a strong foothold in China, the three biggest air travel markets in the world. Even Brazil and the African continent are home to a sizable fleet of 70 to 100-seat regional jets. Yet in India, a country poised to become the globe's fourth largest air travel market in the next decade, you have to ask "where are all the regional jets?"
A DISAPPEARING SPECIES
Look hard and you'll find fewer than 10 RJs - 50-seat Embraer RJs at Hornbill Airlines and Bombardier CRJs at SpiceJet - compared to more than 500 single-aisle commercial jets registered to Indian airlines. RJs account for fewer than 2 per cent of the national fleet. That low percentage contrasts with more than 25 per cent share in the North American and European markets, both of which have huge secondary and tertiary cities, much like India.
FORMULA FOR SUCCESS
With fewer seats and flights on shorter sectors, RJs don't generate the same volume of available seat kilometers as larger, single-aisle jets. Even though an RJ's trip cost is lower than that of a bigger jet, amortising the lower trip cost over fewer seats produces a higher cost per available seat. One way to reduce that number is to increase daily utilisation.
An RJ must work hard to produce a sufficient number of flight hours for the operating economics to be attractive. This is characteristic of markets in which low-fare, low cost airlines dominate and ticket prices are chronically low, like India's. RJs flying from dawn to dusk face the added stress of more take offs and landings that are associated with deployment on short-distance routes. Highcycle operations negatively impact maintenance costs.
But if the forecast for growth in passenger enplanements for the next decade proves accurate, longdistance RJ flying may become more attractive.
There is often little slack built into a regional jet's flight schedule. Throughout the day, RJs must land, be serviced, unload and load passengers, and depart for the next flight in as few as 30 minutes. In regions with mature RJ operations, it's common to find an RJ in the air 10 hours per day, 3,400 hours per year. Aircraft reliability is essential to maintain schedule integrity.
INDIA'S ULTRA-LOW DOMESTIC FARES
Prior to the near collapse of the domestic airline industry at the end of the last decade, local airfares were declining in a frenzy of new competition across the country. The result was the lowest revenue per passenger kilometre among Asian countries with domestic services. India ranked at the bottom, below Japan, China, Thailand, Indonesia, Australia and the Philippines.
Even after regrouping following airline bankruptcies and consolidation, Indian yields are still far below those of other Asian nations. New competition, massive orders for new 150-seat airplanes, and aggressive posturing by LCCs continue to put pressure on domestic ticket prices.
Ultra-low fares in key markets often influence fare levels in secondary and tertiary markets. Even though short-distance routes characteristically have high yields, that premium can be undermined if LCCs enter a nearby market and divert traffic originating in RJ cities to their network hubs. Regional airlines usually must match LCC fare discounts in order to retain that originating traffic.
BREAKS FOR REGIONAL AIRLINES
Recent reforms to landing fees for regional aircraft, a reduction in the aviation turbine tax, the elimination of a minimum fleet size for start-up carriers, and the Regional Connectivity Scheme (RCS) have gone a long way to entice airlines to open routes with lower demand. But those efforts still haven't encouraged carriers to add RJs to their fleets.
ARE TURBOPROPS THE ANSWER?
IndiGo's order for 50 ATR72s sent a clear message that turboprops may be more sustainable than RJs, particularly after Air Costa, with its fleet of Embraer E-Jets, suspended operations last year. With their lower unit costs, high cruise speed, lighter structural weight and lower fuel burn that RJs, turboprops are a compelling solution to India's low-fare environment.
Both IndiGo, with its ATR 72s and SpiceJet, with its Q400s, have tapped into new demand in secondary markets. The carriers are deploying those 70- to 78-seat aircraft on short-haul routes with the right combination of capacity and frequency that likely makes their economics better than an RJ, especially should the price of jet fuel start to creep up.
IS THERE A FUTURE FOR RJS?
There is a crossover point, measured by distance, where the efficiency of a jet surpasses that of a turboprop. Longer sectors hold the key to the RJ's success where nonstop flights that replace hub connections can command higher yields.
For now, turboprops are helping to grow domestic networks by feeding traffic and tapping into the growing demand to and from secondary markets. But if the forecast for growth in passenger enplanements for the next decade proves accurate, longdistance RJ flying may become more attractive.
Today's RJs have come a long way from the small, cramped, limited-range aircraft of earlier generations. Flying nonstop from the north all the way to south or across the breadth of the country is more comfortable and more economical with an RJ. Advances in engine technology have lowered fuel burn and other improvements, some RJ manufacturers claim, have made the operating cost of their new airplanes competitive with larger single-aisle jets.
It's an intriguing prospect - smaller capacity RJs, nonstop flights that bypass hubs, higher yields, lower unit costs - that may just mean that RJs will once again find their place in Indian skies.
Don't think of them as extinct birds. Instead, think of them rising, like a phoenix.