Trippe's visionary move was to persuade Boeing to build the Boeing 747 "Jumbo Jet", a new generation wide-body airliner that was much larger than the Boeing 707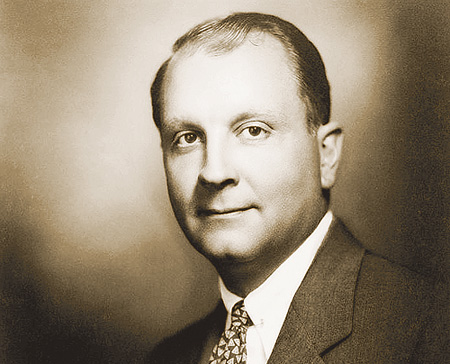 Beginning in the early 1930s, Pan American World Airways, better known as Pan Am, dominated the international aviation scene for about four decades. "America's airline to the world" was the first to fly across the Pacific and the Atlantic Oceans, the first to feature American-built passenger jets and the first to order the Boeing 747. It also introduced aroundthe-world air service in 1947 and pioneered low-cost tourist seats in 1952 at a time when the entire industry was still of the "flying is for the well-heeled" mindset. And the man who was practically synonymous with Pan Am was Juan Trippe. Trippe started small, using a hired Fairchild FC-2 single-engine floatplane on a lone 90-mile route between Key West, Florida and Havana, Cuba in 1927. He made use of every advance in the design and capability of commercial aircraft and built his airline practically singlehanded. By the time he left Pan Am in 1968, it was a truly global carrier extending over 80,000 miles and linking the United States (US) with 85 countries.
Juan Terry Trippe was born in Sea Bright, New Jersey, on June 27, 1899. Although he was of European descent, he was commonly mistaken for a Hispanic because of his first name. He joined flight training with the US Navy when America entered World War I in 1917. However, soon after he completed training in June 1918, the War ended. But his brief flying stint made him realise the enormous potential of this new mode of travel. He managed to persuade some of his wealthy friends to join or finance him and formed the Aviation Corporation of America in June 1927, to offer air services into the Caribbean. He also managed to rope in Charles Lindbergh for a nationwide goodwill tour and later as pilot for survey flights over new routes in South America. After its modest launch on October 28, 1927, the airline that would later be known as Pan Am rapidly expanded. Its fleet of Boeing 314 Clipper longrange flying boats linked a large number of destinations across both the Pacific and the Atlantic oceans. Delivering mail and passengers, the Clippers gained a well-deserved reputation for dependability, excellence and elegant travel. The US government also awarded Pan Am practically every foreign airmail route for which it bid, thanks to Trippe's diplomatic skills and his close association with Charles Lindbergh.
Juan Trippe soon saw the folly and injustice of restricting air travel to the elite. He said, "The true objective is to bring to the life of the average man those things which were once the privilege of the fortunate few," and took it as a personal mission to bring aviation services within the means of the common citizen everywhere. When World War II ended, he introduced a "tourist class" from New York to London, cutting the round-trip fare by more than half to $275. But this put him on the wrong side of the International Air Transport Association (IATA) and attracted fierce opposition from the entrenched carriers who saw nothing wrong in fixing fares and fixing them high. Trippe stuck to his guns and a few years later most airlines began to introduce tourist class on their planes.
Trippe was highly impressed when the first commercial jets appeared on the scene and placed a sizeable order for Boeing 707 and Douglas DC-8 airliners. Pan Am's first scheduled jet service was on October 26, 1958. Its Boeing 707 "Clipper America" linked New York and Paris, taking half the time and carrying twice as many passengers as the propellerdriven Boeing 377 Stratocruiser it replaced. Pan Am was consequently able to fly more passengers and lower its fares. The journey also became far more comfortable since the jet could fly at altitudes largely free of the stormy Atlantic weather.
Another of Trippe's visionary moves was to persuade Boeing to build the Boeing 747 "Jumbo Jet", a new generation wide-body airliner that was much larger than the Boeing 707. Pan Am played a key role in influencing the design of the new airliner and was its launch customer.
Juan Trippe made Pan Am one of the most influential and important American carriers ever. But his talents were not restricted to aviation. He was also one of the first to identify the symbiotic link between the airline and the hotel industry. Through Pan Am he set up and developed the InterContinental Group Hotel Company which grew into a chain of 222 hotels worldwide by 1996. He left Pan Am in 1968 and the carrier's slide began soon thereafter due to overexpansion of routes and too many Boeing 747s ordered. The oil price shocks and consequent economic recession of the 1970s, didn't help. Trippe died after suffering a stroke on April 3, 1981. The iconic airline he started went into bankruptcy and ceased operations in December 1992.